Entertainment
Openly Lesbian Hannah Hart Has A New Girlfriend After Ending Former Dating Affair!
They say life always gives you a second chance. Well, at least it's true in the case of the famous internet personality Hannah Hart as she has now found a new girlfriend after ending her previous relationship. She is openly a lesbian, and everybody who follows this internet sensation's life knows that.
So let us take a peek at her current as well as her previous relationship.
Hannah Hart's Former Girlfriend:
It is no big surprise that Hannah once dated gay Youtuber, Ingrid Nilsen. The two began dating in late 2015, just months after Ingrid came out as a gay in June the same year.
Hannah was the one to break the ice and reveal the news of them was dating.
She said,
'I met someone who was a great fit for the real me... She's also a YouTuber.
Hannah, who by then had enjoyed several years of coming out, added,
'We've actually been friends for a couple of years and then... circumstances kind of aligned,'

'She's also one of the most brilliant, soulful people I've ever met.'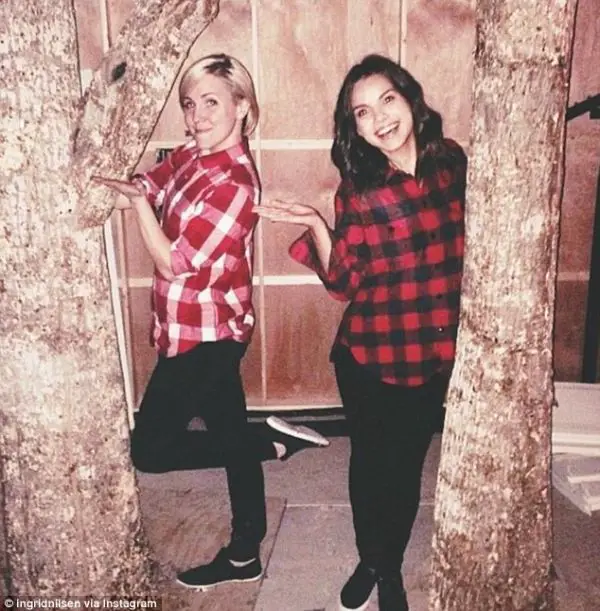 Caption: Hannah Hart and Ingrid Nilsen once shared a beautiful relationship with one another.
Photo Credit: dailymail.co.uk
The pair was all loved up and shared several posts on each other's social medias, which are now deleted and not to be found, as the two have already called it days for their relationship back in January 2016.
But despite the end of their romance, they were fully intended on maintaining a good friendship with one another.
This is what both of them had to say in this regard.
Is Hannah In A Relationship Bond And Love Again?
Following her split with Ingrid, Hannah then found love in the form of Buzzfeed video producer Ella Mielniczenko. They have posted pictures of them on their social accounts, and the people just loved it.
Even this post from Ella shows the strength of their connection.
They look adorable together, and we would like to wish them the very best for their combined future!
A Short Wiki-Like Bio of Hannah Hart:
Born in San Francisco, CA on November 2, 1986, Hannah Hart is a well-reputed Youtuber, who is also the star of the weekly YouTube series "My Drunk Kitchen," a series where she attempts to cook in increasing and various stages of drunkenness. She fist came up with the idea for her show while she was involved in a video chat with one of her friends who was complimentary towards her cooking skills.
Speaking of her family life, she has an elder sister named Naomi and also a half-sister named Maggie. Maggie also appears in many of her videos. Nothing has been revealed about her parents' identity though.
Professionally, she has earned a lot of money in her career, but no official statement on her net worth has come forth from the star.
Hannah Hart or as people call her "Harto" is 5' 7" tall and is an open lesbian. Back in September 2014, she teamed with another gay video blogger Tyler Oakley at the annual GLAAD Gala in San Francisco, to present the first "Ric Weiland Award" to honor those people who promote LGBT rights in the industry.
Stay with us for the emerging updates on Hannah Hart!