Entertainment
Actress Parminder Nagra Won a Huge Legal Battle with her Former Husband! Who is Her Partner Now?
Getting married and then getting divorced is not a new thing in the entertainment industry. It will be a notable thing when the legal battle for divorce gets nasty. The same scenario was witnessed in the case of actress Parminder Nagra's divorce with her photographer husband James Stenson which ended with the victory of Nagra.
What will come next in the love life of Nagra? Let's find out about her wedding and dating history in our story.
Termination Of Abominable Divorce Settlement:
The Indian-American actress Parminder Nagra filed for the divorce at Los Angeles Superior Court on February 8, 2012, mentioning about the 'irreconcilable differences' as a reason behind the separation.
That was the one part of the story, then comes a complete turn in the divorce case of the actress of 'Bend it like Beckham.' A lawsuit was filed by her photographer husband James Stenson in June. He claimed that Nagra was hiding her fortune from her gigs 'E.R', 'Alcatraz' and 'Psych' to prevent him getting any of it.
Also, Stenson asserted when in 2004 Nagra got the 'E.R,' Stenson gave up his job as a photographer to maintain their life in L.A but also managed to make $300k per year as a shutterbug at the time.
Additionally, Nagra's then partner claimed that she secretly plotted her wealth under the setting of the Shell corporation which was controlled by only her. The three houses which the couple brought before getting married, was also from the 'Shell' company.
But clearly all the allegations were not appropriate and Nagra conquested the legal battle with Snapper James Stenson.
According to the legal document reported by TMZ, which states that she won't be giving up her income.
In the divorce settlement, she got granted with 'all her incomes, residuals and royalties' from her successful acting career from gigs like E.R, Alcatraz, and Psych which also includes the beaucoups the syndication dollars of her gigs.
Moreover, Nagra got presented with their $700,000 California home, $1.5 million worth property of UK and along with that she also received the proceeds from the sale of the former pair's rental property.
Simultaneously, Snapper got $450,000 from the sale of their rental house, Mazda CX9, his photography business and $1,226 per month to sustain child support for their four-year kid, Kai.
With the glorious victory of Nagra, the case was closed on 2013.
Two ceremonies to tie the knot but eventually ended:
The love of Nagra with the photographer blossomed in 2002 after their meeting on the set of British TV drama 'Second Generation'. After the long run relation of six years, Stenson proposed Nagra and undoubtedly she accepted the proposal, as love has reached its apex.
Nagra announced her pregnancy in December 2008 and then got married to her long-term boyfriend. The proceedings of their wedding took place following two ceremonies one was the Civil, and another was traditional Sikh known as 'Anand Karaj' in January 2009.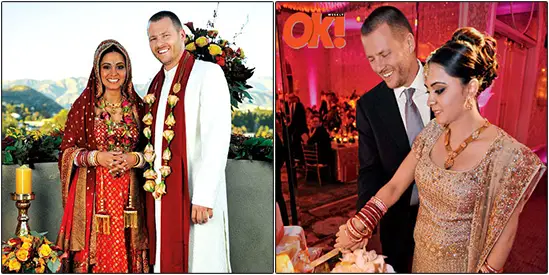 Caption: Wedding completed with two ceremonies but didn't go farther (2009).
The Sikh ceremony took place in Los Angeles planned by Dulari Amin of Phenomenon Event, and the Civil ceremony was held in Beverly Hills which was officiated by ER co-star Maura Tierney. Their reception didn't miss a Bollywood number, choreographed by the couple.
The couple welcomed their first child on May 19, 2009.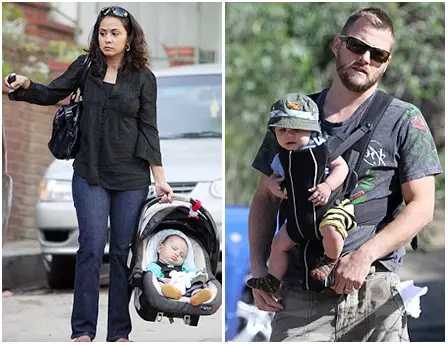 Caption: ER actress Nagra with her estranged husband Stenson carrying their cute son, Kai. (2009)
The Leicester-born star had revealed about her family was expecting to have an arranged marriage. She said in an interview,
" When I was 18 my mother gave me a photo of a man and said I'd marry him. I told her then that I was never going to have an arranged marriage."
Also, she had shared her perspective about the dating scene in Los Angeles. She said,
"One thing I find really bizarre about dating in Los Angeles is that you can have so many dates and it may not be a problem. Why can't to stick to one person? Everybody's up front about it here. They go,"I'm seeing three other people this week."
It's already been four years of her divorce. After the end of her long relation, it seems like she is yet not ready to get back to having a boyfriend. So, for now, this talented actress is possibly single.
The total outcome of her acting career:
The 41-years-old actress has not yet revealed the exact figure of her net worth. She started her career from the early 90s. She is known for her role as Jess in 'Bend it like Beckham' (2002), Dr, Neela Rasgotra in the NBC medical drama 'ER' (2003-2009).
She had a recurring role in the comedy-drama 'Psych' (2013), and from 2013-2014 she starred as Meera Malik in crime-drama 'The Blacklist.' With her praisable work, she must have an impressive net worth.
Additionally, in divorce settlement 2012, she was awarded three out of four cars, the properties of California and UK and the proceeds from the rental property which also have a hand to increase the size of her net worth.