Entertainment
Patricia Clarkson While Passing The Little Remaining Young Age Reveals Reason For Not Having A Partner Or Getting Married
Well-renowned American actress Patricia Clarkson has lived for more than half a century, and still, she has neither been involved with a partner nor has been vocal about her thoughts regarding marriage. Professionally, she has not left a thing to accomplish, but what prompted her to not think of getting married even at this age? Let us see what the reason is.
Why Is Clarkson Still Not Married And Ready To Welcome Her Husband In Her Life?
She is beautiful, smart and in her words, she is "mercurial." But these qualities are only some of the adjectives that define her and to be frank, confining her to these qualities would be an understatement. But why is she still not ready to marry and welcome her husband in her life? Is she yet to meet her true love partner or is she just too focused in her life?
The answer to that is clear in her statement she conveyed in an interview with The Telegraph.
"I've chosen to live without the confines of what society really often dictates. It's always a shock to people that I'm not married and don't have children. I've had great love in my life and I've thought about marriage but it was not a real life pursuit for me, and maybe that's sad to say. In the end, it wasn't right."
Although she is not married, she has portrayed a mother a lot of times. Regarding her role as a mother which got her nominated for the Oscars once, she stated,
"Oh I've played so many mothers! Because so many women my age are married and have children. But I think love is love. I think you just have to be capable of love. And if you're not then you shouldn't be an actor."
Furthermore, in another interview, she revealed that she had had wonderful relationships with men all her life, but still, she never had any thoughts about getting married. In her own words,
"I'm always mothers. I'm not quite sure why. I'm single—can I play me? I've never wanted to be married, and I knew it at 14. I knew I wouldn't have this life if I got married. I've had beautiful relationships with men, and I hope to continue to do so till I'm 100, but I could never live a conventional life. I'm claustrophobic. I can't do a TV series, and I can't get married. I can't do one thing for a long time! "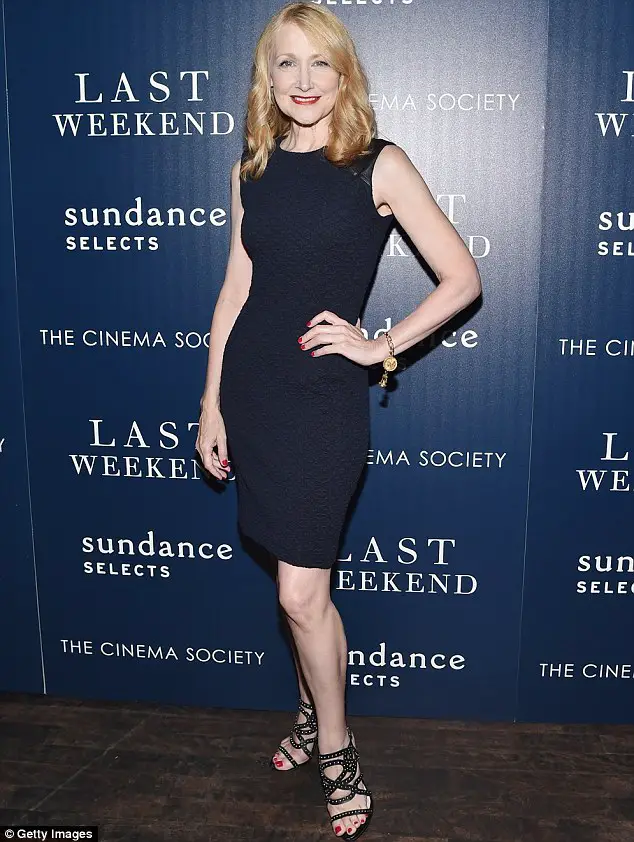 Caption: Patricia Clarkson at the screening of Last Weekend in New York, 2014.
Photo Credit: gettyimages.com

Well, that makes it clear to everyone out there why this so attractive and beautiful woman does not want to get married as she had her mind clear regarding her marriage since she was at a very young age.
Maybe she is just busy with her own life, and maybe she is right in her way. But we will keep you updated if any further news from her end regarding her marriage comes out.
Born on December 29, 1959, Patricia Clarkson is a name no one can deny identifying. She is well and truly famous for what she loves doing, acting. She is a well known American actress from New Orleans, Louisiana. She is known for her roles in "The Station Agent," "The Green Mile," "Far from Heaven," "High Art," "Good Night, and Good Luck," "Easy A," "Cairo Time" and many others.
She is also a famous voice actor, and that shows her versatility in the industry. She is talented and does not lack any grit and determination when it comes to her career, which is visible in her whopping net worth of $3 million.