Entertainment
Patricia Velásquez Could've Married Partner Of Years But 'The Mummy' Star Moved On
Patricia Velásquez is a Venezuelan actress famous for her roles in The Mummy series. She played Anck-Su-Namun and Meela Nais in the first two installments of the Mummy franchise: The Mummy and The Mummy Returns. The actress has also authored a book titled Straight Walk: A Supermodel's Journey to Finding Her Truth.
Talking about her personal life, the openly gay actress has dated some women along with a single man. And she has also suffered some painful moments in her life, be it hiding in the closet or suffering the tragedy of a heartbreak.
Coming Out As Lesbian
Patricia is the first openly lesbian South American supermodel in the world. However, she had to struggle a lot to come out of the closet. While in Venezuela, she had successfully hidden her sexuality from her family. A press report had even tried to reveal her sexual identity; however, it failed miserably in its attempt.
You May Also Like:- Adria Arjona Dating Strong At Age 26; Meet Charming Boyfriend Of Emerald City's Star
However, the 47-year-old actress was not about to hide her sexuality for her whole life. While on a trip to Venezuela for Christmas, the actress revealed her lesbian nature to her mother. Patricia told her mom,
"Mamá, it's true. I am gay"
Although Patricia's mother was shocked initially and started crying, she later relaxed. With a sympathetic gesture towards her daughter, she said to Patricia,
"My poor daughter. I can only imagine how hard it must have been for you all these years—all these years trying to tell me something and not being able to do it"
She further added,
"I don't understand, it's true. I can't tell you that I ever will. It's hard for me to understand that world, but I'm here for you and I love you."
Patricia was overwhelmed at her mother's acceptance of her sexuality. After the approval from her mother, Patricia has dated some lesbians.
Lesbian Relationships, One Exception
Patricia, who established herself as an author after publishing a book titled Straight Walk: A Supermodel's Journey to Finding Her Truth, confirmed her past affair with comedian Sandra Bernhard in the memoir.
The 5' 8" (1.73 m) tall actress revealed in the book that she became aware of her true sexuality after meeting the bisexual comedian in the 90s. She further mentioned that she had never kissed a girl before meeting Sandra. The pair dated for a while but fell deeply for each other in the short duration.
Patricia wrote in her book,
"I was deeply in love with Sandra in a way I'd never experienced before."
The couple broke up after dating for a short period, and Patricia remained heartbroken for two years after their separation.
"I cried for two years over Sandra."
Sandra was the one she could get married to, but Patricia chose to move on with her life.
See Also:- Is Sherry Holmes Married? The Young Blonde Is Engaged Despite Dating Affair Rumors With Damo Bennett
Post her split from Sandra, Patricia found a new lover in the form of a woman named Lauren. The pair dated for eight years, during which Lauren gave birth to her first child, a daughter named Maya. The couple later broke up, and Patricia adopted the kid.
Patricia is close to her daughter and has taught her some valuable lessons in life. She has even taught about pride and honesty.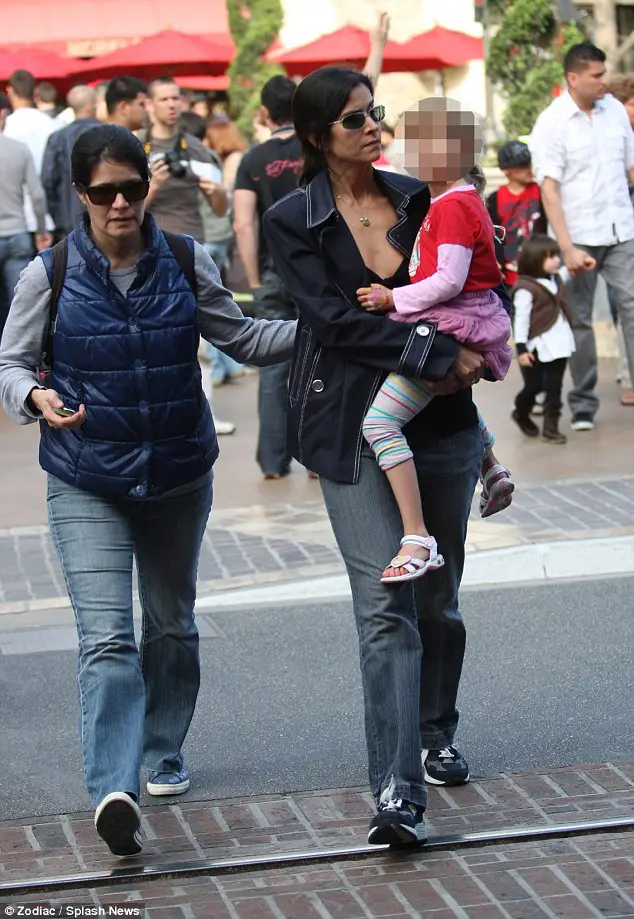 Patricia takes a walk along with daughter Maya in 2011 (Photo: Zodiac/SplashNews)
After her relationship terminated with Sandra, Patricia began dating actress Ileanna Simancas. The couple remained together for two years before finally separating in 2016. An insider revealed that Patricia dumped her lover and Ileanna was devastated after the closure. The source further mentioned that Patricia was always jealous of her partner.
However, Patricia has not only dated women. Back in 1996, she was in a short-lived relationship with Swedish model Marcus Schenkenberg. The pair dated for a short time before finally breaking up. After the split, Marcus commenced his relationship with Kylie Bax in 1999.
More From LiveRampUp:- Nazanin Mandi Wiki Reveals Age, Ethnicity, Nationality, Parents Root & Unseen Details
As of 2018, Patricia is single and busy focusing her time on her daughter. The actress hasn't mentioned of an ongoing romance. Further, she has not shown much interest in getting married or setting down with a husband.
Family Life
Patricia, the fifth of six children, was raised by her educator parents. Patricia's mother was a descendant of the Wayu group in India, whereas her father was half Indian and half Spanish who worked for the UNESCO. During her childhood, the family moved back and forth from Paris to Mexico before finally settling down in Venezuela. Patricia was raised in a low-income family with her parents often struggling to meet the ends.
Patricia is close to her family and even bought them a home from her income from photoshoots earlier in her career. Further, she is also a responsible sister who paid for three of her brothers' college education fees. Moreover, Patricia has accumulated a net worth of $800 thousand.
Hair Care Brand And Charitable Works
Patricia launched her brand of hair care products called Taya Beauty at Home Shopping Network (HSN) in February 2011. The products of her brand are claimed to be free of animal products, sulfates, and parabens.
Further, these products are believed to have been prepared through sustainable environmental resources of the communities of South America.
Patricia recently revealed in August 2018, that her Copaiba Resin Advanced Blend Volumizing Conditioner has been nominated for the Best Conditioner in the 2018 Customer Choice Beauty Awards. However, the result of the award has not yet been disclosed.
Patricia has also been involved in charity works for a long time. She established the Wayúu Tayá Foundation in 2002, a charitable foundation that helps build elementary schools in Venezuela's backward communities. Similarly, Patricia has been raising funds for the people of the country to fight starvation and malnutrition.