Entertainment
Pregnant Draya Michele Gave Birth to Baby Boy: Boyfriend As a Child's Father, Husband?
When a new baby is born, a new bunch of happiness is born. A new-born baby enhances his mother's inner beauty. Likewise, a bundle of happiness has knocked the doors of American television personality Draya Michele which has increased her beauty to a new level.
Today, we will be guiding you more about 'Basketball Wives LA' Star Draya Michele's pregnancy and her child's father. She was pregnant for the second time.
Draya Welcomes a Son! Pregnant?
On Friday, April 8, 2016, Draya Michele gave birth to a son "Jru Scandrick" with her boyfriend Orlando Scandrick, an American football cornerback for the Dallas Cowboys of the National Football League. She announced the news about the birth of the baby boy via social media on Thursday, April 14. She gave birth to a healthy boy at 6.5lbs and 20 inches long.On Mother's day, she shared a precious and intimate video with a beautiful message. In the video, she was seen pulling out her baby.
Caption: Draya welcomes a healthy baby boy
Thirty-one-year-old beauty Draya Michele is already a mother of a 13-year-old son named "Kniko". Likewise, Scandrick is a father to twin daughters. Draya has also tweeted how her elder son reacted seeing his baby brother.
Kniko is scared to hold Jru. And the one time he did, he started laughing uncontrollably and I got nervous. We ALL got nervous. ????

— Draya Michele (@drayamichele) April 28, 2016
Her Boyfriend As the Baby's Father? Husband?
Scandrick will co-parent the newborn baby even after calling off the engagement. He will not be Draya's husband but will still be included in the picture. Their engagement was ended in January 2016 after dating each other for two years.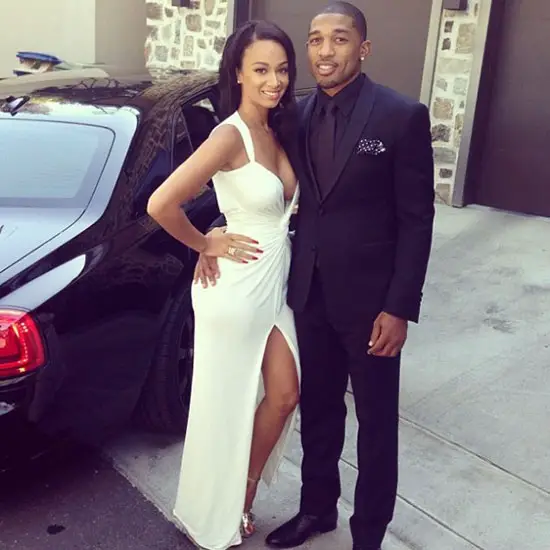 Caption: Draya Michele and her ex-boyfriend Orlando Scandrick.
Source: vibe.com
Draya Michele's Short Bio:
American television personality, Draya Michele was born on January 23, 1985, in Reading, Pennsylvania with mixed ethnicity.
She is best known for appearing in the VH1 reality series "Basketball Wives LA". Since the premiere of "Basketball Wives LA" in 2010, Draya was one of the main cast members. In the year 2013, she launched her swimsuit line "Mint Swim" and her own clothing line "Fine Ass Girls". She has also appeared in "Will to Love" in 2015 and "The Perfect Match"this year.