Entertainment
Gloria Govan While Going Strong With Coach Boyfriend Derek Fisher Meets With An Accident!
Former "Basketball Wives" star Gloria Govan is happily in a relationship with former NBA star and coach Derek Fisher. The two have been spotted in some places, and wherever they are seen, they are just adorable with one another.
As the relationship was going ever so smooth, they have been tangled in a freak accident recently. So let's shed some light on the horrific incident and also take a look at the love relationship between Gloria and Derek.
Gloria Govan And Derek Fisher In Freaky Car Crash!
Gloria, who is 34 in age has been involved in a freaky and reckless car accident with her boyfriend and former NBA player Derek Fisher.
In June 2017, Derek's 2015 Cadillac flipped over just around 3 AM PT as he was headed northbound on the Ventura 101 Freeway. But thankfully, neither Derek nor Gloria was injured in the crash.
As a result of that, Derek was arrested and taken into custody after it was suspected that he was driving under the impact of alcohol. The car wreck could have been deadly from how badly the car had flipped.
Fisher's car was said to have veered onto the shoulder as it approached an interchange and then hit the guardrail and curb which resulted in the car rolling over, flipping and coming to a stop on its roof.
Gloria and Derek's representative released a statement that read,
"On behalf of Derek Fisher and Gloria Govan, they would like to thank everyone for their thoughts and prayers. They are beyond grateful that they are both okay and that no one else was involved. Both Derek and Gloria are home and ask that you respect their privacy."
Gloria and Derek are dating one another since the month of October 2015. Derek is a decorated player, who has won an astonishing five titles with the Lakers in Los Angeles and has also represented some of the other big clubs like the Golden State Warriors, Oklahoma City Thunder, Utah Jazz as well as Dallas Mavericks.
Also, did you know, Fisher was also famously involved in a physical dispute and a heated feud with his former LA Lakers teammate and the ex-husband of Gloria Govan, Matt Barnes?
As a result of the conflict, Barnes then went on to play for Memphis while Derek was handed a two-game suspension.
Dispute Over Custody Of Children
Matt Barnes and Gloria Govan have two children together, twin boys Laura Govan and Lonnie Govan.
The formerly married couple's toxic relationship took them to court multiple times. The reason for their court visit was the dispute over the custody of their two boys. It was very public and lengthy court case between the estranged pair started in 2014 where both fought for the custody of their children.
Saying the legal issues of the reality star and her ex was dramatic would be an understatement.
Another Basketball Wives Star's Messy Relationship:- Royce Reed Age, Husband, Parents
In October 2018, Matt and Gloria were involved in a major alteration in their boys' school parking lot. The fight escalated as both the parents wanted their sons to spend Labour Day weekend with them.
Well, the tug of war escalated in such a way that police had to be called to end the fight. In the end, Gloria was arrested and taken into custody. But, the judge later ruled she won't be charged with felony citing lack of evidence.
In a major win, Matt finally won the sole custody of his children in November 2018. In addition, he was also granted 18 months of a restraining order from his ex-wife Gloria. Although, he won, judges weren't cruel with Gloria.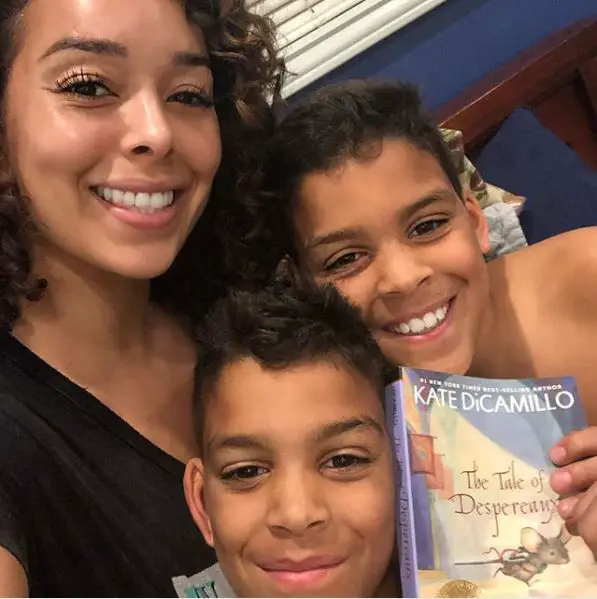 Gloria Govan takes a selfie with her twin sons Laur and Lonnie on 28th February 2019 (Photo: Gloria Govan)
Well, she was granted regular visitation every other weekend and dinner once a week with her sons.
Addressing pregnancy-related issues!
Gloria was once rumored to be pregnant with Derek's child, and those rumors hit the media when she had a slightly bigger belly and was trying to cover it up now and then.
Actor's Fiancee' Pregnant:- Who Is Caitlin McHugh? Wiki Details From Age to Pregnancy Revelation
But when the stories became too much to handle as the fans just could not stop congratulating her and Derek, she then revealed that she was just getting fat.

Gloria Govan addressed the rumors of her pregnancy (Photo Credit: bossip.com)
There you go, folks. She was not pregnant. Now, let us wait and see if the couple has any plans to expand their love and welcome a baby soon!
A Little More About Gloria Govan:
Gloria Govan, who celebrates her birthday on the 22nd of February was born in 1985 in Oakland, CA. She is best known for starring in "Basketball Wives LA" and "Meet the Blacks."
Many people often wonder about the ethnicity of this beautiful lady and back in 2010, she tweeted about her ethnicity and revealed that she is half Mexican and loves Tacos.
Hey I'm half mexican, u know I love my tacos.
She has two siblings namely Laura Govan and Lonnie Govan and has two children Carter Kelly Barnes and Isaiah Michael Barnes with her former husband, Matt Barnes.
Stay with us to know more about the life of Gloria Govan.