Entertainment
Rebekah Vardy & Husband Keeping To Wedding Vows As Family With Children Ever Flourishes
Reality show personality, Rebekah Nicholson is famous for her appearance on the shows like I'm A Celebrity... Get Me Out Of Here, and ITV's Loose Women.
Also the wife of a famous personality, Rebekah leads a comfortable life. However, she went through some tough years in the past. Raised in a broken home, Rebekah became the victim of sexual abuse in her early teenage year.
Further, she has also gone through a divorce in the past.
Wedding With Footballer Husband; Step-Daughter Not Allowed
Rebekah was married to Jamie Vardy on 25 May 2016, and the partners have been together since. Her husband is an English professional footballer who plays for the Premier League club Leicester City and the national team of England.
The couple first met in 2014, while Rebekah was working as a party planner. She was initially hired to plan a party on Jamie's birthday. Jamie developed an immediate liking for her, and after asking out several times, Rebekah finally agreed to go out with him. The couple started dating soon and their love child Sofiya was born after which the couple tied the knot in 2016. The wedding ceremony was held at Peckforton Castle in Cheshire. However, the groom's family was absent from the event due to an ongoing dispute in the family.
Jamie's mother Lisa Vardy and step-father refused to join the event as they disproved the match between the couple. Reportedly, Jamie's parents have cut all ties with their son. On the other hand, Rebekah's mother didn't attend her daughter's wedding as she wanted to get away from the spotlight.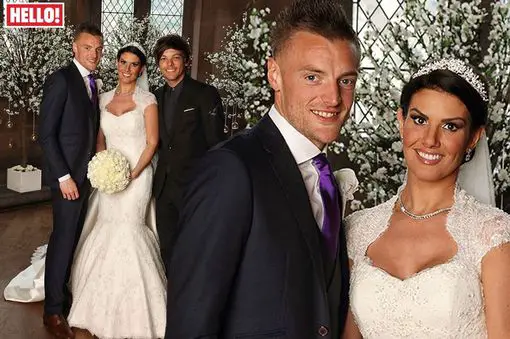 Rebekah and Jamie Vardy get married in a traditional wedding on 25 May 2016 (Photo: Hello/LeicesterMercury.co.uk)
Rebekah and Jamie are also parents to a son named Finlay. The couple resides in Lincolnshire along with children. Formerly, they lived in a home in Melton Mowbray but had to abandon the house due to some crazy fans. The couple sold the house for £1.25million.
Jamie has a daughter named Ella from his previous relationship whereas Rebekah is also the mother of two more children, Megan and Taylor. Rebekah considers Ella as her own child and even asked her to become one of the bridesmaids along with other daughters in her wedding. However, Jamie's ex-girlfriend Emma Daggett refused to let Emma attend the ceremony.
Unsuccessful Past Marriage
The 36-year-old WAG was previously married one time; however, the relationship didn't last longer than a few months. 10 years before she met her current husband, Rebekah was tied in matrimony with an electrician named Mark Godden. The wedding didn't last long, and the couple separated after six months. Post the split, she developed a series of dead-end relationships and gave birth to her first daughter Megan at the age of 22. The identity of Megan's father is not disclosed.
Later, she started dating footballer Luke Foster. During the relaionship which lasted six years, the former couple became parents to a son called Taylor.
Childhood and Family Details
Rebekah had a rough childhood growing up. She spent her early years moving from city to city while living in Norwich, Reading, and Oxford. Rebekah's parents had divorced when she was just 11 years old. Her mother got married soon after which Rebekah developed a rebellious attitude. She would frequently get in trouble at school for drinking and fighting. At the age of 16, Rebekah was let go of the family home forcing her to work at bars and sleep on her friend's sofa.
She recently accepted being sexually abused by a family friend at the age of 13, although she didn't reveal the name of the culprit.