Entertainment
Robert Sheehan Wished For A Girlfriend And Got It! But Is He Still Dating Her?
Not every wish comes true! Some people, despite hard work, are left with disappointment; while sometimes the aspirations materialize without much investment.
Robert Sheehan, an Irish actor, also once wished to have a dating affair. And for someone like Robert, who looks like a lady charmer, finding love shouldn't have been a difficult task. Surely enough, Robert's wish came true! But the question is, is Robert still with the girlfriend who fulfilled his dating desire?
We will have to take a stroll past Robert's dating life to find out.
Is Robert Sheehan Still Dating His Girlfriend?
Popularly known as Nathan Young in Misfits, a British science fiction comedy-drama TV show, Robert, who belongs to the Irish ethnicity, is an actor whose beautiful eyes, charming smile, and a hot shirtless body have been able to attract many female fans' attention.
But despite such captivating personality, Robert, who supports gay equality, was single back in 2013. Well, it was then that he addressed the fact that he wanted to find a soul mate.
And, guess what? Naturally, his wish was granted a year later: he met Sofia Boutella on the set of their movie Jet Trash in Goa, India. The two started dating in March 2014, while maintaining a low-profile romance. The duo soon began making public appearances, and their love was all evident.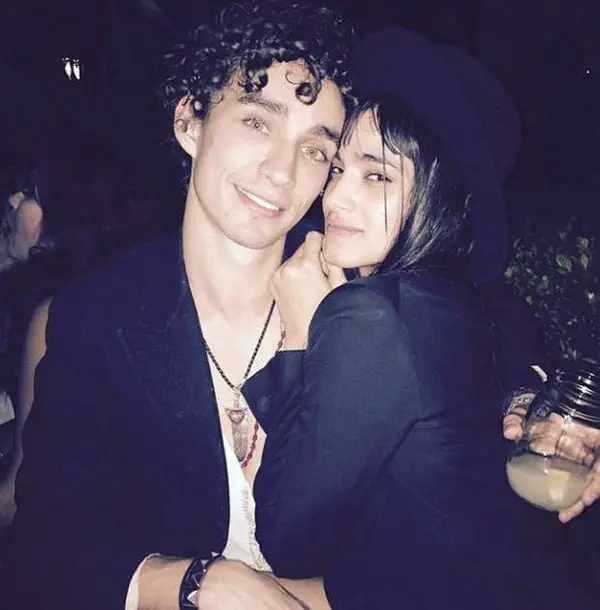 Caption: Robert Sheehan cozying up with Sofia Boutella
Photo Credit: independent.ie
Furthermore, in an interview with Independent back in 2015, when asked who the last person to see him naked was, he said,
"It was a girl called Sofia . . . she's my lovely other half,"
The couple then happily made it to 2015 and even got an opportunity to take a flight in a helicopter piloted by Tom Cruise. Robert had planned a surprise weekend with Sofia which got ruined, as Sofia was demanded at Oxford for the rehearsals. Robert described the scenario as,
"I took her to Dorset, had it all planned out. I was going to take her to Monkeyworld. That was the piece de resistance.

But then she gets a call on Saturday saying, 'sorry, we need you in Oxford for rehearsals'. Wasn't thrilled about it, but work comes first. A car picks us up, we get there, meet Tom, and they get to rehearsing.

Then he goes, 'I'm flying back to London, do you want a lift?' We jump in to the back of his helicopter and he takes the scenic route and gives us a tour of the country estates. And the whole time I'm completely wowed. And sometimes, I wish I could become less wowed by these things."
Everything was going all good with the two lovebirds until Sofia was rumored to be dating her co-star from Star Trek Beyond, Chris Pine. The rumors started swirling after Entertainment Tonight reported that Sofia and Chris were seen flirting at 'Coachella Valley Music and Arts Festival' in April of 2017.
However, no further confirmation came forth from the concerned parties, and they were supposedly only good friends.
Meanwhile, Robert and Sofia's fans were just starting to get relieved after the rumors of Sofia dating Chris faded away when Sofia threw a bummer in September 2017 by sharing a video on Instagram where she kissed Miles McMillan in Lady and the Tramp fashion.
Now, that has left everybody to ponder if Sofia has split with Robert and moved on with Miles. However, the nature of Sofia and Mile's relationship is unclear, and neither has the news about Robert and Sofia's split come forth.
So, as of now, it is just too perplexing to reach any conclusion, as the people involved in it are yet to give an official statement. Let's hope the mystery gets solved sooner than later!