Entertainment
Rumors Of Lee Seo-jin Being Married And Having A Wife True Or Not? Considered Wedding With Co-Star On A Condition
As actor gains popularity and rises to fame, then fans strive to know every possible detail. Similarly, South Korean actor Lee Seo-jin popularity has been enough to spread the rumor of his marriage. So, let's find out more about the rumor marriage and wife.
The Truth Regarding Marriage And Wife:
Lee Seo-jin and Kim Jung-Eun started dating while shooting SBS Drama Lovers in 2006 and their relationship was considered strong. They even made public appearances on dates together, unlike many stars. Despite his busy schedules, Lee made an appearance with Kim on Variety show, and he sang the love song that marked their character's romance in Lovers.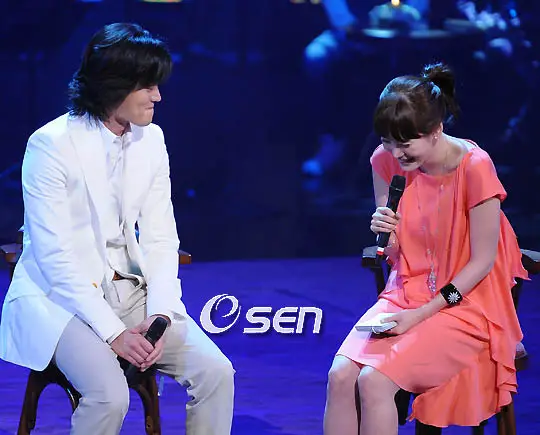 Caption: Lee and Kim appeared on Variety Show of SBS which aired on March 11, 2008.
Photo Credit: Osen
They traveled to America on summer to shoot a fashion spread together in September 2008. And after two years of dating each other on November 22, 2008, Kim announced their break up and was reported as the split occurred at the end of October and Kim didn't want a breakup but Lee did. He initiated the breakup, and it shocked Kim. And fighting tears she said,
"It felt like I'd been in an unexpected car accident" and "I felt like I'd been shot."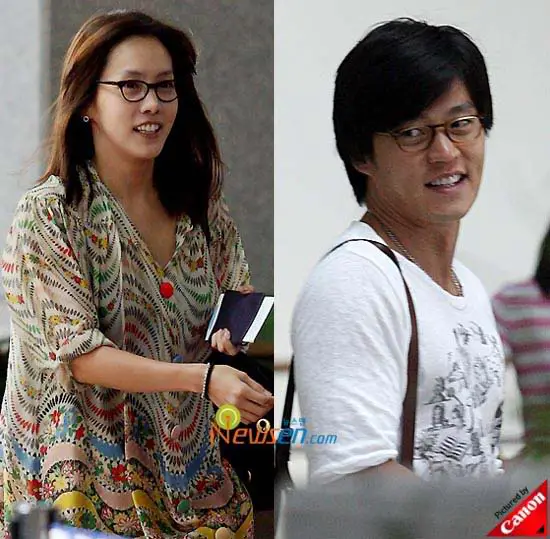 Caption: Kim and Lee captured at Incheon International Airport on June 20, 2008.
Photo Credit: newsen.com
In 2015, Lee Seo Jin and Choi JI Woo traveled together for the travel reality show "Grandpas Over Flowers". And the chemistry between these actors sparked a rumor of their dating relationship, and these rumors went on for a year. Choi adorably called Lee "cute" and Lee said, she did not need to wear make-up.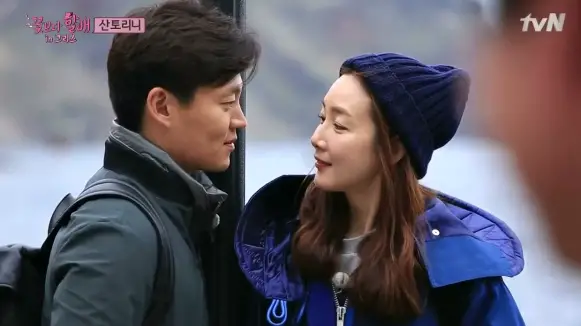 Caption: Lee and Choi on Grandpas Over Flowers, Episode 6 in Greece.
Photo Credit: dramabeans.com
On February 4, 2017, an article on Korea Times reported that Choi denied dating Lee in a vague way that being co-stars they do not necessarily date and said,
'Does co-stars mean dating partners after all,"
The latest episodes of "Grandpas Over Flowers in Greece" features Lee and Choi. And soompi.com reports the conversation between Lee, Choi and PD Na Young Suk which occurred when they met producers in Seoul.
And PD Na Young Suk asked the question of public interest which was if Lee and Choi were dating?
PD Na Young Suk said,
"Once Uhm Tae Woong sent me a text. He asked if you two were really dating."
Lee replied as he might think of exchanging wedding vows with Choi but only in one condition and said,
"If Choi Ji Woo fixes her excessive spending habits maybe.."
In reply Choi said,
"No thank you."
And this reply leads to laughter.
Lee has been linked to co-stars and even dated too, but Lee has not been married yet, so he does not have a wife yet.
Lee Seo-jin comes from a strong financial background and has done his Masters Degree in Business Management from New York University. His grandfather happens to be the first Governor of Seoul Bank and a Vice President of the Chamber of Commerce.
Lee's father was a former Treasury Director and the family deemed to have businesses in the financial, insurance, and tourism sectors.