Entertainment
Ryan Friedlinghaus Personal Life Details; From Wedding To Adorable Family With Wife!
American reality television star, Ryan Friedlinghaus has been able to rise to fame through his appearance in the MTV series, Pimp My Ride. He is a proud co-owner and CEO of the car customization company West Coast Customs, which is also featured in the series.
Apart from his love for cars, Ryan is a family man with wife and children. He has been married to his girlfriend-turned-fiance while marking their memorable days with unforgettable moments. He had a perfect wedding with his partner-in-crime and now shares children with his wife.
Follow the whole story of Ryan Friedlinghaus down below!
Too Perfect Marriage
Ryan, age 43, is a family guy who is perfect at delivering the needs of his wife and children. He has been married to his wife, Meagan Elliott-Friedlinghaus, who runs the West Coast Crystals.
Ryan exchanged the wedding vows with Megan in 2011 and currently shares seven years of togetherness. It turns out their marriage was not an ordinary one. Not only did they had the perfect date but also had impeccable timing. The duo signed those papers on the exact time of the precise day.
They married on 11 November 2011 aka 11/11/11 when the clock struck 11:11. While 11:11 is regarded as a time for making a wish the duo made a longing and promise for their togetherness.
Well, they made sure of their flawless timing. Their marriage was officially announced the very next day by Ryan through a tweet on his Twitter. Ryan wrote,
"It's official...... Just got married to Meagan on 11/11/11 @11:11 pm! Wow!"
However, a month later Ryan made another official announcement on Christmas. After he married at 11:11, Ryan made another cherishable memory on the Christmas of the same year.
Ryan posted a picture with his wife on her wedding dress and posed up with Santa while Megan had her arms wrapped around Ryan.
According to his post, Ryan had his official wedding with Megan on Christmas. Adding to it, his caption revealed that Santa took their wedding vows. He wrote,
"Me and Meagan had our official wedding today on Christmas and SANTA did our vows! #GREATMEMORIES"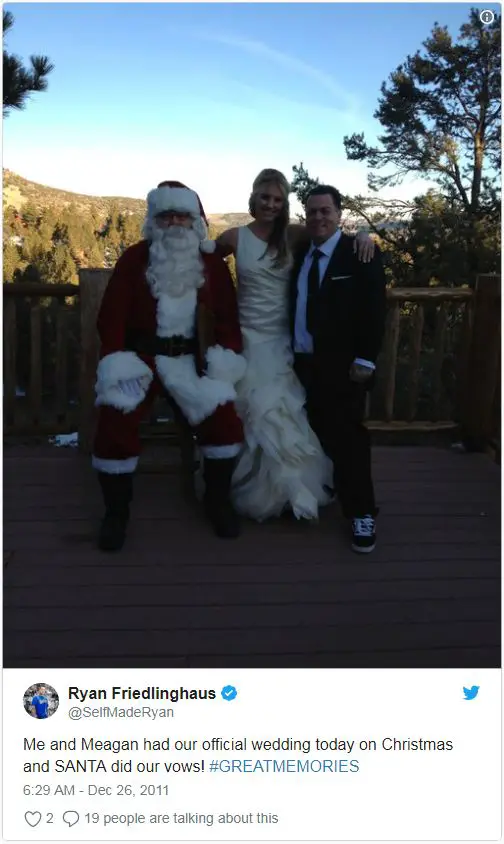 Ryan Friedlinghaus with wife Megan Elliott on Christmas 2011 (Photo: Ryan Friedlinghaus's Twitter)
They surely had a memory for a lifetime. Well, Ryan sure seems to be an expert at building up immaculate memories with perfect timing.
Cherishing Family Life With Children
Well, not only has been blessed with a blissful married life but also shares his bundles of joy with his wife. Ryan shares parenthood with Megan. They are blessed with three children - two sons Ryan Jr and Dylan, and a daughter Briana.
Ryan and Megan's oldest is their son Ryan Jr. who has his own clothing line, Pas De Faux. After Ryan Jr., Megan gave birth to their second baby Dylan who has also made a name for himself at his young age.
You may also like: Heather Storm Age 26 Needs Car Lover Husband; Love For Cars Reflect
Dylan is just 11 and is already a singer, actor, and star of the popular YouTube channel, Dylan's World. He surely seems to have decided what he wants from life.
Ryan also has a daughter Briana who is the youngest. Briana is now nine years old.
Well, his children are gaining fame for themselves from a very young age. He surely seems to enjoy watching his kids making name for themselves along with grabbing as much time as possible.
Their family of five are enjoying vacations on holidays along with road trips while cherishing the family moments. As Ryan seems to be sharing his moments with his wife and children there have not been any signs of their divorce yet.
From Few Bucks To Million Dollar Net Worth
Apart from his perfect family life, Ryan Friedlinghaus also has a massive net worth. Ryan, who started his company West Coast Customs(WCC) in 1993 with only $5000 which was a loan from his grandfather, now has a massive rise to his net worth of $15 million.
See Also: Laci Green Gracefully Dating! Meet Cheeky Boyfriend At Age 28
He began his step to the stardom when he started WCC in Orange County which eventually landed his company to the current position through the course of time. He sure is rising in his career and just like him, his son is taking steps to stardom at an early age.
His second son Dylan who is just 11 has been making a mark for himself. Adding to it, Dylan also earns big bucks of average $200 thousand yearly.