Entertainment
Heather Storm Age 26 Needs Car Lover Husband; Love For Cars Reflect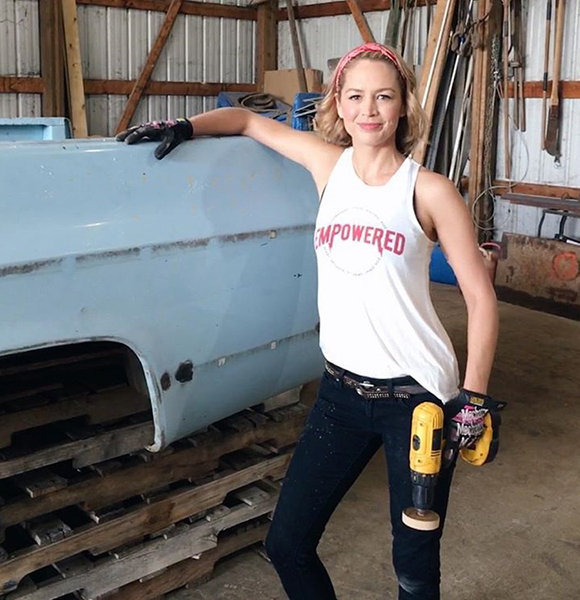 American TV Host, Heather Storm is a unique lady, who spends most of her time with wrench and spanner rather than handbags.
The television host at Velocity Network's series, Garage Squad runs her love for her cars very deep and feels more at home in the garage. While most girls grew up combing Barbie's hair, Heather was learning to use car tools and shoot guns with her father.
Making profession out of her passion, Heather has been able to grab many men's attention with her looks and eye-catching smile. She has been fantasized by her admirers but what about her interests in dating?  
Well, seems like she has a taste of her own and is looking forward to having a man who shares similar interests with her. 
Inborn Inclination For Cars, Enthusiastic Traveler 
Heather Strom, the former recurring mixologist on the Playboy Morning Show, has found love with her profession. While growing up a tomboy, she first learned driving a manual transmission and to change her own tires.
Being raised under the wings of a DIY maverick father, the sole female host learned to use wrenches and spanners eventually developing a love for car repairs.  
See also: Ant Anstead Way Over Divorce With Wife! Official With Girlfriend, Ready To Get Married?
Well, along the way she started mending classic hot rods for people and get them back on the road along with her male co-workers crashing the garages around Chicago. Her work gained her much fame and net worth along with enthusiasm for traveling. Indeed, she is fond of exploring places and has been to more than 20 countries around the world.
The explorer, Heather owns a classic 1965 Ford Mustang on which she hits the road traveling to new places. Talking about her travels, she is looking forward to another road trip around American roads while driving through beautiful small towns.
The Montana native, age 26, talked about her next travel on her 65' Mustang through a post on her Instagram back in February. She posted a picture with her Mustang captioning the picture as,
"It's time for another American road trip adventure in my '65 Mustang. I'm looking for beautiful drives through inviting small towns, since it will be this spring, Southwest area would be nice. Suggestions welcome :)"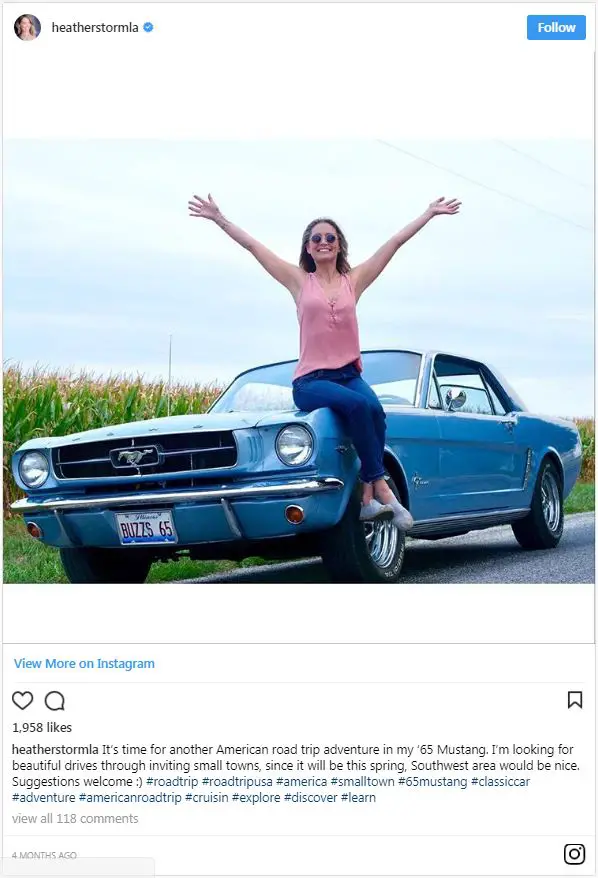 Heather Strom with her 65' Mustang (Photo: Heather Strom's Instagram)
Well, she sure seems like a free spirit taking tours and living her passion. While doing so, as she has been admired by many, her marital status is something her followers wish to know about.
Podcast And Photoshoot Adding On Her Resume 
Apart from appearing in the television alongside repairing cars and doing her travels, Heather has been involved in photoshoot along with doing podcasts. Recently Heather modeled with a few of Rod Emory's vintage along with custom Porsches despite the burning heat.
Adding to it, Heather, who has an average salary of $40,000, has new projects up her sleeve as the new episode of her podcast recently released on her official website. The podcast featured Anthony Bourdain as they bid goodbyes. 
Moreover, as of recent, Heather along with her team wrapped up another episode of their Garage Squad. Heather posted a picture with her squad in her Instagram recently on 26 July where she opened up that she can't wait to share the new episode with her fans. 
Well, seems like she is much into her career but what about her love life? 
Looking Forward To Car Lover Husband?
Talking about Heather's love life, many parts of it are still a mystery for her admirers. She has been able to keep her marital status at bay for her fans. She has not yet revealed if she is married or not. 
However, turns out she was previously involved with Dave Hause, who is a singer and a songwriter. According to her tweet on Twitter, Dave was her first boyfriend with whom she shared her love. 
You may also like: Clayton Morris Married Life With Wife Full Of Content As They Keep On Adding Children! Any Possible Divorce Stench?
But Heather, who celebrates her birthday every year on 24 May, has not opened much about her love life and relationship with Dave. However, it has come to light that the two has already parted their ways.
As of now, Heather seems to be single as there is no mention of her possible boyfriend in any of her social media posts or interviews. While she seems to be enjoying her single life with love for cars and traveling, she surely is waiting for a person who shares similar interests with hers.
A person with enthusiasm for cars and traveling could be her first choice!