Entertainment
Ryland Adams, 26, And Gorgeously Dating! It's Not A Girlfriend
In general, when we think about a male celebrity, it's natural to get curious about his love life beyond the screen. Although the counterpart of a man is either a girlfriend or a wife, one may have a different gender preference and could date a man too, as love has no boundaries.
The very case could be associated with a famous YouTube star and Clevver Media's face Ryland Adams, as he is enjoying a romantic life with a boyfriend.
So keep reading as we unfold his special one along with other details from his personal life!
Ryland Adams' Romantic Union
After months of speculation around the relationship between Ryland and YouTube star Shane Dawson, they finally confirmed their dating affair back in October 2016.
The couple, who met via a dating app Tinder, acknowledged their relationship, and Shane poured out his feelings for his boyfriend Ryland via Instagram, stating:
"As you guys know I've been pretty private about my personal life for the last couple years. It I also feel like I've been hiding such a huge part of my life recently and I don't want to do that anymore. So here it goes. This is Ryland. He's sweet, caring, and makes me so incredibly happy. He's also my boyfriend."
Moreover, Shane quoted that Ryland has been a big part of his life and also means a world to him.
"He's been a really big part of my life and I'm so grateful that i met him. Don't worry, I don't want to exploit this or do 'boyfriend tags' or any of that dumb s*it. I just don't want to hide this part of my life especially since it makes me happy. Thank you guys for supporting me and for supporting the people in my life that I love. It means the world to me."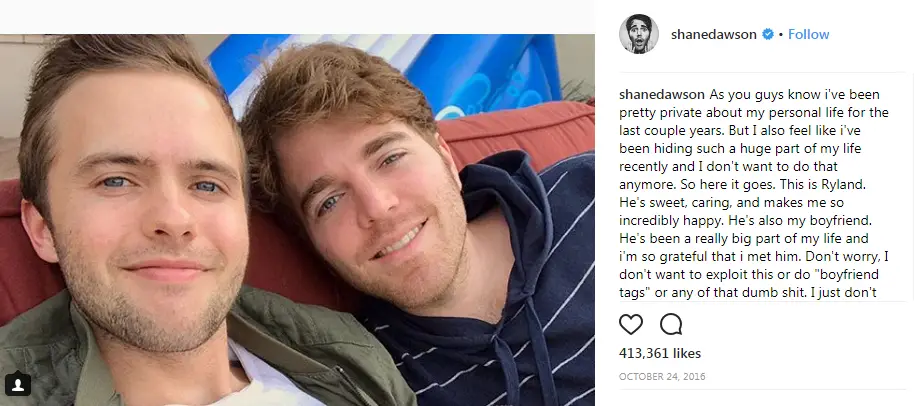 (Photo: Shane Dawson's Instagram)
Moreover, on the day dedicated to love, Ryland wished his Valentine, Shane with an adorable Instagram post back in 2017. Although Shane previously stated not to do boyfriend tags, he eventually did and uploaded several videos with Ryland.
Over the years, their relationship has blossomed, and fans get to watch their beautiful association on various YouTube videos. Recently, Ryland shared a cute picture with his partner expressing that he is happy with his best friend forever.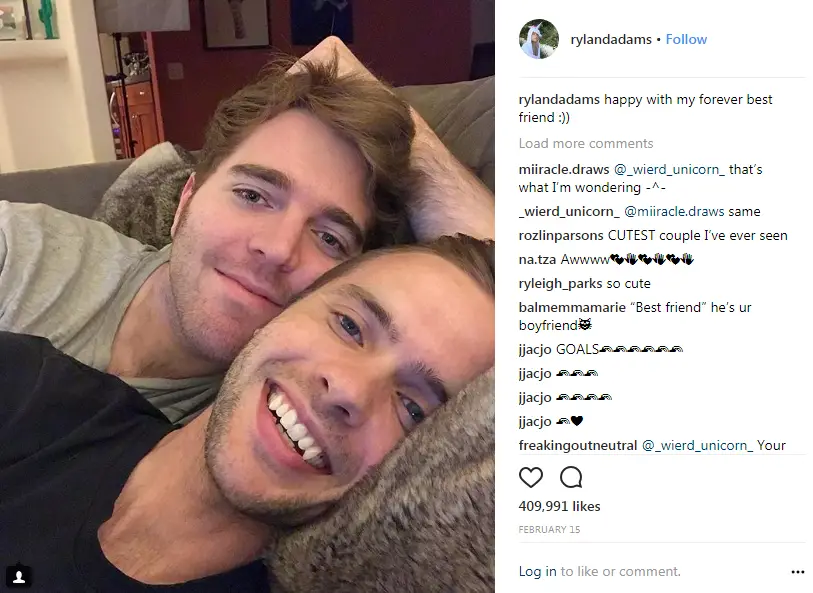 (Photo: Ryland Adams' Instagram)
As Ryland and Shane are in a serious long-term relationship, not only fans but Ryland's family too are also curious to know about their future together. Thus, serving people's curiosity, Ryland expressed that he envisions his life with Shane, and also wants to become parents with him.
While discussing thier future with children, Shane shared that he wants to raise kids with Ryland as well.
Moreover, to know if they are ready to become parents to a child, the couple even brought and had a robotic baby for a day. And all together, they had an interesting day with a robotic baby, which was a treat to watch for their fans.
Talking about the past of Ryland's boyfriend Shane, he took a big step in his life and came out as bisexual. Before coming out of the closet, Shane was dating his former girlfriend, Lisa Schwartz; but their relationship could not survive long, and they eventually broke up back in July 2015.
Ryland, who is 26 of age, has made a name for himself as a YouTuber today, but initially, he studied broadcast journalism at Metro State University. Further, he went on to create a pop culture network 'Utubular' in 2013, where he contributed as a host as well as producer for the channel.
Ryland's passion towards his craft has showered him with the estimated yearly earning of $44.2K - $706.8K, which must have helped him accumulate a decent net worth, but the exact figures remain confined till this date.
Keep Visiting for the emerging updates on the life of Ryland Adams!