Entertainment
Santino Rice From Project Runaway A Gay Man? Or Just Someone Who Supports It?
Did you know that a whopping number of nine million people belonging to the LGBT group reside in the United States?
Well, the particular term isn't unfamiliar in the entertainment industry as well. While many celebs and public figures, who belong to the LGBT group, are vocal about their sexuality to the media, personalities like Daniel Levy, Shepherd Smith, and Matthew Daddario had been the victim of the gay rumors; just because they support the LGBT community.
Talking about the famous American fashion designer and former 'Project Runway' contestant Santino Rice, he has been supporting the gay community for a long time, that has resulted in him being speculated to be a gay man. But is that the truth, or just a misunderstanding?
Let's get to the bottom of the matter to find that out!
Santino Rice: Is He Gay?
Although Santino Rice is consistently seen raising his voice in favor of the gay rights, he hasn't cleared up the curiosity regarding his own sexuality. As per sources, Santino was believed to be bisexual.
Although he hasn't been with a boyfriend publicly, Rice once stated that he is attracted to both men and women.
"You can just call me gay but I like men and I am attracted to beautiful women. I didn't like the negativity that was attached to being gay growing up so that is why I have problems with the label."
But, Santino hasn't mentioned his sexuality precisely, which still leaves the matter unclear.
But despite his own sexuality being questioned, Santino has always continued his support for the gay community. On 9th May 2012, he uploaded a tweet that emphasized his support for gay marriage declared by former President Obama.
On May 9, 2012, Santino tweeted his request to help gay men be free from Chechnya.
In a nutshell, although Santino has kept his sexual identity to himself, he seems to be a genuine supporter of the LGBT group.
Santino Rice's Short Bio:
Fashion designer Santino Rice, who was born on August 20, 1974, in Saint Charles, Missouri, goes by the full name Santino Quinto Rice.
When it comes to the initiation of his career in fashion, Santino first polished his skills from 'Fashion Institute of Design and Merchandising' in Los Angeles. Later, he got opportunities to work in the fashion and film industries.
In the year 2005, he competed in the most coveted fashion designing game show, 'Project Runway: Season 2,' where he won two challenges and landed a spot among top three designs, thrice! But, Santino was at the bottom two scores for four challenges.
Eventually, he stuck throughout the season and became one among the three finalists, who were elected to showcase their designs at Olympus Fashion Week in NY.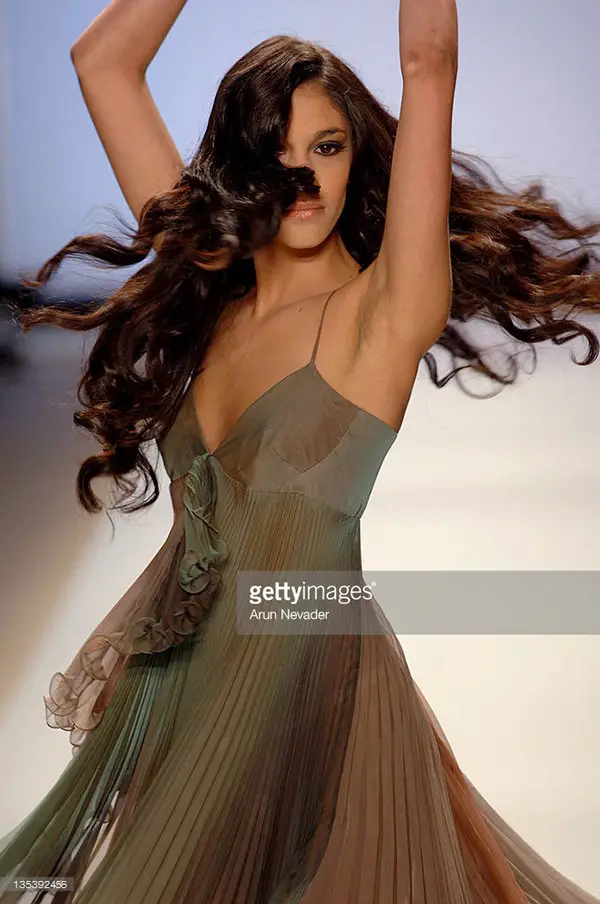 Caption: One of Santino Rice's elegant designs at the Olympus Fashion Week in NY in 2006.
Picture Credit: Gettyimages
Additionally, he was also a judge on the reality program, 'RuPaul's Drag Race' from 2009-2014. Moreover, Santino is popular for starring in the show, 'On the Road with Austin and Santino.' With all the hard work he put in his profession, the 43-year-old and talented Santino Rice enjoys an impressive net worth of $500,000.