Entertainment
Sara Walsh's Married Life With Major League Pitcher Husband, Matt Buschmann
Have you ever heard about any television celebrity who got married with the help of a matchmaker? If you haven't, you must read the marriage story of ESPN's sportscaster, Sara Walsh, and her husband.
Sara Walsh married major league pitcher for Arizona Diamondbacks, Matt Buschmann in 2014. The couple married in Sarasota, after dating for two years. Three years after welcoming their bundle of joys, Sara opened about their shared struggle.
Story Of How Sara Walsh Met Her Husband
Sara first met Matt when she was working for a Local TV station in Nashville and Matt was the Vanderbilt Pitcher. Sara had often taken interview of Matt during that time.
Don't Miss:- Married in 2010, CNN's Kate Bolduan Became a Mother in 2014. Meet Her Husband and Daughter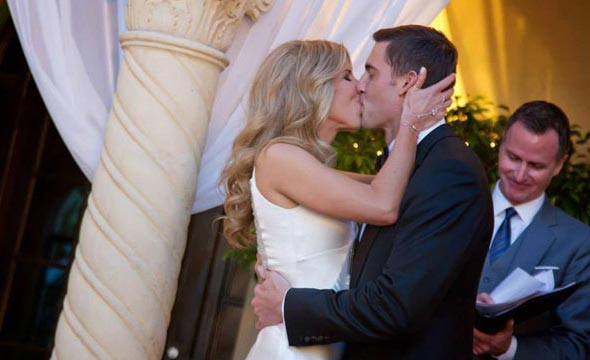 The lovely bride, Sara Walsh with the groom, Matt Buschmann (Source: nkproductions.net)
The real incentive for the relation of Sara and Matt is Matt's contemporary, David Prince. When Matt knew that Sara was to interview David, he asked David to convey his hello to the anchor, Sara.
And when she heard about Matt's greeting she excitedly expressed her love. Similarly, David also abruptly revealed Matt's affection towards her.
The navigator of Matt's story, David then approached Matt to follow Sara on Twitter and to talk with her. Despite his shyness, Matt summoned the courage to text Sara.
However, he was confused about what should he include in the text. The boyfriend turned husband; Matt shared that funny moment about how he struggled to construct a sentence in an interview with thebiglead.com. He said:-
"Like any other guy, I spent an hour trying to construct the greatest, most intelligent, funny line that you would imagine her sitting there laughing
You may be curious to know what he actually texted at last, don't you?? Well, let me tell you that, he ended with the simple and casual text at last.
"Well hello there Sara, it's been a while since the good ole days in Nashville."
And as they say, the rest is history!
Interesting:- Greyson Chance Dating Status Now; Proud Gay Singer Boyfriend At Age 21
Balancing Married Life With Boyfriend Cum Husband
The relation that started with the text has come a long way now.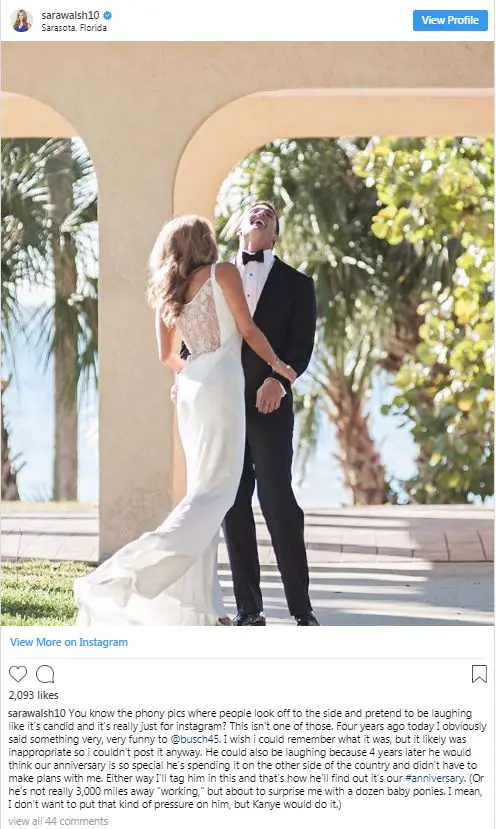 Sara shares throwback picture for their fourth wedding ceremony (Photo:- Sara Walsh's Instagram)
As both Sara and husband, Matt has a profession that requires a lot of travel. Sara has to go different places to cover the stories while Matt has to go places for sports.
But the couple has been able to maintain the relation very well. Matt expressed about the understanding nature of Sara in an interview with courier-journal.com. He said,
"But we make it work, and I'm just very grateful because she understands that I'm trying to chase something. It's just tough because it's not like she ever had a chance to be with me throughout the whole season."
The couple is indeed very happy with each other's presence in life.
Read Also:- Hot and Married Model Hope Dworaczyk and Husband: Welcomed a Son, Ready to Welcome Second Baby?
Blessed With Twins At Last; Sara & Husband Suffer 3 Miscarriages
The married duo's relationship dynamic would forever change once they welcomed their twins(a son & a daughter) in their life.
Following the birth of the twins, Hutton & Brees in February of 2017, Sara took to Instagram to break the news.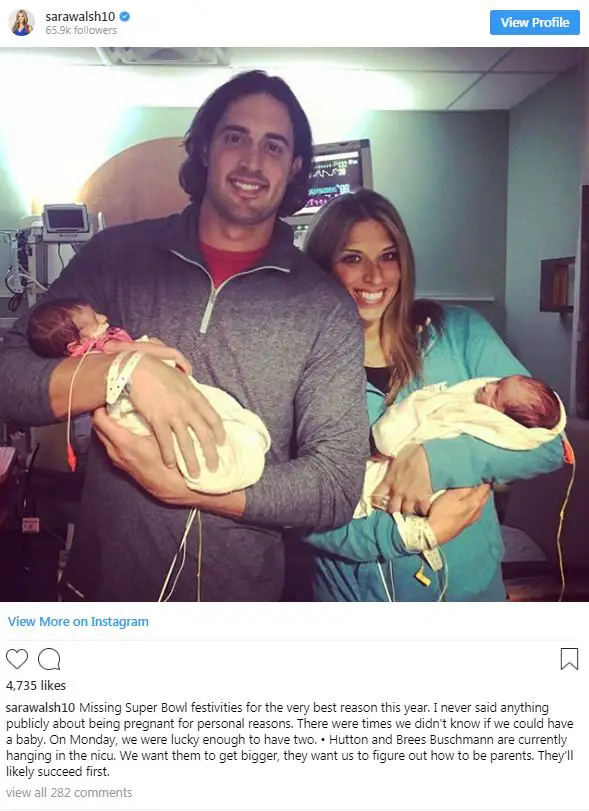 Sara and her husband Matt holding their babies (Photo:- Sarah Walsh's Instagram)
Three months later, on the occasion of Mother's day, the Tampa Bay native would pen a heartwrenching Instagram post chronicling her three miscarriages.
She revealed that one of three miscarriages had occurred while she was on the road, working for Sportscenter. The 40-year-old recounted her miscarriage saying:-
"I arrived in Tuscaloosa almost three months pregnant. I wouldn't return the same way. The juxtaposition of college kids going nuts behind our set, while I was losing a baby on it, was surreal. I was scared, nobody knew I was pregnant, so I did the show while having a miscarriage."
Then, she described the emotions her husband was going through from afar. The ESPN personality concluded professing a gratitude toward how motherhood has unfolded for her.
Discover:- Ashley Wirkus Is Pregnant! At Age 30, Post Wedding Bliss With Husband
Sara Walsh's Mini Bio
Born on April 12, 1978, Sara grew in Tampa Bay area and graduated from Gulf high school. Sara is serving as a sportscaster for ESPN since 2010. Prior to ESPN, Sara worked for WUSA-TV in Washington, D.C where she co-hosted the show "Monday Night Live".
She also worked in WPGA in Macon, Georgia. She is also seen in the NFL season during the penalty shoots out. Sara is the former soccer player at the University of Florida. She is the former host of Sportscenter on ESPN.
Most recently, Sara made a return for an NFL game as she was hired by FOX Sports to share her thoughts on Falcons-Saints game towards the end of September 2018.
Sara served as a sportscaster for ESPN between 2010 and 2017. She is also seen in the NFL season during the penalty shoots out. Sara is the former soccer player at the University of Florida. Born on April 12, 1998, Sara grew in Tampa Bay area and graduated from Gulf high school.