Entertainment
Sarah-Jane Mee Can Totally Get Married - Just Needs A Boyfriend Now! Inside Her Life
Sarah-Jane Mee's career has been inclining, and she was chosen as the host of the Sky News' breakfast programme Sunrise in 2016. But to maintain a successful work life, she has to keep up with a tight schedule which may have overshadowed her personal life. Waking up at 3 in the morning to covering her 6 am show hasn't much helped Sarah in her love life.
Does she prioritize her relationship as much as she adores her work? Let's find out!
Sarah-Jane Mee's Personal Life And Future Plans
Sarah, 39, must have made a wife Eve Mendes a pretty insecure woman when she revealed that her celebrity crush was Ryan Gosling. Ryan may have gotten into a huge trouble for that, but for Sarah, she doesn't have to worry. Sarah considers herself married to her Sunrise co-host Jonathan Samuels but only professionally. She addressed Jonathan as her TV husband while talking about her relationship with her co-worker through a post on her Twitter account which read,
"yes @jonathansamuels he is my 'tv husband' - we are not married in real life!!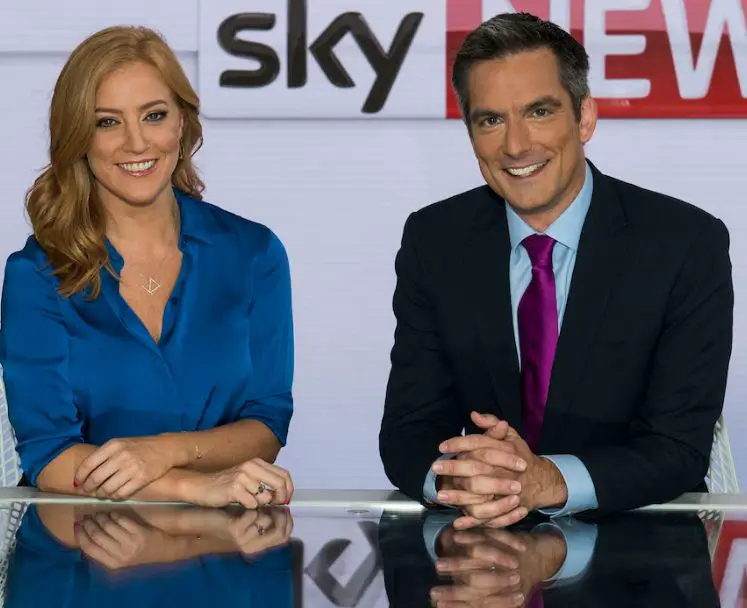 Sarah with Jonathan on Sky News Sunrise (Photo: Imdb.com)
Sarah, who is currently single, has had her fair share of relationships in the past. Talking about her previous boyfriends and how her work got struck on the way of her love life, she told the Dailymail,
'I've been in some fantastic relationships, but it's all about timing. I've had three big loves in my lifetime. My most recent ex didn't like the limelight. Whoever I'm with has to accept that I have a profile and I know that's sometimes a big ask. It would be nice to meet someone not in the industry – I don't want to go home and talk about work. I live and breathe my job but there has to be a cutoff point.'
Sarah may not have been very lucky with her past affairs, yet she hopes to find a suitable partner some day. But Sarah insists on not panicking about the matter and just be happy with what she's got until then.
'I think people concentrate too much on what they haven't got rather than enjoying what they have. It's fine not to be in a relationship, and I want other single women out there to know that. I'm not just going to settle for any guy. Of course I want to find The One, but I'm not panicking about it. Right now I've got the dream job and I'm loving life.'
Sarah is also godmother to five children (including Wilf, the son of Sky Sports presenter Natalie Pinkham), although she has no biological children of her own. Someday, Sarah hopes to have children of her own, but she is looking for a suitable partner to raise the child with. Sarah, who had previously thought about freezing her eggs, wants her children as an outcome of a relationship.
It seems like Sarah has already begun the quest for her future kids' father as she revealed her joy in playing the dating game. Sarah admitted having enjoyed a few nights out with someone hoping that it might turn out be special. However, she did not reveal the name of her date. Hopefully, she will find her right match for herself soon and even acknowledge her man in the public!