Entertainment
RHOC's Shannon Beador Rejoined with Her Ex-Husband David Beador for the USC Game Despite the Divorce Process!
The Real Housewives of Orange County star, Shannon Beador reunited with her ex-husband David Beador just a week after they had called off their relationship.
Though the couple are separated, they timely reunite for their children. And the former couple has openly accepted that they would do everything for their chidlren. So, will the couple reunite as a couple for the shake of their children?
Well, Shannon and her ex-husband has already move forward from their married life and also filed for their divorce.
Family Reunion; Hints On Reconciliation?
The 54-year-old, Shannon Beador rejoined with her estranged husband, David Beador. The reunion took place more than a week later of her declaring the split with husband David, with whom she shared 17 years of marriage.
The couple reunited at the USC Homecoming game between the 'Arizona Wildcasts' and the 'Trojans' on Saturday at the L.A. Memorial Coliseum.
See Also:- Marc Blucas Married Life: Wife, Family, Net Worth, Facts - Explicit Details
Shannon hinted their reunion by sharing a picture with her husband David and their daughter Sophie Beador on Instagram, where the caption read,
"Go Trojans! ???????? Still a family outing! ???????????? And for those that have negatively commented, it's all about my kids. Have a nice night."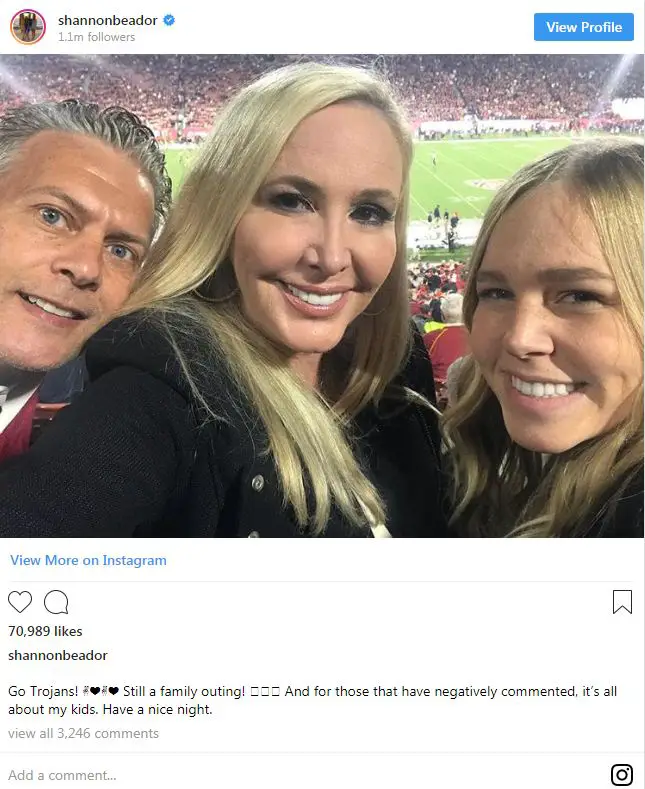 Shannon Beador, ex-husband David Beador reunite for the children (Photo: Shannon Beador's Instagram)
According to the E! News, RHOC star Shannon and David were seen together on Saturday prior the USC game. E! News explained-
"Shannon and David were spotted near the Athleta store at the Fashion Island outdoor shopping center in Newport Beach. They chatted with fans and appeared to get along."
The pair is parents to their three daughters, Sophie Beador (age 15) and twins Stella Beador and Adeline Beador (age 12).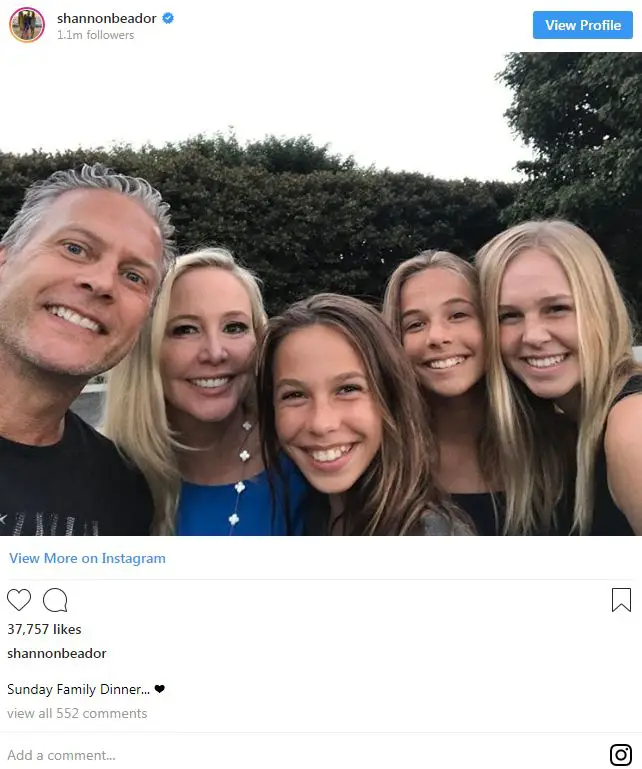 Shannon Beador, husband David Beador reunite for the family dinner (Photo: Shannon Beador's Instagram)
While the family reunion obviously gave hope to their followers, Shannon and David has already end their married life officially!
Dive In:- What Is Jhene Aiko Ethnicity & Who Are Parents? Family, Age, Height, Facts
Split Reason; Divorce Finalised?
Shannon first talked about her split with David in the season 12 reunion, where she revealed how alone she felt in her marriage. Shannon explained-
"It's heartbreaking for me and my daughters that this is the road that had to be taken but it's the only way. I felt alone in my marriage. You can do what you can to keep your family together, but you have to have willing parties. You need two people to make a marriage work, and that just wasn't happening in our relationship."
Shannon, who previously stated that divorce is not an option and hasn't been one for her and her family, worked very hard to make her marriage last long even after David's extramarital affair.
The pair even renewed their vows in front of cameras in 2016, but despite the effort, couldn't make their relationship stronger. Talking about the re-marriage, Shannon said-
"Our marriage today is better than it was when we got married. We go to church every week. He's in a men's group and we go on date night at least once a week and we're spending a lot more time together than we ever did before."
Notwithstanding all the efforts to strengthen the marriage; they were unsuccessful! Shannon expressed that her fluctuating weight and the distance between the pair ruined their relationship.
No matter what the reasons were, the pair has already decided to move on from their failed marital relationship, but the duo has been reuniting for their kids, and filed for the divorce in December 2017.
Even after a year, the court has not finalized their divorce. But in March 2018, the court reached to the temporary settlement where Shannon was awarded the joint legal and physical custody of the couple's three children.
Don't Miss:- Kevin Chappell Serene Family With Wife, Brother Tragedy & Net Worth
Also, David has been ordered to pay sum of $22,500 per month for the temporary non-taxable child and spousal support.
While the divorce is yet to reach the final settlement, the former couple has already embarked to the romantic life from their turmiol divorce. Shannon dated the real estate developer Scott Matteson for just six months as they split in late December 2018.
Furthermore, her ex-husband is also busy in swirling the romantic life with girlfriend Lesley Cook. Also, David and his girlfriend is set to walk on the aisle as soon as the divorce gets fianlised.
Stay with us for the budding updates on Shannon Beador!