Entertainment
Where Is Openly Lesbian Susan Powter & Who's Her Partner Now?
Fitness expert Susan Powter became an instant hit appearing in the infomercials where she was a role model to many single mothers due to her struggles and the will to be better than men.
A three-times best-selling author of New York Times, she has published some well-renowned books including Food, The Politics of Stupid: The Cure for Obesity, and Stop the Insanity!
Susan can enjoy her life now but back in the 90's she suffered two tragic divorces and even went bankrupt. She re-emerged again as a lesbian and is now proud of her sexuality, who enjoys a loving relationship with her partner but likes to keep private.
Married Twice, Divorced Twice; Now A Proud Lesbian With Partner
Australian motivational speaker, Susan has been twice married in her life, and both of them failed.
The Sydney, Australia native first met her first husband in Florida while attending the secretarial school. Susan and her beau named Nic Villareal, who worked as a restaurant manager and was four years junior to her, tied the knot in 1982.
The couple moved to Texas and started raising a family. She conceived her first child, a son named Damien who now ages 35.
Fitness Expert:- Tammy Hembrow 24, Two Times Pregnant & Nearly Had Husband; He Cheat?
But after Susan gave birth to her second child Kiel (age 34), her husband bailed.
Facing her husband's betrayal, Susan started gaining pounds and even sized to more than 200 pounds. However, Susan didn't abandon her first husband. Even after she got married for the second time and moved to southern California, she rented a nearby apartment for her first husband so that he could spend time with the children.
Susan later started shedding off the weights and even started an exercise studio to sustain her children. She also began appearing in infomercials and became a household name.
The fitness expert got remarried, this time to guitarist Lincoln Apeland. The couple remained married for six years during which she also released her book "Stop the Insanity," but the pair eventually divorced in 1995. The court ordered Susan to pay alimony at a whopping amount of $144,000.
She also wages a legal battle against her then-partner Gerald Frankel and won the name rights to her book and other businesses, but the lengthy court procedures turned Susan bankrupt.
After the divorce and the issues with bankruptcy, Susan disappeared from the spotlight for more than a decade to raise her adopted son, an African-American child named Gabriel. But during the period, she published another best-seller titled The Politics of Stupid in 2002.
Finally, Susan came out of as a lesbian in 2004 describing herself as a "radical feminist lesbian woman."
Susan also mentioned in The Morning Show with Mike and Juliet in 2008 that she was involved in a lesbian relationship with a former-comedian named Jessica Kirson.
Lesbian Related:- Young M.A Dating Girlfriend At Age 26? Lesbian Rapper Real Name & Facts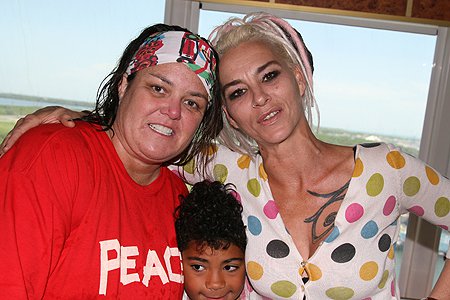 Susan Powter with then-partner Jessica Kirson and son, Gabriel (Photo: AfterEllen.com)
However, Susan refused to provide any details about her partner and the couple's relationship. Just like her previous marriages, Susan's relationship with Jessica didn't last long, and the pair broke up after dating for a year in 2009.
After she separated from Jessica, Susan started dating a woman named Jennifer Kirk, and the two have been together since. Even though Susan is proud of her partner, she has kept her partner out of the spotlight, and it seems like she intends to do so in the future.
What Is She Doing Today?; Net Worth
As of today, Susan ages 60 and lives a peaceful life in New Mexico. Her children have grown up as of 2018 and Susan can entirely focus her attention towards her fitness training and relationship.
More From LiveRamp Up:- Where Is Suri Cruise Age 12 Now? Wiki Facts On Daughter Of Tom Cruise
Further, she has also built an eco-friendly tree house to make the public aware of the conservation of the environment. With three New York Times best-seller books, Susan can finally divert her focus towards ownself.
Moreover, she also enjoys a net worth of $6 million, so there are no financial obstacles for Susan to face.