Entertainment
Tammy Hembrow 24, Two Times Pregnant & Nearly Had Husband; He Cheat?
Australian Instagram sensation, Tammy Hembrow has her goals set straight in life, 'motivate and inspire women to live happier, healthier lives.'
Rising to fame through Instagram with her fitness blogs and documentation of her pre and post-pregnancy body, Tammy wants to inspire every other mother in her path to achieving the body they desire post pregnancy. After being pregnant twice at a relatively early age, Tammy has thus dedicated her life to fitness.
However, with two children in their path and a lifetime of happiness waiting, Tammy and her partner shocked the world with news about their separation. A sudden break up of such a power couple has thus forced rumors regarding their commitment and if anybody had cheated on the relationship.
Pregnant Twice At An Early Age
Tammy Hembrow rose to fame thanks to her tremendous Instagram following where she actively posted her workout regimes. With growing fame and stature, Tammy quickly grew leaps and bounds as a fitness role model for women all over the world.
See Also: Abby Huntsman Post Pregnant Bliss; Married Life To Banker Husband
However, at the peak of her game at age 21, the star raised a lot of eyebrows with her pregnancy announcement. With an entire career depending on the star's body and figure, this decision was questionable in its own way.
But unlike what many other people thought, Tammy continued her workout session even during her pregnancy. A year later, she was pregnant for the second time at the age of 22. But during her pregnancy periods, she constantly took pictures of herself at different times with an idea of comparing those pictures with the ones she will take after pregnancy.
A couple of months later after the delivery of her daughter, she then shocked the world with her transformation at such a short time period.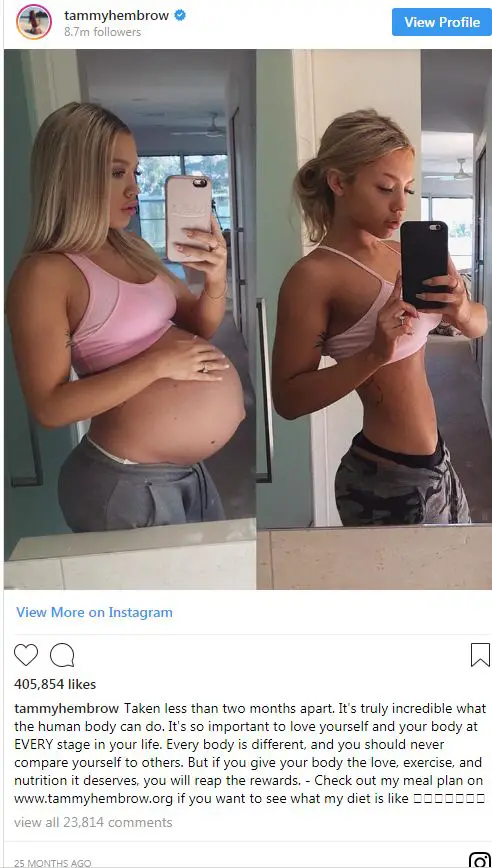 Tammy Hembrow body transformation pre and post pregnancy. (Photo: tammyhembrow'Instagram)
She also posted out a picture of her transformation in Instagram with a motivating caption, which read,
"It's truly incredible what the human body can do"
Tammy, a mother of two, with son Wolf and daughter Saskia, grew as a source of motivation to women all over the world who thinks that they can never regain their pre pregnancy body after being pregnant.
You May Also Like: Autumn Calabrese Age 37 & Husband Still Friends; Married Life Rift, Family Stays
With constant workout and a disciplinary diet structure, Tammy stands today, at age 24, as a mother of two, and still one of the fittest women on instagram.
'Nobody Was Cheating', Nearly Turned Husband Dating Someone Else
Tammy, a mother of two with her former fiance Reece Hawkins, shocked the world with her announcement regarding her breakup with her going to be husband. This sudden announcement was very unusual for the duo who were once regarded as the hottest couple in instagram.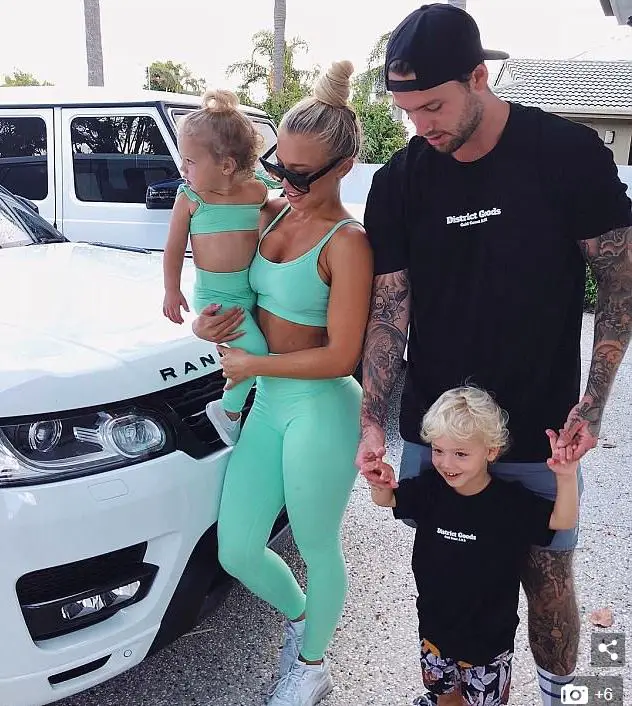 Tammy Hembrow alongside his former fiance Reece Hawkins and their two children. (Photo: tammyhembrow'Instagram)
However, speaking on Youtube in June 2018, Tammy clarified her decision and claimed that cheating wasn't the reason behind their sudden breakup.
"One or two months ago, I decided to end things with Reece. He didn't cheat on me, I didn't cheat on him. It wasn't like that at all."
However, the fitness star confirmed that their split won't be affecting their children in any way whatsoever.
"We love each other very much, and our kids are always going to come first and their health and happiness are always going to be my number one priority."
Nevertheless, only few months after their four year romantic haul came to an end, Reece is seemingly dating somebody new.
Don't Miss: Vanessa Grimaldi With New Canadian Boyfriend Just After Split With Ex-Fiancé
Referring to her former fiance's dating status in her later deleted an Instagram post, Tammy seemed to be hiding something from the public.
"Man if people knew the TRUTH about some people. Biting my tongue so hard it's gonna bleed when I'm done"
While the workout enthusiast seems to be hiding some information, she wouldn't be bothered much about anything apart from her children. Standing at a height of 5'5" and bagging a huge net worth with the sole contribution of youtube being around $79K per annum, Tammy Hembrow seems to be heading towards greatness.