Reece Hawkins lived from paycheck to paycheck as a...gained popularity via...became a full-time social media star...has a decent net worth of...once a part of an Instagram power couple with...moved on in his dating life with girlfriend...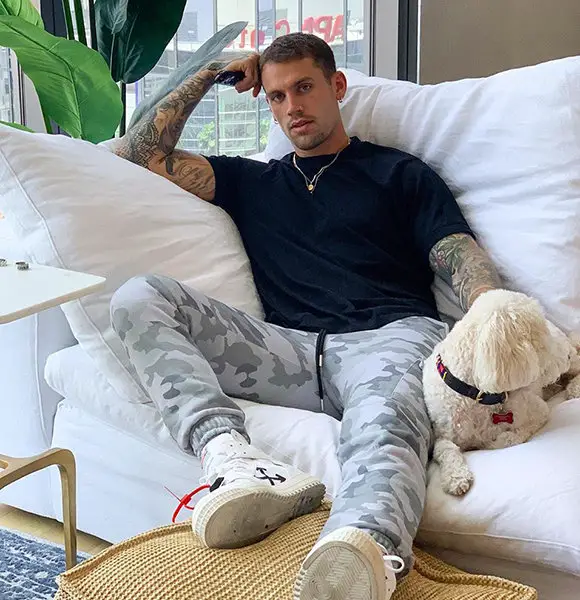 Coming from a humble background, Reece Hawkins lived from paycheck to paycheck as a bartender. Well, he hated his job and wanted to do something with his life.
Besides the previous job, he also worked as a personal trainer and had a liking towards fitness. In the age of the internet, he saw an opportunity to make it big on social media, thus started working hard in it. Slowly, his Instagram gained popularity, which enabled him to become a full-time social media star.
In addition to his Instagram page, he has a YouTube channel entitled Reece Hawkins.
Failed Relationship, Age & Net Worth
Born in 1985, Reece celebrates his birthday on 28th April every year. The 34-year-old was once a part of an Instagram power couple with Tammy Hembrow. It was his girlfriend who built her brand first, while Reece joined the social media site later. Together, they were the "it" couple.
Add to that, when the couple featured their kids: son Wolf and daughter Saskia, people couldn't resist Reece's Instagram content. While Reece and his girlfriend's social media influencer career was going well, the same couldn't be said about their relationship. 
Reece Hawkins poses with Tammy Hembrow and children; son Wolf (right), and daughter Saskia (left) (Photo: www.dailymail.co.uk)
Sadly, the couple, who were engaged to be married, ended their four long years in June 2018 and split up their family.
The Instagram star's ex-fiancee' addressed the break up via a video titled Life Update: we broke up in her self-named YouTube channel on 8th June 2018. The couple, who started dating as teenagers, grew up to be different people and couldn't continue their relationship beyond four years.
Read More About The Breakup:- Tammy Hembrow 24, Two Times Pregnant & Nearly Had Husband; He Cheat?
Since then, Tammy's professional life is looking up as her Instagram followers have skyrocketed with over 9 million followers. She reportedly fetched an income of $45,000 per month as of January 2019, which increased her net worth to a great height.
Reece, on the other hand, boasts more than 900K Instagram followers and owns a clothing line, District Goods. His ex-fiancee' has undoubtedly taken off with her online career while he is still catching up to her. Maybe their breakup slowed down his popularity. Nevertheless, he is working towards building decent net worth via Instagram and YouTube.
Dating Status Now
Reece moved on in his dating life with girlfriend, London Goheen. Like his ex, Tammy she is an Instagram influencer. Also, London used to be a professional cheerleader but had to give that up due to scoliosis.
Reece Hawkins takes a selfie with girlfriend London Goheen on 8th June 2019 ( Photo: London Goheen's Instagram)
The pair, who started dating since October 2018, keep flaunting their love on social media. The relationship is quite serious as Reece's girlfriend has already met his children.
Reece's Girlfriend's Past Romance:- Twan Kuyper, 21, Makes Dating Look So Easy! Meet His Girlfriend
Add to that; he posted an Instagram video about moving out from his apartment at Gold Coast on 11th May 2019. Fans speculated that he was moving in with London.