Entertainment
Not Married Yet! Dan Abrams, Happy to be With Son: Spotted Strolling with Girlfriend and Pre-school Kid
A workaholic person with a hectic schedule who has been able to manage his time for both profession and family, Dan Abrams is the general manager of MSNBC, who is also a legal commentator, author, and web entrepreneur and an unmarried father.
An exemplary figure who has been able to balance all the responsibilities set in his shoulder, Dan's personal life is as fascinating as his career.
Not Yet Married: Has Son With Wife Like Girlfriend
Dan has been lucky enough to have a very charming and understanding girlfriend in the form of Florinka Pesenti. Abrams first met her at a party in 2009 where one of his friends introduced them.
The attraction was immediate, and they started to date each other, and when an issue of parenthood came, they both were absolutely ready for it. Though Mr. Abrams and Ms. Pesenti are not yet married, they are sharing a husband-wife relationship.
They have a lovely son named Everett Floyd Abrams born in June 2012.
You May Also Like: Joan Walsh Won't Get New Contract! Why Did MSNBC Cut Off a Paid Contributor?
Overwhelmed by his son's presence, Dan never seems to miss any opportunity in spending time with his son.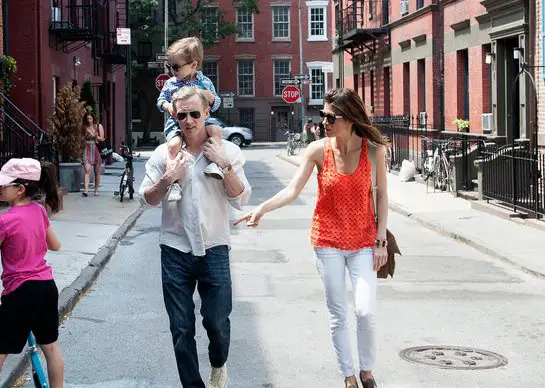 Dan spotted strolling with his girlfriend Florinka Pesenti and son. (Photo: nyt.com)
In an interview with NYTimes, Florinka Pesenti revealed the relationship details that she shares with her boyfriend.
"Even though we're very different people, we have a lot of the same philosophies on life. And we felt we were on very solid ground. That seemed to be an excellent way to go into a crazy thing like parenthood."
"Dan wants to take Everett to every dentist visit, every doctor's appointment, every haircut." "He also makes room for the occasional boys' night out. A few weeks ago, he and Everett dined à deux at Rosemary's Trattoria on Greenwich Avenue, half a block from the Fire Department's Squad 18."
There is no denying that the duo is desperately in love with each other after the couple has been spotted going out on several occasions. In 2015, Abrams and Everett dined at Rosemary's trattoria. Mr. Abrams explains his night out with his boy as-
"We sat outside, and Everett got the seat facing the fire station. There was a little bit of action when the truck backed out, and he got excited when ambulances drove by.
"I brought a half bottle of wine, a beautiful aged Bordeaux, and he had green juice and pasta with butter," he added. "We had a great night. I loved that."
With the duo soon approaching the ten-year mark since they first met, it wouldn't be much of a surprise if an announcement of the big news comes somewhere in the near future.
A Battle With Cancer
There is no denying that American television host has been a very dedicated person.he had to face the biggest test of his willpower and determination in 2003 after he was diagnosed with testicular cancer.
Related: Dan Abrams Covered His Health Issues For Long! But His Revelation Of Battling Cancer Is Help To Others
In an interview given to The New York Daily News in 2004, he revealed information regarding his cancer battle, how he felt, and how he successfully overcame cancer.
"My first reaction was disbelief, I was stunned, then I was frightened. And then I was determined to just do what I had to do to put it behind me."
Abrams, who had the guts to battle cancer, feels immensely lucky to have survived testicular cancer. He has since then been also been involved in awareness programmes for the life-threatening disease. He is also involved in regular checkups even after fighting off the disease for more than 10 years.
Getting my annual cancer tests and seeing the brave people here at the hospital, always puts life back into perspective.

— Dan Abrams (@danabrams) July 11, 2013
After such a hard battle with cancer, one thing is for sure. There is no one questioning Dan's bravery.
Dan Abrams' Short Bio:
Chief legal affairs anchor for ABC News, Dan Abrams, was born on May 20, 1966, in New York. He was born to Floyd Abrams, an attorney for a Jewish family.
Abrams is a graduate of Duke University from which he received a B.A. in political science in 1998. He also has attended Stetson University from which he has earned an honorary law degree. He is a former anchor of Nightline.
He has also worked for NBC News as chief legal correspondent and analyst. Prior joining NBC News, he worked as a reporter for Court TV. He was also a substitute anchor on Good Morning America. Likewise, he also appears on "Dr. Drew Show" on HLN as its substitute host.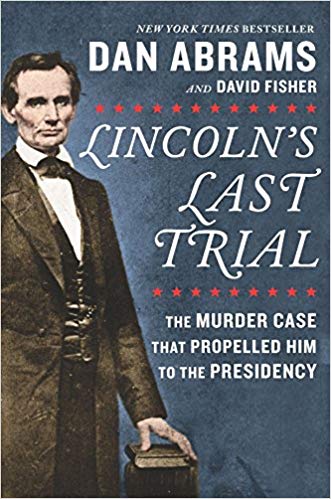 Dan Abrams book titled Lincoln's Last Trial: The Murder Case That Propelled Him to the Presidency. (Photo: amazon.com)
He has also recently extended his professional boundaries after agreeing to anchor Weekday Show Exclusively for SiriusXM, beginning from 29 October 2018. With a book published as well in June 2018 titled Lincoln's Last Trial: The Murder Case That Propelled Him to the Presidency, Dan has proved his multi-talented personality time and again.
See Also: MSNBC's Ali Velshi Shares Wife & Romance Background! Low-Key Family Revealed
Thus, Dan Abram with his large and growing empire continues to enjoy his life along with his girlfriend and son with a net worth of $16 million.