Entertainment
Who is Dating the Hottest Actress Joanne Nosuchinsky? Boyfriend Unveiled!
AJoanne Nosuchinsky is one of those rare celebrities who have both beauty and brains. Her 'why-not' attitude and self-confidence led her to the 2013 Miss New York title.
The title earned her a tremendous media exposure and an opportunity to co-host Fox News Channel's late night satirical show Red Eye, where the channel's audience has adored her work. Is there any guy in her life who is lucky enough to call her "my girl"? Is she married? Is she still on Fox? Let's find out.
Who is Joanne Nosuchinsky Dating?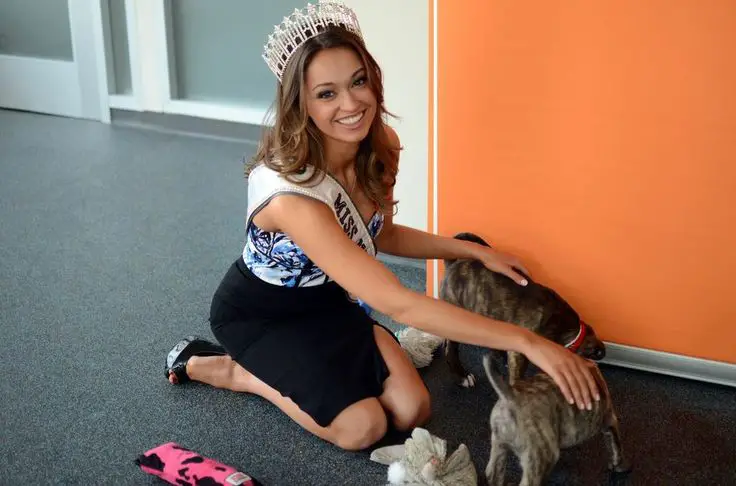 Miss New York 2013 USA Joanne with her crown and pet!! She also took part in MIss USA 2013 (pinimg.com)
Joanne is active on social networking sites such as Twitter and Instagram, where she shares many of her personal life experiences with thousands of her fans and followers.
"Most people know that I represented New York in the 2013 Miss USA pageant, but I didn't grow up doing pageants. The Miss NY USA pageant was my first beauty pageant. I had no real coaching or sponsors. Even my family didn't think I would win. I paid for everything out of pocket, reasoning that I was investing in myself. Thankfully, it paid off."
Her Dating Life:
Speaking of which, she is currently dating the frontman of the soul band Douglas and the Goodhearts, Douglas Goodheart, @TheDouglasG. One can know more about the band via the following link.
Joanne Nosuchinsky 's boyfriend Douglas and his band tuning up 2015. The song is called She didn't cry- Douglas and the Goodhearts (Published: May 28, 2015 )
Valentine's Day Selfie with her Boyfriend:
Adventure lover: Colorado River
Saturday Night Swag with Musician Boyfriend
She can play as well
Some light Christmas Reading with Boyfriend
Raised over $2000 for The All Stars Project
Actress in college days
Her 2015 released book Let The Market Decide
Bye Bye Greg Gutfelfd@RedEye
Joanne permanently joined the show in 2015. Tom Shillue has been hosting the show (featuring Joanne and Andy Levy) since Greg Gutfeld exit in 2015. As per as the March data. The show Total viewers had been increasing whereas demo had been static.
Awesome 80s Prom Rehearsal
What are you doing? Jacob. Just look at her once!!
Ugly Sweater Party!!
Ballet on a rock, she calls the act
Coffee Lover Spotted!
Dinner with "An Ex-Boyfriend":
It has been reported that she was previously having an affair. Also, she once mentioned her ex-boyfriend in one of the posts on her Twitter account.
We hope she will soon reveal more about her love life. And her fan following is evident to grow in the days to come!
What is New with Joanne Nosuchinsky:
The television personality Joanne Nosuchinsky is bidding goodbye to her Fox News's late-night show Red Eye as well as Outnumbered and The Greg Gutfeld Show.
Her Redeye reel (Published: Nov 26, 2013 )
The former contributor to the Fox News's late night show revealed the news back in 2016 and further added:
I'm going to be like most millennials, fun-employed.I need to close this chapter before I start the next one, and that is to pursue my acting career.
It is no doubt that the beautiful actress has a massive fan following but one fan, in particular, turned out to be eerie. The former Miss New York apparently had a stalker Kansas resident Douglas Yoxall, 33. He was arrested back in 2017 by the police for stalking Joanne. He followed her to her apartment and even sent flowers messages through email and social media.
In January 2016, she confronted other Fox personalities who were accusing President Obama of faking tears for kids who died in gun violence. But, she did blame the president's "gun free zone" policy. She said:
"Gun violence is down except in areas where the mass shooting occurred, and that's because they are gun-free zones,"
In 2015, Joanne played the character Adriana- The Bachelorette, in the off-broadway production The Bachelorette alongside Vinny Guadagnino, Andy Peake, Russell Daniels, Pedro de Leon, James Royce, and others.
Joanna's Short Bio:
Former panelist on the Fox News Channel's late-night show Red Eye w/ Tom Shillue, Nosuchinsky is an American actress, beauty pageant titleholder, and television personality. Started dancing since an early age, Nosuchinsky is adored by her Fox New Channel fans, especially millennials.
Her association with Fox News Channel and her astonishing on-screen presence will surely earn her a significant movie role in the future. She has acquired lots of positive reviews for her performance in The Greg Gutfeld show. She is known as an open-minded and straightforward personality.
Howell High School Performing Arts pass-out and Riders University's BA in Arts graduate, Joanne belongs to Italian and Ukranian ancestry. She is Roman-Catholic by religion.
Her Improv background has added more value to her present on-screen career. She is also a wine lover.