Entertainment
Wil Anderson Isn't Gay! A Comedian Who Was Once Devastatingly Sad Over Ex-Girlfriend!
Someone said that 'Comedy comes from a dark place.' Well, it is something that seems to be true, as it is somewhat related to Sheryl Underwood, a comedian who had a failed married life behind all that on-stage laughter.
Adding up to that list is Wil Anderson, a fellow comedian, who, while being famous for his banter and comedy talks, has a dark side to his personal life that left him devastated. The Aussi born personality proves that a person, who looks happy and makes other laugh is not necessarily happy themselves.
But what exactly went wrong in the comedian's life? Let's take a closer look at Wil's life for the answer!
Split With Someone, Who Wil Anderson Hoped Getting Married To?
The comedian has relatively stayed mum when it comes to his personal life. However, in 2009, Wil had a rough patch to deal with when he split with his girlfriend Amy Williamson, a girlfriend he had been dating for six years.
The actor was so devastated for his split with partner Amy that he had to see a counselor and get things right on track again. Expressing the same, he said,
"I've not been having the best trot in my personal life of late and recently found myself having a streak where I cried at least once a day for almost six weeks."
The actor became so fragile at that moment that he had to pretend he was doing stuff like chopping onions; as an explanation for the redness and soreness that a person gets from binge crying. Most of it was in front of the pizza delivery person.
"It reached the point where, every time a pizza delivery boy arrived at the house, I had to pretend I'd just been chopping onions or watching the end of The English Patient."
He would cry for a week and then take an hour-long session with a counselor, with whom he would talk about his life, both love and work. He also acknowledged the fact that for someone who makes his living by making people laugh, the situation he was going through was strange.
But, doing what he did bring relief to his heart and occasional smile to his face.
"It might seem weird for someone who does what I do for a gig, but there've been times of late when I've forgotten how wonderful it is to laugh out loud. Despite the fact that the sessions are sometimes very hard work, there's still a bunch of little things that bring a smile to my face about my weekly appointment."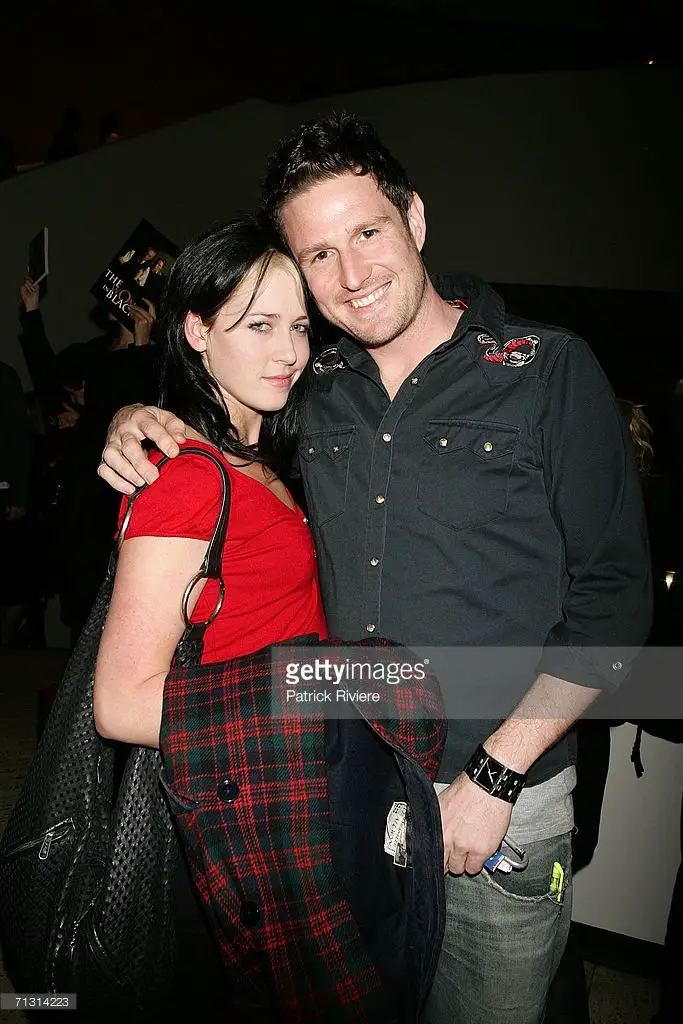 Caption: Wil Anderson with his then-girlfriend, Amy Williamson.
Photo Credit: Gettyimages
However, the comedian and gay advocate found his way to making people laugh and turned the sorrow into inspiration for his comedy. He often takes relationship issues as a topic for the banter, and we all know now where it comes from!
Someone Who Won't Have Children:
Wil most recently revealed that he would not have children of his own. Not that he can't, but instead it is the matter of won't. In an interview with Mammamia, he said that he chooses not to have any children and the reason was his lost faith on the planet.
"I have no faith in this planet. I think we're past the point of no return, unfortunately. I mean how do you bring a kid into this world where Mad Max Fury Road is going to be a documentary not a piece of fiction? I feel like where we are, there are so many kids in the world right now, one of the major problems facing our world is population, really? I need to bring some other kid in instead of us rescuing one of those kids we're locking up in a cage on Manus Island?"
Before he started sounding like someone who loathed the thought of having children, whether it is him or someone else; he clarified of not having any problem with other people having children.
He also mentioned that he loves children and is an uncle to six nieces and nephews who he adores. However, he was adamant about not wanting a child of his own.
"But I don't need kids. What do I need kids for?"
He expresses that he wants to live life his way and not have to carry the burden of teaching another person [child] things he himself doesn't know yet. It is also somewhat related to his battle with osteoarthritis, a condition which causes chronic pain in his back which even got him into police custody once.
Wil even gushed about not making further in life in good shape,
"I'm already 43. I'm not going to make it to 63 in good shape."
As of now, Wil Anderson may be returning to Adelaide as a part of an upcoming tour.
Keep visiting us to stay updated on the latest happenings in Wil Anderson's life!