Entertainment
Is Willow Smith Gay/Lesbian? 2010 'Whip My Hair' Rockstar Reveals Fact
Teenage singer Willow Smith, daughter of famous actor spouses Will and Jada-Pinkett Smith, hit the news early in 2010 after her single Whip My Hair became a sensational hit.
Rumors regarding her sexuality started to swirl around her when she Instagrammed a picture.
However, the youngest child of the Smith family was spotted going for a movie with her boyfriend, and a month later was in the spotlight after sharing about the ordeals she had to go through after finding fame early as a kid.
Gay, Lesbian or Straight?
Will Smith and Jada-Pinkett Smith need no introduction. The power couple is one of the most celebrated and adorable couples in the Hollywood.
However, the couple has not always hugged the limelight for all the right reasons, as there have been countless rumors of the couple bearding. There have been allegations that Will is a gay, and Jada is a lesbian, and the couple's marriage is just an easy way to hide about their sexuality made possible by their advisors and publicist.
Whats more, the couple's daughter, Willow Smith's sexuality has also been the source of gossip to many. The Whip My Hair hitmaker made headlines for all the wrong reasons after posting a photo of her friend in her Instagram on 2015 and captioned it 'I Love Beautiful Females.' The photo sparked Twitterati into a frenzy and set the online news portals into action with many calling her a lesbian.
Willow Smith's Instagram post suggests she is a lesbian (Photo: pulse.ng)
However, many others were supportive of the teenage star and claimed that loving females did not necessarily mean being a lesbian. And the rumor was put to rest when a representative for Willow claimed that the rumor was 100% false.
And final nails in the coffins about the singer's sexuality was put out when she was pictured with a handsome hunk in a beach, cozying up on 2016. The singer looked stunning in a red bikini, and the couple was spending quality time together hand in hand. The hunk was later identified to be R&B singer Tyler Cole. The couple is still going strong after their first public sighting.
And the couple was recently snapped together having a mid-day movie break on 17 April 2018. The couple also collaborated recently for their song 'Fools.'
Struggle After Fame, Hurting Herself
On the second episode of Red Table Talk on 14 May 2016, the 21st-Century Girl singer spoke of her struggle to handle fame when she was thrust into the limelight after her song Whip My Hair became a mega-hit.
Willow, who was just 9 years of age then, struggled with the demands of tours, promotions and a pressure to finish her album. She revealed that she lost her sanity at one point after becoming a singing sensation and was questioning her own identity. She even resorted to hurting herself, as the mental pain became unbearable.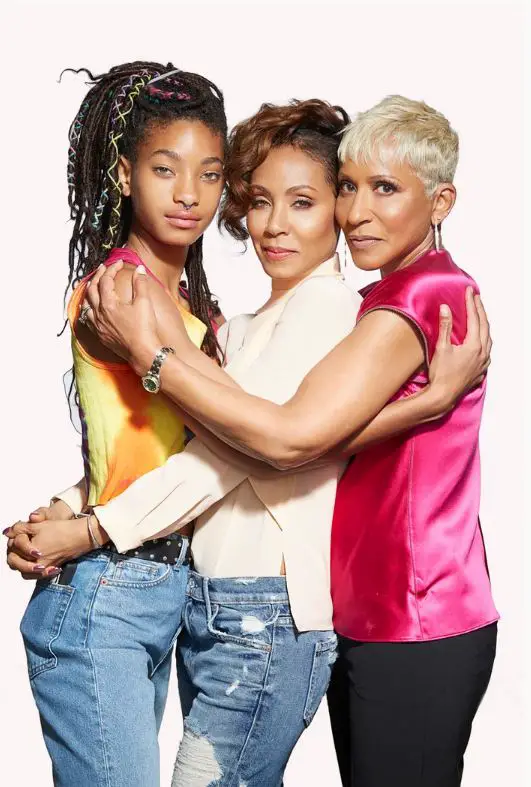 Willow Smith with Jada Pinkett Smith and Adrienne Banfield-Jones (Photo: People.com)
She said in the roundtable discussion:
"After the tour and the promotion and all of that, they wanted me to finish my album. And I was like, I'm not gonna do that. And after all of that kinda settled down and it was like a kind of lull, I was just listening to a lot of dark music. It was just so crazy and I was plunged into this black hole, and I was cutting myself."
She further clarified that she hurt herself to embrace physical pain amid all the mental turmoils. Whats more, she even showed a scar in her hand as a proof of her acts.
However, she lightened up the mood when she announced that she was now away from her dark past days and had pulled herself out from the pitfall.