News
From Babysitter to a Famous Persona: Kathie Lee Gifford's Struggles, Family Life, Salary and Net Worth
Hardships are a part of what we are made up of. We all have to face small and big struggles in our life. Losing a loved one must be one of the saddest things that a person can deal with.
Speaking of Struggles, the American television host, singer, songwriter, Comedian, and Actress expressed her grievances for the recent loss of her husband and the love of her life, Frank Gifford.
Learn more about her relationship with her husband and also learn about her experience after his death. Also, embark on her backstory and find out about her past struggles as well, how she used to be just a babysitter and what controversies she had to face?
The Death Of Her Husband:
It has been ten months since Gifford passed away at the age of 84. Gifford was known as the NFL Hall of Famer, Ney York Giants star, and Newscaster. He and Kathie shared 29 years long marriage. They have currently two adult children; Cody (26) and Cassidy (22). The loss of her loving husband must have felt like the world turning upside down, but Kathie returned to the sets of her show, 'Today' despite NBC giving her all the time that she needs because she believes,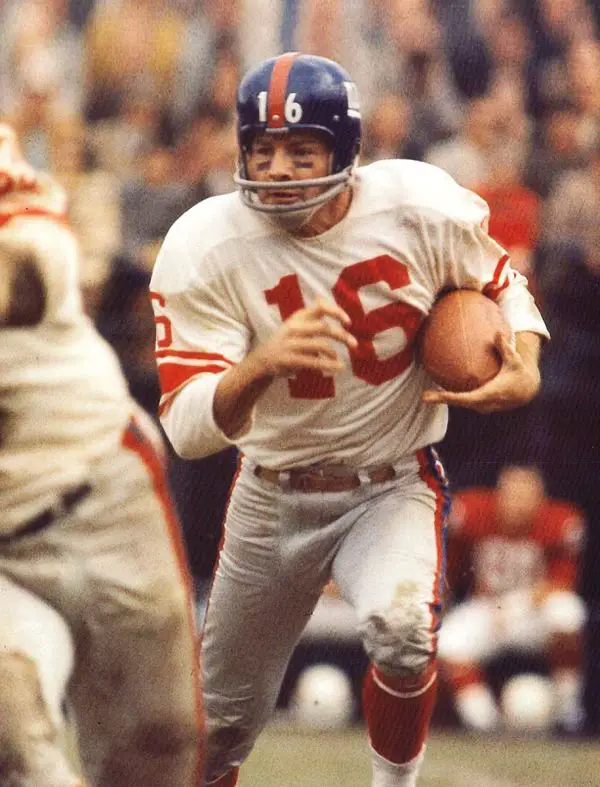 Caption: Frank Gifford during his NFL days.
Source: hollywoodreporter.com
In an interview published in its Spring 2016 issue she told the outlet that,"When life stops being challenging, you might as well say, 'Sayonara, sister' because the joy of living is finding out something brand new every day."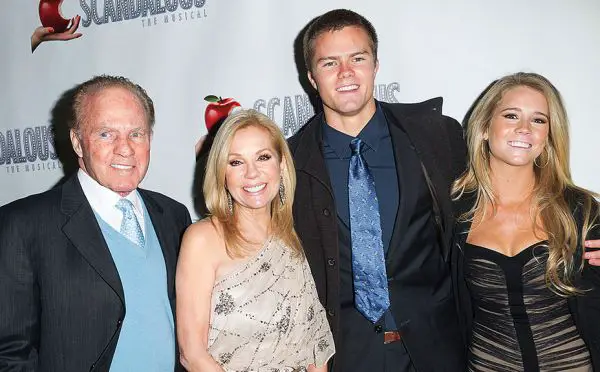 Caption: (From Left) Frank Gifford, Katherine Lee Gifford, Cody and Cassidy Gifford.
Source: hollywoodreporter.com
Babysitter And Terrible Relationships In The Past:
It's not surprising that Kathie has bounced back from this incident so easily. She has had to face many other struggles in her life. She spent a disillusioning year babysitting, doing secretarial work and occasionally singing in Southern Baptist churches for Anita Bryant, who wanted to polish her skills as a Christian Entertainer. She did not have enough money for studying music, so she secured a full scholarship for Gifford at the evangelical Oral Roberts University in Tulsa, Oklahoma.
Beginning in 1972, Gifford sang on Oral Roberts' television show. When she became aware of the manipulation happening behind Roberts' charismatic veneer, she dropped out of the University.
Experiencing a form of spiritual awakening, Gifford used the remainder of her scholarship money to rent an apartment, and she spent a few weeks scribbling down her spiritual thoughts, which she eventually published as The Quiet Riot in 1976.
In April of that year, Gifford married Paul Johnson, her Bible study group leader and owner of a Christian music publishing company. She later admitted it was a show-biz marriage, no more than "a contract with the state of California."
After that, she landed many small roles in NBC while she was just visiting her friend there until she became the co-anchor of 'The Morning Show' her career had become firm after that.
Caption: The charming story of Frank and Katherine Lee Gifford.
Surrounded By Controversies:
However, like every celebrity, she faced some controversies. In 1996, the National Labor Committee reported that child laborers were producing her clothing line. She denied all knowledge of it and immediately embarked on a mission to advocate for stronger laws against sweatshop labor.
She further ensured the public that all profits from her clothing line went to Cassidy's Place, a home she set up for AIDS and crack babies. Despite her efforts, Gifford found herself the butt of jokes for months.
In 1997, Kathie Lee received another horrible blow when The Globe tabloid published photographs of her husband with a flight attendant (The flight attendant was later discovered to have received $75,000 from The Globe to seduce Frank.)
Kathie Lee suffered through personal trauma and public embarrassment but remained with her husband. She had become infamous for her constant references to Frank and their children. While her fans loved her candor and intimacy, her critics labeled her musings as annoyingly self-righteous.
Therefore, she has come a long way from being a babysitter and a Pageant singer, but she believes that life is not to be underestimated because of the struggles she has faced. She currently has a net worth of 30 million USD coming jointly from her salary as well as her late husband's will.
However, money isn't the thing that she is concerned about. She is still grieving Frank's death with her family, below is a twitter feed about Frank's daughter speaking about her father.
NBC's Most Charming Duo, Kathie Lee Gifford, And Hoda Kotb:
Whether you're in joy or pain, grieving or enjoying, a friend to share it with makes all the difference. And for Kathie Gifford, this particular friend was Hoda Kotb. The Today Duo have been partners for over a decade now and are critically acclaimed as one of the most enjoyable host duos in NBC's history.
With Kotb on leaving the adopting her daughter, Haley Joy and on their 9th Anniversary together Kathie decided to dedicate a line or two for her beloved best friend, and these lines were quite a tear jerker.
"I told you this before, but I cannot believe the path my life took after our lives intersected, So for every single day of the nine years, I love you," says Gifford with a tear in her eye and adding,
"Hoda, I love you with all my heart, I have been blessed two times to work with the most extraordinary people in the world ( the other one referring to Regis Philbin past TV partner who was filling in for Hoda at that time), and it just keeps getting better."
On a later episode of Today, Kathie dedicated a few more words to Hoda after her return. She confessed when she started falling in love with Hoda and talked how they first started out.
"We didn't have the chemistry for the first year." says the 63-year-old host. "We did have the chemistry when we first sat down, when I first met her and we had lunch because I was sitting with the real, authentic, unbelievably fascinating Hoda, I said, 'You know Hoda, if you could be the same person on camera as the girl I had lunch with, we could have a good show."
She further added about how they became the best of friends and how Hoda and her changed over time saying,
"As we worked together a little bit more, she got rid of the IFB in her ear, she got rid of all of her notes and just started talking and sharing life," Kathie Lee explained. "You start sharing life, and you start falling in love with the person. You become real, genuine friends. Honestly, that's the reason I've stayed nine years because, by the time I was ready to leave, I was in love with Hoda and in love with so many of the people I work with here."
One can clearly tell they share an inspirational relationship.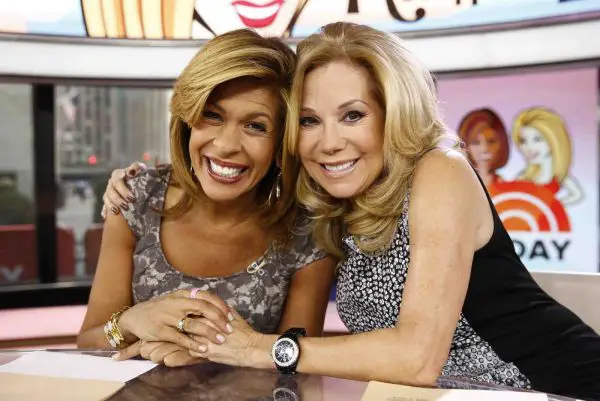 Caption: Kathie and Hoda celebrate their 9th partnership anniversary, Cheers to their unbreakable relationship!
Photo-Credit: Closerweekly.com
Kathie Lee Gifford And Tom Selleck Make Out On Air
Tom Selleck was recently featured on Today where he was promoting his new show 'Blue Bloods' however the show didn't end before giving us that 'wow scene.' Tom Selleck and Gifford were reminiscing about the old days.
They shared their memories, in particular, one event where Selleck was on the air with Regis Philbin and Kathie on "Live with Regis and Kathie Lee" where Kathie shared a kiss with Tom.
"Regis got into me kissing Kevin Kline, because both his and my character were gay," explaining his circumstances at that time when he was on the show to promote his movie 'In & Out.'
"But Regis wouldn't quit, and you kind of saved me. You kinda said, 'What the hell?' and you planted one on me, which was kind of you saying to the audience, 'He only went there as a tourist,' you know? That shut Regis up, which is -- as you know -- almost impossible!"
Kathie confessed about liking the flowers Tom sent the day after and then re-enacted the kiss scene once again on live.
Caption: Kathie Lee and Tom Selleck make out on air!
However, this incident is one that remains between the boundary of friendship and has almost no chance to bloom as Tom himself is dedicated to his wife, Jillie Mack.
Kathie Lee Gifford's Short Bio:
Kathie Lee Gifford was born on August 16, 1953, in Paris, France. She graduated from Bowie High school and went on to attend Oral Roberts University in drama and music. She has appeared in 'The Meredith Vierra Show' and 'Extra' since 2015 and 2014 respectively till present. She has also appeared as a guest on 'Today' since 2008.