Entertainment
Nancy Snyderman, A Family Woman Leaves NBC; Where Is She Today?
In the fall of 2014, after finishing her assignment in Libera, physician-cum-journalist Nancy Snyderman returned to the United States, only to be coerced into seeking 21-day quarantine to lessen the risk of Ebola outbreak; there was a fear she might have contracted the virus after coming in contact with a freelance cameraman, who had the disease.
The ensuing days saw the St. Louis native go from a respected media personality with an excellent medical background to a national pariah after she got photographed outside a restaurant ordering a take-out soup, and thus, essentially violating the terms of the quarantine.
Amid controversy surrounding the quarantine violation, Nancy - who doesn't hesitate to bust the weight gain myth every now and again - decided to step down her role as NBC News Chief Medical Reporter.
Leaves NBC Amid Family Tragedy; Supportive Husband & Children
Plenty of factors played a part in the doctor's decision to leave NBC following a glorious 9-years stay, but it would be dismissive to downplay the role of the quarantine violation in the process.
Interesting To Read:- Brittany Cartwright Weight Loss & Wedding Plans, See Before & After Pic
The Former ABC News' Medical Editor, however, waited few months before she handed in her resignation on 12 March 2015. At the time, she explained her reasons behind leaving the network by saying:-
"Covering the Ebola epidemic last fall in Liberia, and then becoming part of the story upon my return to the U.S., contributed to my decision... "
In response, NBC released a statement via a spokesperson thanking her for providing "expertise on countless medical health and medical topics" as well as wishing her all the best for her future endeavors.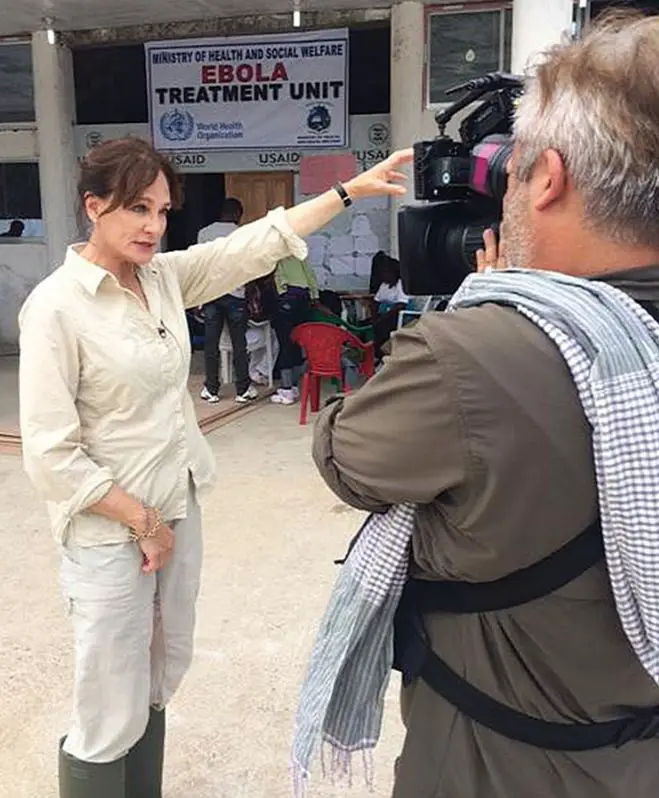 Nancy reports for NBC News from Liberia before resigning in March 2015 (Photo:- hollywoodreporter.com)
In contrast to the friendly nature of the split, Nancy's relationship with her former employer seems to have dampened and over the years, made worse by her subsequent interviews.
The former Senior Vice President of Corporate Communication for Johnson & Johnson, in an interview with The Hollywood Reporter in August 2015, accused an unspecified NBC executive of not having her back during the now-infamous "Nancy must be drunk" debacle.
As per the interview, her decision to leave NBC coincided with a family tragedy: a month before, she had lost her father. But thankfully, Nancy had her husband of more than 25 years, Douglas Myers and their three children - Rachel, Charlie & an adopted daughter, Kate - to hold her back upon the trying times.
What Is Nancy Snyderman Doing Today?; Education & Salary Revealed
Working for NBC, the University of Nebraska Medical Center educated doctor-cum-media personality made an upward of $2 million per year in salary. But, she has yet to profess regrets about terminating the lucrative contract. And why would she?
Trending:- Lauren Sanchez Is Dating Jeff Bezos For Months, Facts About Relationship
Since leaving the network, Nancy's career trajectory as a medical academic has seen unprecedented heights. Today, she is a consulting professor at Standford University, a position she has held since January of 2016.
Besides her teaching gig, Nancy - now age 66 - also serves as the board member for Alkermes (March 2016 - present) and General Electric's Healthymagination (September 2006 - present).