News
Kathie Lee Gifford got Married twice. Do you know who her Husbands were? Children: Son and a Daughter
Kathryn Lee Gifford (Kathie)–best known for her 15-year run on the talk show Live! With Regis and Kathie Lee, which she co-hosted with Regis Philbin– is a versatile personality. An American television host, singer, songwriter, comedian, and actress; her personal life, as it seems, comes in all flavors – we are about to explore her family, tragedy and more.
Kathyrn's Second Marriage, Harsh history with First Husband:
Did you know that Gifford's been married more than once? Well, twice to be exact. In April 1976, she married Paul Johnson, a successful record player then. But the marriage did not last more than a decade.
In 1983, Kathie divorced Paul; subsequently, she met sports commentator Frank Gifford during episodes of ABC's Good Morning America and ultimately got married to Frank in 1986. In an exclusive interview with Enquirer, Kathi Lee's first husband, Paul Johnson reveals the intimate truth about the talk show queen and their marriage of seven years. According to Paul, their divorce followed his soon discovery that Gifford's relentless pursuit of fame would plunge him into a marital nightmare that haunts him until this day.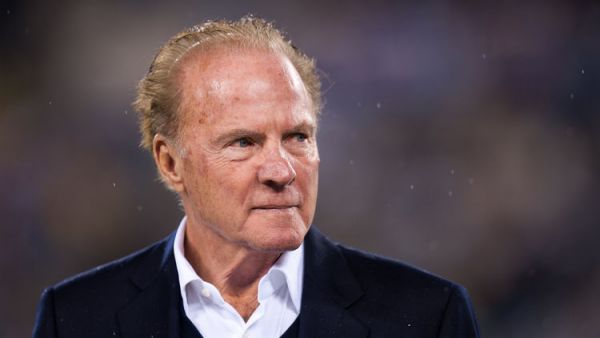 Caption: Frank Gifford - Kathie's second husband (now deceased).
Source: bloomberg.com
By the time she got married to Frank, she has been into most famous television role for several months as a full-time morning talk show personnel. Presently, her second husband, Frank Gifford, deceased unfortunately on August 2015 at the age of 84 due to natural causes.
Kathie Lee Gifford opened up on the Today Show Friday about husband Frank Gifford's recent death, revealing that one of the hardest parts of the day was telling her daughter Cassidy the tragic news. Cassidy is now busy in her second film role as she has just done her first. It was a small role in a comedy called Serial Buddies that's going to the Sundance Film Festival.
Her son, Cody, is a film student and keenly interested in photography. Kathie said that her son Cody had done one last summer at her production company, but his father's death took away his enthusiasm subsequently.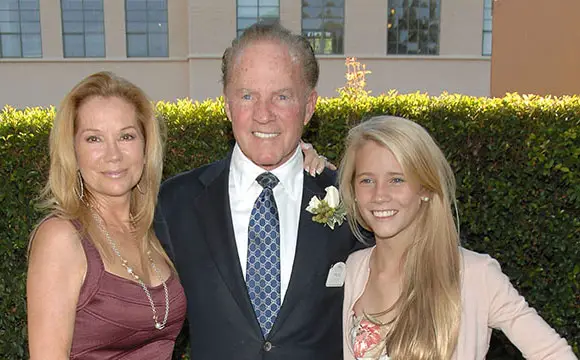 Caption: (From left to right) Kathie, Frank (Kathie's second husband), and Cody (Kathie's daughter)
Source: www.etonline.com
Frank wrote his will in 2014, when Cody, 25, and Cassidy, 22, were already through their adolescence. Frank wanted them to continue living at home, though they did not receive any outrights gifts from their dad in his will. Frank, however, directed in his will that they were to inherit everything he had given their mom if she died before him.
Court papers put his fortune at $10 million, although it is apparently much larger, as his waterfront Connecticut home alone is worth around $22 million on the open market. Also, he owned a second property in key largo's ritzy Ocean Reef Club, where two bedrooms are priced for $2.5 million – all of which is controlled by Kathi Lee.
Kathie Lee Gifford shares very heart touching tribute to his husband, Frank Gifford. Check out this video and get a feel for their love; know how much they are loyal to their love.
Kathie's two Children, All grown up
Kathie's son Cody and daughter Cassidy have all grown up and are ready to set out.
Cody Newton Gilford graduated Magna Cum Laude from the University of Southern California School of Cinematic Arts and currently works as writer and television producer. He holds a master's degree in creative writing and literature from Oxford University. He is currently working as the acting principal of Little Giant Productions, Los Angeles.
Cassidy however, took after her mother and is currently working as an actress. Her most notable works include The Gallows (2015), God's Not Dead (2014) and Synkhole (2017).
Both the siblings seem quite close and have stuck together through hard times. They truly appreciate the meaning of 'Family.'
Kathie Lee Gifford born on August 16, 1953, is an American television host, singer, songwriter, comedian, and actress, best known for her 15-year run (1985-2000) on the talk show Live with Regis, her co-television host.