News
Tony Raines & Girlfriend Alyssa Giagone Engaged! The Challenge Star's Ring
Congratulations are in order for The Challenge star Tony Raines, age 30 & his longterm partner Alyssa Giacone!
Tony Raines, the star of the MTV reality show The Challenge, took to Instagram to announce his engagement with his girlfriend of more than nine years, Alyssa Giacone on 13 October 2018.
The L.A. native posted a picture of him and his fiance, Alyssa locking lips announcing their engagement through the caption,
"We're engaged!"
Less than an hour later, Alyssa, age 28, posted the same photo on her Instagram, flaunting a pear-shaped diamond ring, which Tony had used to ask her the big question.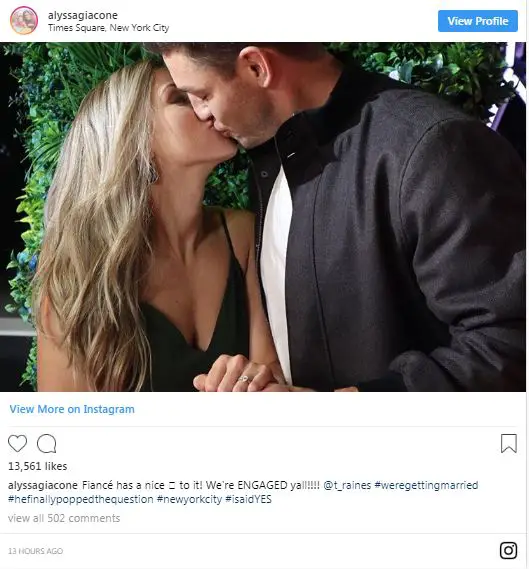 Tony's fiance, Alyssa Giacone announces their engagement (Photo:- Alyssa Giacone's Instagram)
The newly engaged couple, who have been on an on-and-off relationship since 2009, has had their fair share of ups and down. Back in September 2017, Tony was roasted online by the fans of The Challenge after he was caught cheating on Alyssa with fellow co-star Camila Nakagawa.
Read Also:- Matthew Rhode Age 36 Married, GOT Themed Romantic Wedding Ceremony
The 30-year-old reality star later apologized to fans via Twitter. He said:
"I'm beyond upset at myself and regardless of how it comes across on air, I blame no one but myself...My focus now is working to keep my family together..."
Since Tony's apology, the recently engaged duo seemingly managed to put their past troubles behind them as evidenced by their frequent Instagram posts of them together with the rest of the family. The engagement seemed to be the logical next step in the couple's relationship.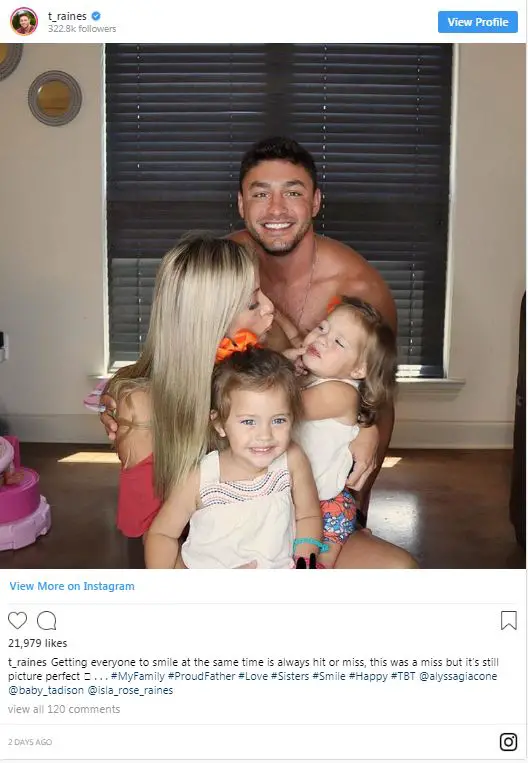 Tony Raines shares a candid family snap on Instagram (Photo:- Tony Raines' Instagram)
A year prior to the cheating incident, Tony and his high school sweetheart, Alyssa welcomed a daughter, Isla Rose. The Challenge star also shares a daughter with fellow Real World: Skeleton co-star Madison Channing Walls.
Similar:- Porsha Williams Engaged! Boyfriend/Husband To Be Sheds Fortune On Ring
Tony and his ex-girlfriend, Madison's parents are set to battle in court again despite Madison relinquishing her parental right. And as a result, Tony's wedding with wife-to-be could take a while.
Regardless, congratulations to both Tony & Alyssa on being engaged!