News
Heartfelt Condolence! Well-known NBA Broadcaster Craig Sager Dies at the Age of 65!
NBA's reporter for Tuner Broadcasting, Craig Sager passed away on Thursday, 15th of December, at age sixty-five after battling relentlessly with cancer and work.
He was first diagnosed with acute myeloid leukemia in April 2014 at MD Anderson Hospital forcing him to take a leave for 11 months fighting off cancer, but soon the disease returned in March of 2016. He continued his treatment over time while still working as side liner reporter, as he usually does.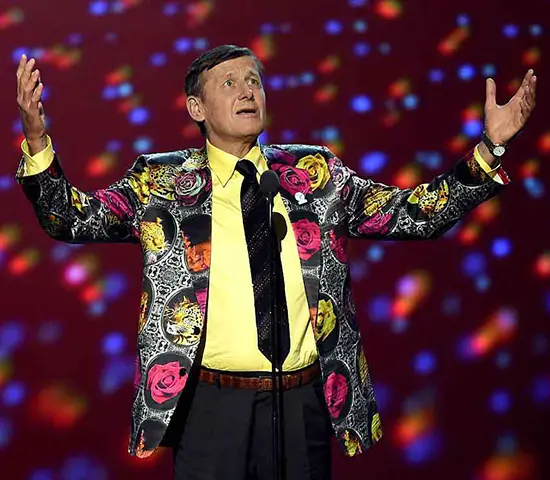 Caption: The late and great Craig Sager in one of his unique attires in ESPY Awards during the summer of 2016.
Photo: Credit: yahoo.com
Craig's body, however, took a toll by the constant strain and pressure of his workload, but like an optimistic fighter he responded:
"I'm optimistic and I never complain. It's something you have to do, so why complain? I'm a gambler. I like to beat the odds."
Remembered by his extravagant attire all around the world, many didn't share his optimism, especially his fans and family who worried dearly about his health condition.
Even basketball stars such as Charles Barkley, George Hill, Jalen Rose are one of the many celebrities who are mourning in honor of late Craig Sager.
Moreover, Craig's daughter shared a memory of her father on Twitter with a series of photos over the years for his loyal sports fans.
David Levy, the current president of Tuner, expressed his deep sorrow for the loss of a beloved employee. He stated,
"Craig Sager was a beloved member of the Turner family for more than three decades and he has been a true inspiration to all of us," Turner President David Levy said in a statement. "There will never be another Craig Sager. His incredible talent, tireless work ethic and commitment to his craft took him all over the world covering sports."
Craig was undoubtedly an iconic reporter with his loud bursting colors on his blazer and his personality on air. The loss of a legend has significantly affected many individuals, and it's sure the world will surely miss this unique reporter for eternity.