Sports
Unlucky Golfer Sergio Garcia Triumphs Championship After Engagement, Caddy Girlfriend Helps While Dating
The Spanish professional golfer, Sergio Garcia is one of the world's top-ranked player, who has achieved an incredible height of success in his career.
Golfing since the age of three, Garcia is often compared with the legendary golfer, Ben Hogan, for the identical unorthodox swing that earned him 29 professional wins.
Sergio is one name that comes clinging to the great Tiger Woods, as their epic feuds that started since his debut season in 1999 spanned to later years as well.
Sergio, who is also the Chairman of Spanish football team CF Borriol, is also credited because his personal relationships helped him professionally. His ex-girlfriend led him to success in the golf tournament in 2013.
Following his announcement to get married, he also won one of the most prestigious awards of golf in 2017.
Professional Golfer: One Of The World's Top Ranked Player
Sergio Garcia caliber yielded him $43 million worth of career earnings (the highest among the golfers without a major championship), twenty international tournaments triumph, 300 weeks of stay in the top 10 of official golf ranking (including the impressive 2nd rank in 2008) and a remarkable amount of time in the limelight.
However, when it was time for the major tournaments, it seemed that even Almighty was conspiring to keep him away from it. The fact that he had to be content with the second place finish on four different occasions in 1999, 2008, 2007 and 2014 made his career even more promising.
Garcia was still in the hunt for his first major championship until he won one in 2017.
Sergio Garcia's GirlFriend: The Golf News Channel Reporter
The Spanish golfer first met his girlfriend, Angela Akins at the end of 2015. Garcia's then-girlfriend was previously married to Ross Hamann, a former golfer turned sales executive and used to be Angela Akins Haman.
Garcia's then-girlfriend was familiar to the golfing world as she was working as the reporter for the Golf Channel.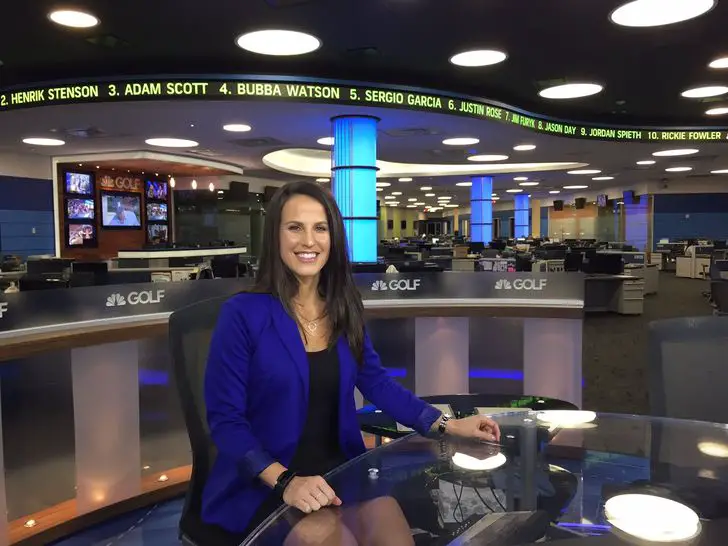 Beautiful Angela Akins in action reporting for golf channel (Photo:mgdigital.com)
In an interview with Bunkered in July 2016, he had explained that dating with Angela also helped in his professional golfing, saying,
"It definitely helps. Every little thing that adds up is always good. When things are lined up nicely in your life outside of the game, your mind is calmer, you're happier and those things are always good."
Two years of dating period led the couple to engagement which Sergio announced on his Twitter and on 7 January 2017. He posted a picture of the couple together, wine in hand.
Not only that, the Borriol, Spain resident also revealed their year of marriage in advance.
Sergio Garcia With His First Major Title
Right after announcing his marriage to golf reporter, Angela Akins, Garcia received his first Major Title as the 2017 Masters champion and retained his position as one of the Top 10 golfers in the world.
Years after finishing as the runner-up to the famous golfer, Tiger Woods in the 1999 PGA Championship, Sergio finally claimed his championship title in his 19 tries.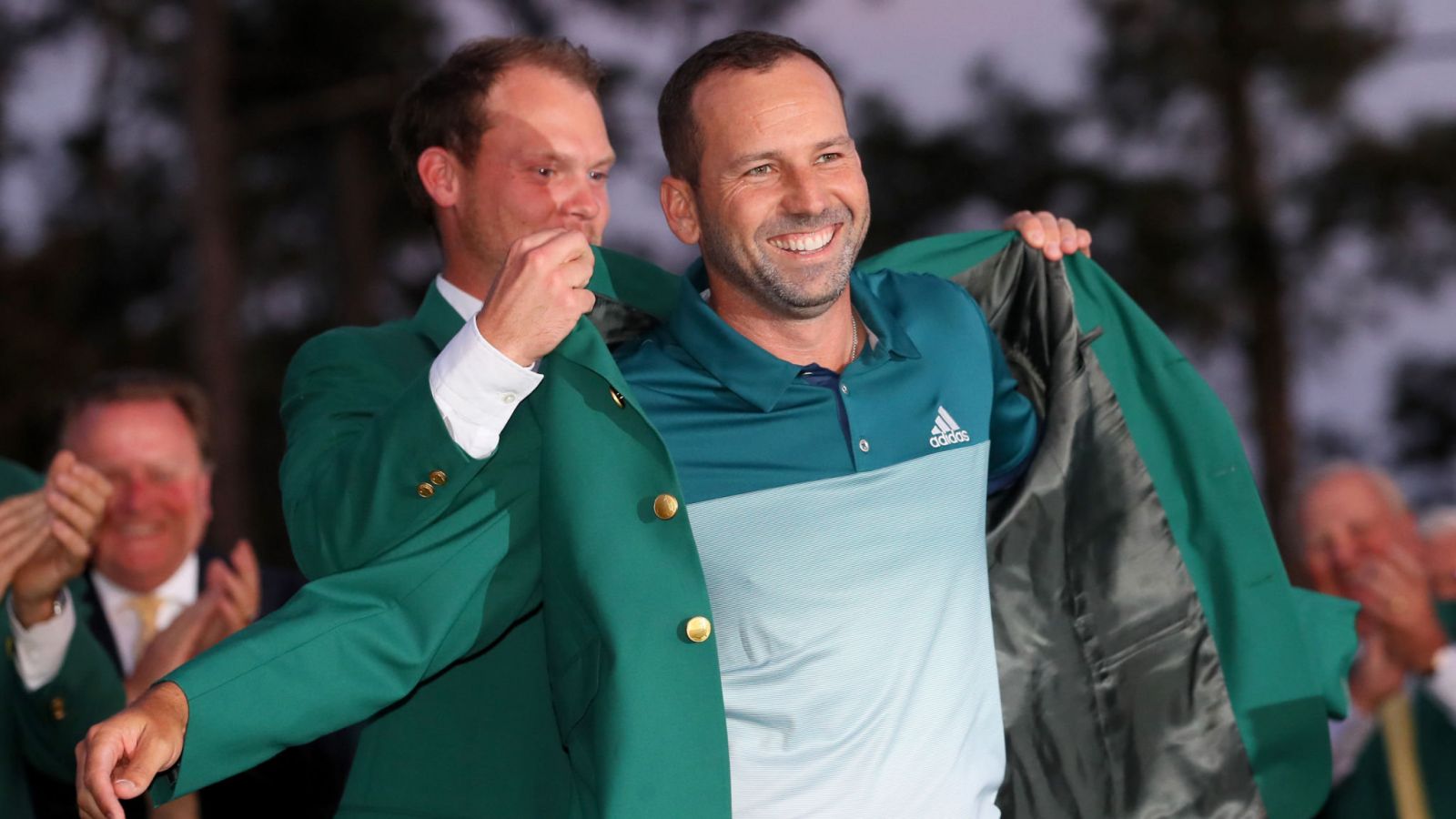 Sergio Garcia receives the Green Jacket from 2016 champion Danny Willett after winning the 2017 Masters at Augusta (Photo: Skysports.com)
In an interview in April 2017, Garcia gave his words of celebration after winning the Championship stating,
"It has been such a long time coming. I knew I was playing well. I felt the calmest I ever felt in a Major."
Also, in an interview with Golf Digest on April 2017, he was asked whether he would be wearing the green jacket he wore during the championship ceremony at his wedding. He replied the question saying,
"We were just talking about it; this one is a little bit too big. It would be nice, but I don't know. We'll get to the point when we get there."
Sergio Garcia Gets Married
The HSBC Champions tournament winner got married to Angela Akins on 30 July 2017 in Akins' home state, Texas. Garcia's fiance-turned-wife shared a tweet on 30 July 2017 with the caption "A dream come true." Sergio was spotted wearing the green jacket in his wedding ceremony, which was later seen in Sergio's tweet on 31 July 2017.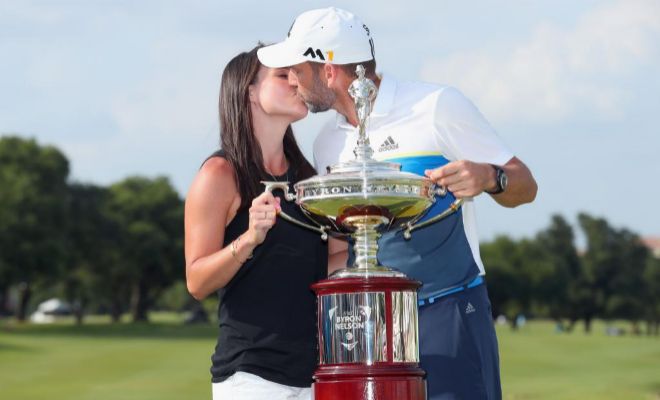 The couple kissing each other after a cup triumph (Photo: telemundo.com)
Few months after getting married, the couple was soon expecting the couple's first child. Garcia took to Twitter to share his happy news by posting a tweet on 11 October 2017.
Throughout Angela's pregnancy period, Sergio updated his fans about his wife's pregnancy on various occasions via social media. He posted an Instagram image on 28 January 2018 that showed the baby bump of his wife.
Similarly, on 6 March 2018, he shared a tweet where he stated his wife had became 37 weeks pregnant.
Later on 14 March 2018, the pair welcomed their first baby girl named Azalea, which was inspired by Augusta National. On the very day, the father of the baby shared a tweet announcing the birth of his baby girl. Due to his daughter's birth, he even held the strange press conference of his career by teleconference from the hospital room.
He was scheduled to discuss his 2017 Masters victory in March 2018, but as his wife's water broke just hours before the scheduled call, he rushed to the hospital instead of press conference venue.
Past Dating Affairs With Katharina Boehm:
Prior to Angela Akins, Sergio Garcia was dating Katharina Boehm since 2013, after the two first met back in 2013.
The couple was even rumored to be engaged as the German native, Katharina Boehm was spotted with the engagement ring on her hand before the 2014 Bridgestone Invitational.
Despite Boehm was caught with the apparent wedding ring, the couple refused to make any further remarks about the relationship with Garcia saying he would be making the announcement at the right time.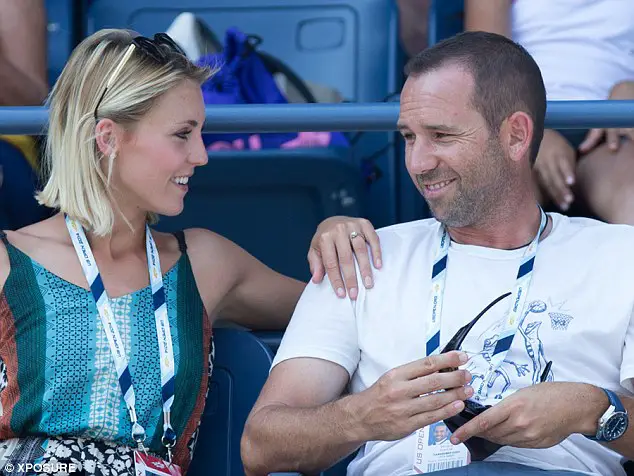 Boehm donning the apparent wedding ring while being spotted with Garcia (Photo: dailymail.co.uk)
The longtime PGA Tour fixture, Sergio Garcia even hired his then-girlfriend, Katharina as his caddy in 2013. Katharina, who was an excellent golfer herself during her college days at the College of Charleston, helped Garcia win the tournament. He beat Henrik Stenson by four strokes for his first win of the year and later credited his former girlfriend for assisting him to the successful resurgence of 2014.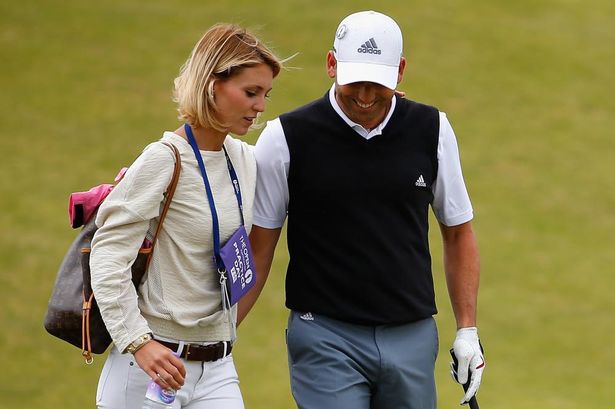 Katherina as Garcia's caddy during Ryders Cup (Photo: mirror.com)
Garcia showered heaps of praises on Boehm post-tournament in an interview on December 2013, stating,
"It's great to have her around, forget about having her on the bag this week. Just a very positive person, a lot of good energy, that's what I love about her, and it's great to be able to go through this with her."
However, Garcia later switched back to Neil Wallace as a caddy. The duo's relationship ended however both the reason behind the split and the date was kept as a mystery.
In an interview with ESPN on January 2015, Sergio was asked about the reasons for the Abu Dhabi HSBC Championship, he replied with awkward humor talking about Katharina, saying,
"I wanted to keep going, but she fired me. It was something she wanted to do since we started dating, and I thought that would be a good week, being the end of the year and maybe a little bit more relaxed."
Later, Garcia moved on from the incident as he got married to Angela Akins.
As Seen On Social Media:
Throughout the dating period, both, Garcia and his then-girlfriend Angela were spotted in each other's social media frequently.
Angela and Sergio dated each other for two years before getting married.