Sports
Moving on From Katharina Boehm, Golfer Sergio Garcia is Dating a Journalist. Who is His Girlfriend?
You can surf through the entire golfing arena and still fail to come up with those who are superior to Spanish "El Nino," Sergio Garcia, regarding preciseness and iron playing.
Ironically, you will also fail to witness any major championship trophies in his cabinet because he sadly doesn't have any despite coming agonizingly close to it at times and again.
A Champion with no Major Championships:
His caliber has yielded him $43 million worth of career earnings (the highest among the golfers without a major championship), twenty international tournaments triumph, 300 weeks of stay in the top 10 of official golf ranking (including the impressive 2nd rank in 2008) and a remarkable amount of time in the limelight.
However, when it comes to the major tournament, it seems even Almighty is conspiring to keep him away from it. The fact that he had to be content with the second place finish in four different occasions of 1999, 2008, 2007 and 2014 makes it even more attractive.
Golfing since the age of three, Garcia was often compared with legendary Ben Hogan for his identical unorthodox swing that earned him 29 professional wins to date. These shots are seriously ill:
Sergio is one name that comes clinging with the great Tiger Woods after their epic feuds that started since his debut season in 1999 spanning to these days as well.
Currently ranked as eleventh, Garcia is still in the hunt for his first major championship that has been defying him for all these long.
Watch how he has evolved over the years:
Sergio Garcia with his first Major Title
After his Omega Dubai Classic Victory, Sergio Garcia received his first Major Title as the 2017 Masters champion. Sergio received the Green jacket and had retained his position as one of the Top 10 golfers in the world. Years after his runner-up with Tiger Woods in the 1999 PGA Championship, Sergio has finally claimed his championship title, and he is more than ecstatic about it.
"It has been such a long time coming," says Garcia after winning the Championship. "I knew I was playing well. I felt the calmest I ever felt in a Major."
This came right after he announced his marriage with golf reporter Angela Akins. It seems the support of his future wife was definitely one of the reasons for his calmness and confidence during the tournament.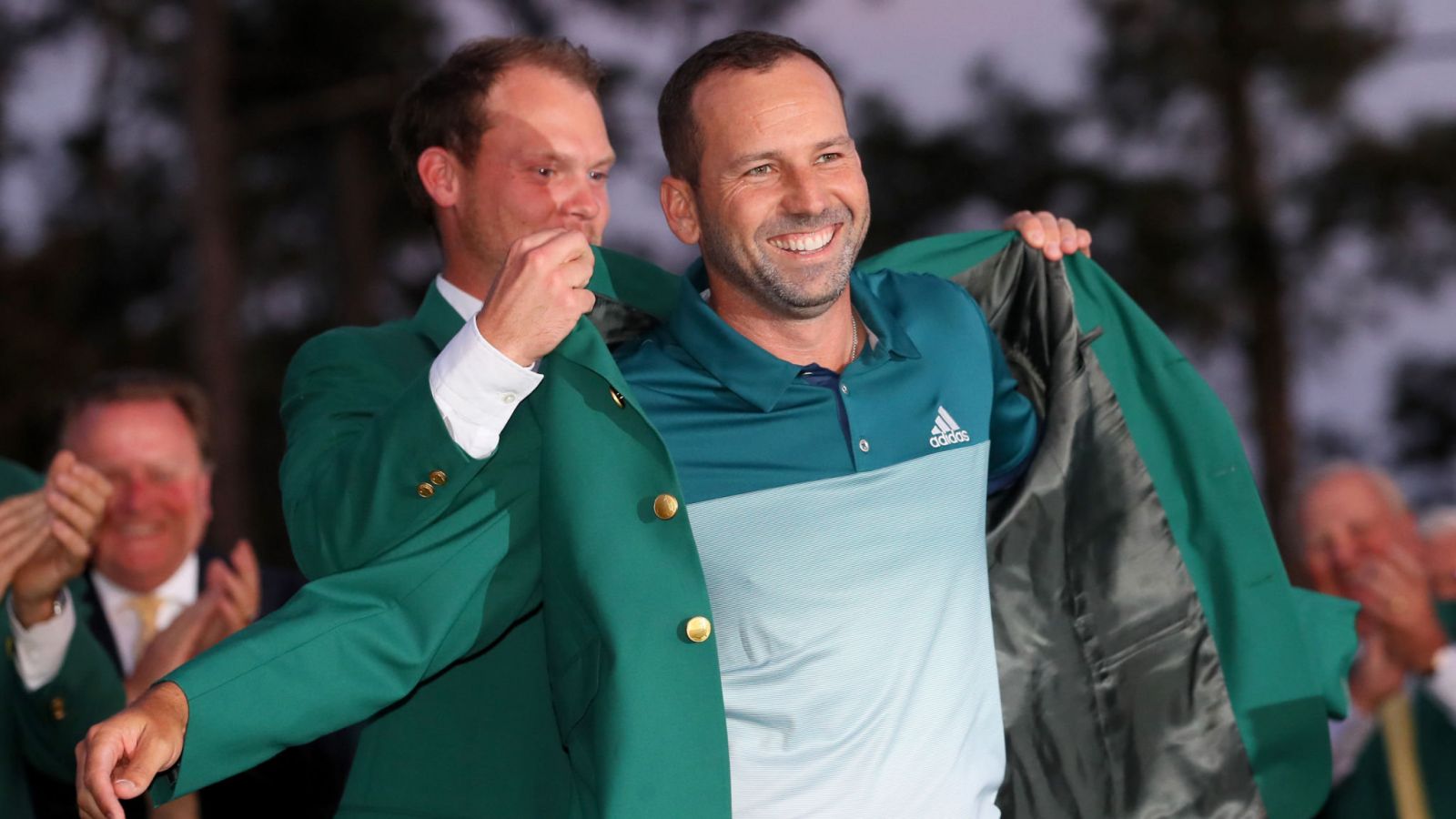 Caption: Sergio Garcia receives the Green Jacket from 2016 champion Danny Willett after winning the 2017 Masters at Augusta.
Source: Skysports.com
Choking in Relation with Katharina Boehm:
Sergio Garcia has been so familiar with the expression "narrowly missing, " and he did narrowly miss on settling down with his longtime girlfriend since 2013, Katharina Boehm. The rumors regarding the engagement of Garcia Boehm were just floating in the media, to the courtesy of diamond ring in Boehm's left ring finger, before coming to an abrupt end.
Katharina, who is of German native, was an excellent golfer herself during her college days at the College of Charleston with a remarkable stroke average of 77.03 and was credited for assisting as his caddy during Garcia's successful resurgence of 2014.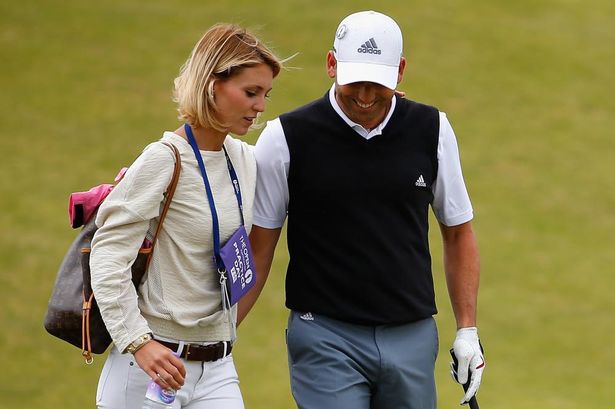 Caption: Katherina as Garcia's caddy during Ryders Cup
Source: mirror.com
"It's great to have her around, forget about having her on the bag this week. Just a very positive person, a lot of good energy, that's what I love about her, and it's great to be able to go through this with her.", Garcia showered heaps of praises on Boehm post-tournament.
Despite Boehm being caught with the apparent wedding ring, the couple refused to make any further remarks about the relation with Garcia saying he would be making the announcement when the time comes.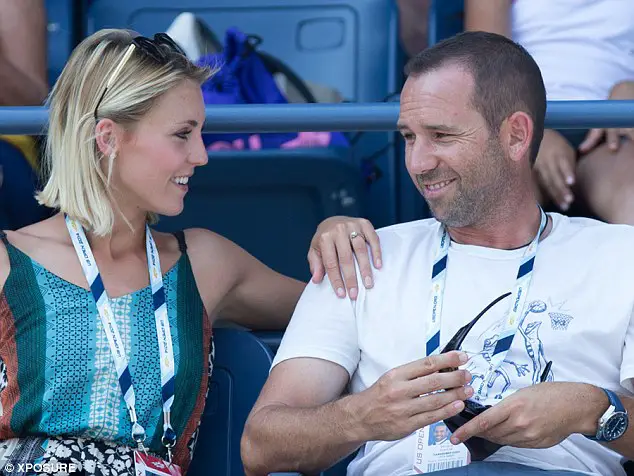 Caption: Boehm donning the apparent wedding ring while being spotted with Garcia
Source: dailymail.co.uk
Time, however, never came as they broke up eventually in 2014 with re-hiring of Neil Wallace as a caddy. When asked about the reasons at the Abu Dhabi HSBC Championship, he replied with awkward humor, "I wanted to keep going, but she fired me. It was something she wanted to do since we started dating, and I thought that would be a good week, being the end of the year and maybe a little bit more relaxed."
And, Garcia instantly moved on through the medium of the new girl in his life.
So, Who exactly is this new girl?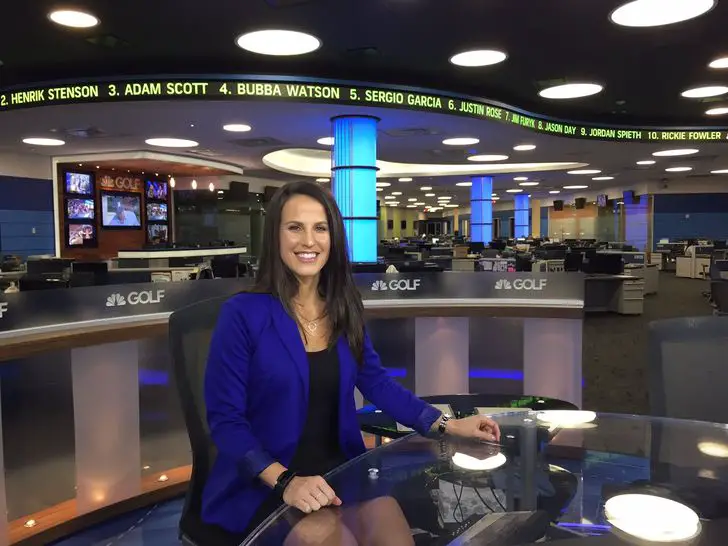 Caption: Beautiful Angela Ankins in action reporting for golf channel.
Source:mgdigital.com
The golfing world must be familiar with this beautiful face of Angela Akins hosting and reporting news through the Golf Channel. This is the very girl who Garcia happens to be dating at the moment.
Like his ex Boehm, Akins too was an avid golfer during her days in Texas where she clinched an Academic All-Big 12 First Team Selection in the 2007-08 Season.
Akins used to be Angela Akins Hamann from her previous marriage before her affair with Garcia. Akins' assignment as a post-round interviewer at PGA Tour events is the most likely way of how they met.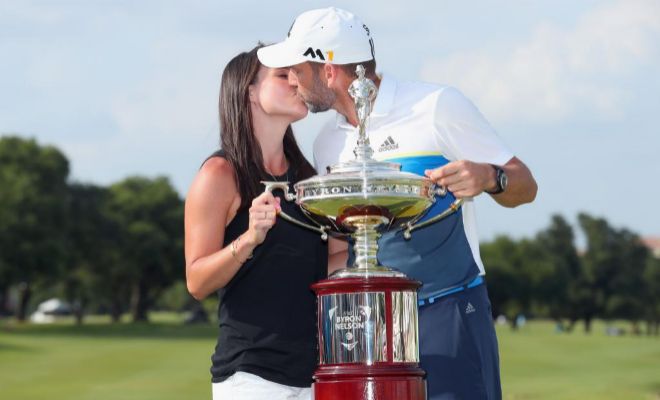 Caption: The couple kissing each other after a cup triumph
Source: telemundo.com
The relation is pretty evident through social media where Garcia is often found addressing her as "my girl" along with numbers of photographs where they are clicked together.
As Seen in Social Media:
Sergio Garcia announces Engagement with Angela Akins
In a not so surprising fashion, Sergio announced his engagement with Angela Akins on his Twitter and on January 7, 2017.
He posted a picture of the couple together, wine in hand with the caption that revealed that they were getting married this year.
The couple has not announced their exact date of marriage, but one can assume that it will happen shortly.
In an interview with Golf Digest, he talked more about his wedding plans including the possibility of him wearing his Green Jacket at his wedding.
"We were just talking about it; this one is a little bit too big. It would be nice, but I don't know. We'll get to the point when we get there." says Garcia when faced with the question if he was going to wear the green jacket at his wedding.
The couple has revealed that their wedding will take place in Texas.
Many congratulations to the couple!