Sports
Russell Martin Despite Having Top Notch Stats, He Will Not Be Playing In WBC; Because Of Serious Injury?
One of the best moment for any international player is to represent their country at national level. Every player dreams of playing for the nation. But what happens when you are stopped by a setback due to injury? So is the case with Canadian baseball star, Russell Martin.
Caption: Russell Martin's amazing catch against Astros.
Not playing WBC? What's the reason?
Russell Martin will not play for Team Canada in the WBC due to not being cleared for contract insurance.

— Jon Morosi (@jonmorosi) February 9, 2017
One of the biggest news in 2017 was an omission of Russell Martin in World Baseball Classic. One of the notable elimination from the list of rosters in WBC was Russell Martin, Canadian professional baseball catcher who was expected to be named Team Canada's starting shortstop but it wasn't meant to be so.
According to a report from http://m.bluejays.mlb.com, Martin had to pull out, and reason behind it was insurance complications after his undergoing minor knee injury which required surgery earlier this offseason in 2017.
Previously, Martin spoke about his desires to play shortstop, and the Toronto Blue Jays were going to let him but alas it won't happen. His absence in the league will be a big blow to overall Canadian squad which will try to compete without big leaguers and players such as Joey Votto, Brett Lawrie, Michael Saunders, James Paxton and Jameson Taillon.
Russel Martin does have a little bit of experience in the infield playing at the big league level. In gist, he's made three appearances for Toronto at second base and has played overall 19 games at third base during his decade and a year career, but apparently, won't be happening this spring.

Caption: Career stats of Russell Martin in the year 2016.
Photo credit: espn.com
The similar issue popped up in the 2013 World Baseball Classic events as well. Martin expressed his desire to play shortstop instead of catcher, but when Canada's roster was revealed, he was not on 30 man list.
But it was Martin who received a lot of heat at the time for not taking part in the event, but this time around in 2017, it was Baseball Canada who reached out and asked if Martin was still willing to play the infield. Martin said at a banquet for Baseball Canada in January of 2017:
"I'm playing with Canada's team right now. So if there's an issue that comes up where I can't play for Team Canada, at least people aren't going to get quite as mad as last time when I wasn't playing."
Martin was ejected back in July of 2016 in the 13th inning of the game where Blue's Jays catcher wasn't in the mood to let the ejection go. Martin said back them breaking down the series of events that led to his ejection after an inning-ending strikeout in 2016:
"I wasn't being aggressive. I didn't tell him that he sucked personally. I didn't tell him that he was bad. I didn't do anything like that. All the things that everybody in the ballpark was thinking, I didn't say any of that. I felt like he really didn't have to throw me out in that situation."
In a relationship?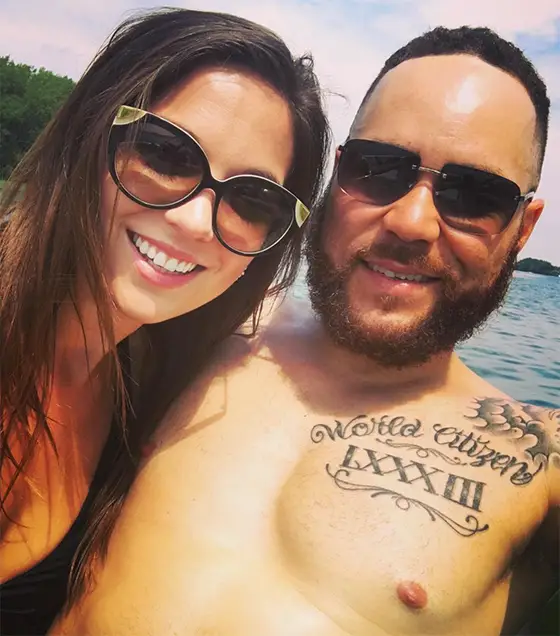 Caption: Martin and his girlfriend Elisabeth enjoying holidays in 2015.
Photo credit: 25stanley.com
It is no secret that Martin is in a relationship with Elisabeth Chicoine. Matin's girlfriend Elisabeth works as a television researcher. The couple but do not reveal the date of when they started to date each other, but the have immense love between them as in an interview when asked what does he do at the day off he said;
I'm kind of a foodie and I like to try different restaurants. My girlfriend and I will wake up, grab coffee spend time with the dog, take him for a walk and then map restaurants we want to try out. Watch a movie, go to a nice dinner, have a nice glass of wine. That sounds like a good day to me.
His statement made it clear that whenever Martin has a free time he spends it will with his loved one. And also the couple are quite active on social medias and keep sharing the post of each other as well.
In November of 2014, Russell Martin signed a five-year contract worth $82,000,000 with the Toronto Blue Jay and with an annual average salary of $16,400,000.