Entertainment
Aaron Judge Age 26 Essential Facts: Parents, Ethnicity, Nationality
Baseball player Aaron Judge was born in the US and adopted by his parents...... His foster parents are retired...... At the age of ... he realized that...... Possessing a ... nationality and ... ethnicity, Aaron has credited all the success to his......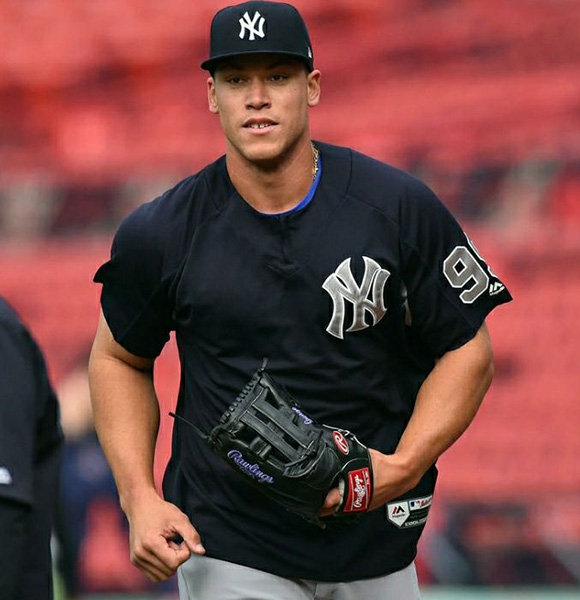 A New York Yankee, Aaron Judge excelled in every sport he got engaged!
During his freshman year, the baseball outfielder played football and impressed others with his skills. Well-known schools like Standford and UCLA wanted him to play for them but he rocked on his passion for baseball.
With his successful career in sports, he credited his parents' supportive nature as the primary source of inspiration. Overlooking at his story, it appears that his journey as a professional baseball player would not have succeeded if not for his parents.
Importantly, Aaron has even claimed that he would not be a Yankee without his mom. And his remark made the audience google down the information about his parents.
Adopted By White Ethnicity Parents; Ethnicity, And Nationality
New York Yankees' outfielder, Aaron Judge, was born on 26 April 1992 in California. The whereabouts of his biological parents are not known as he had been adopted right away after his birth.
His adopted parents, Patty and Wayne Judge, beautifully raised him thus making him capable of what he is today. He was raised alongside an older brother John, who was adopted as well.
Another Baseball Player:- Why John Smoltz, Married Man With Six Children Divorce From Wife?
By the age of 10/11, Aaron had realized that he looked different than his parents. He confronted them about his appearance, and that was when only he came to discover the truth about his origin. The 2017 MLB Home Run Derby winner talked about the incident with MLB.com in May 2017,
"They just kind of told me I was adopted. I was like, 'OK, that's fine with me.' You're still my mom, the only mom I know. You're still my dad, the only dad I know."
Being raised by white ethnicity parents, he never discovered his true ethnicity, but the baseball star pretty much reflects the bi-racial native.
Aaron is proud of his adoption and regards his mother as the best teacher in his life. He told Newsday in June 2017:
"Some kids grow in their mom's stomach; I grew in my mom's heart. She's always showed me love and compassion ever since I was a little baby. I've never needed to think differently or wonder about anything."
Though the 6'7" tall athlete does not stay with his parents due to his sporting career, he always showers his mother with the flowers on every Mother's day.
Discover:- Mookie Betts & Girlfriend Plan Baby Before Wedding, Young Age Love Strong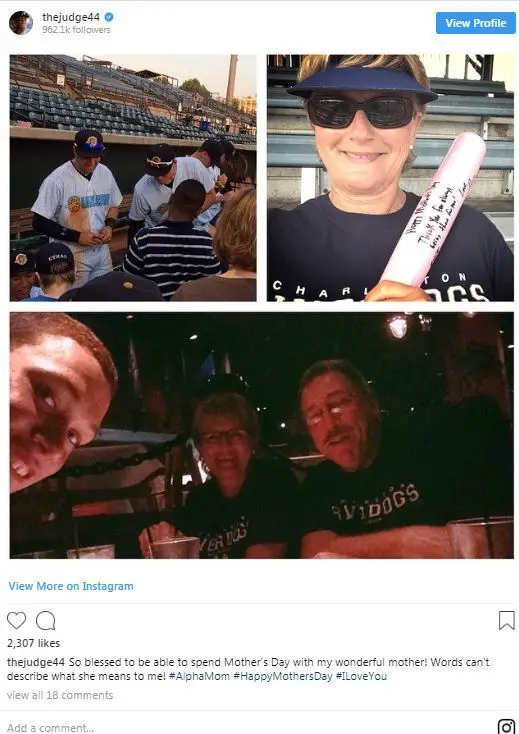 Aaron Judge, with mother and father on Mother's day (Photo: Aaron Judge's Instagram)
Further, he feels blessed to have been by his parents. Aaron expressed his feeling with New York Post profile in 2015:
"I feel they kind of picked me. I feel that God was the one that matched us together."
But his parents seem to be more proud of their son as they explained to the post:
"Both of our children are adopted. Aaron has an older brother, John, 29, who is teaching English in Korea, and we're real proud of him, too. Really, it was all meant to be."
The American nationality sportsman charmed his sports skill during his time in Linden High School. He involved in basketball, football, and baseball. But later he chose baseball to enhance his skills.
Updates On Baseball Player:- Carlos Correa Engaged To Girlfriend Is Dream Come True! Wife-To-Be Biggest Fan
Supportive Parents Behind His Excelled Career
At a young age of 26, Aaron has impressed the world with his thrilling performance as his disciplined manner and abilities have fueled his firing career.
More importantly, he credits all his success to his mother. He disclosed with New York Post that his parents were amazing and even taught him many life lessons.
He remarked that his mom had significant influence over his every decision which made his career with the New York Yankee possible.
Describing her as the caring individual, the 2017 Silver Slugger Award winner said:
"The guidance she gave me as a kid growing up, knowing the difference from right and wrong, how to treat people and how to go the extra mile and put in extra work, all that kind of stuff. She's molded me into the person that I am today."
The retired school teachers always taught Judge to prioritize his education first. And his parents' advice led him to live a higher standard of lifestyle.
His parents were also invited all the way from California to the New York Stock Exchange in December 2016 to inaugurate the fame by ringing the opening bell. Though his retired parents cannot make their time to attend Aaron's every game, they never miss watching his game on TV.