Sports
Young Basketball Star Breanna Stewart: Focused on Career, Not Dating and Boyfriend? Family For Her Olympic Debut
Despite being aged twenty-one, she is one of the most rated basketball in WNBA today. It is evident from the proof that she was number one pick in the 2016 WNBA Draft. And yes she is focused on her career! She has just made her Olympic debut in Rio, 2016.
Focused on her Career:
Breanna Steward has been deemed as one of the upcoming basketball stars and rightly so. Steward started playing basketball at the tender age. Well, she had it all to be a rebounder from her early age. She also had an appropriate height. In fact, she is six feet four inches tall.
She is probably the best prospect in women's college basketball. The reason behind it is she has already won three consecutive national championships and is on route to accomplish the feat of becoming the first woman to win four in a row.
Breanna Steward, senior All-American at the University of Connecticut, was also the No. 1 overall pick in the WNBA draft in 2016.
Recently Stewart said to ESPN (Feb 2016):
"Dribbling around the block definitely started things. It made me realize if I could get better at dribbling, I could get better at shooting and do other things that would make it tough to play against me. It separated me."
Breanna Steward also won ESPY Awards in 2016 as the Best Female Athlete during ESPN's annual ESPY Awards in Los Angeles. She successfully outgunned other nominees such as WNBA MVP Elena Delle Donne, swimmer Katie Ledecky, and world-leading gymnast Simone Biles.
Caption: ESPYS 2016 - Breanna Stewart Wins Best Female Athlete: Award winning moment and speech!, July 2016
Upon receiving the award, Stewart said,
"I'd like to thank my fans, my family, UConn, my coaches and all my teammates. I'd also like to thank ESPN and the media. During my time in college, I received much media attention. I am grateful for that."
Boyfriend and Dating Rumors:
There have been no rumors about Steward dating someone, neither did she ever had a boyfriend, as far as we know. The reason behind it might be her busy career and schedule.
Family on Olympics Debut: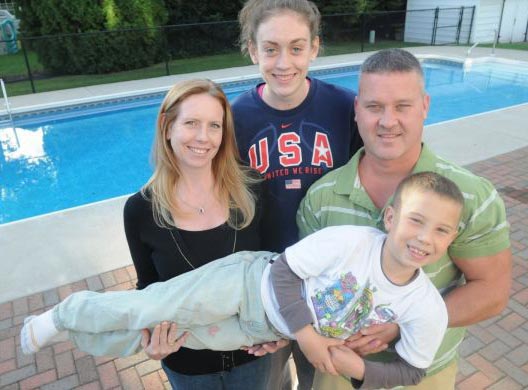 Caption: Breanna Steward at home with her parents, Heather and Brian, and her brother, Conor in 2010
Source: syracuse.com
Brian Steward along with his wife, Heather, and their son, Conor, was set to board a flight from Syracuse to Rio on Aug 11, all to watch Breanna represent her country at the 2016 Summer Olympics in Rio.
Brian expressed his happiness in July this year via a cell phone conversation. He said:
"A couple of things made it easier, we have to pay for it, but we're staying on a cruise ship for guests and athletes. Breanna and the athletes are on one cruise ship, we're on another one. And USA Basketball is arranging airfare for us. They're getting that all settled up."
Breanna's Short Bio:
Breanna Mackenzie Stewart (born August 27, 1994) is an American professional basketball player who plays for the Seattle Storm, WNBA franchise, and also USA national team. Stewart attended Cicero-North Syracuse High School (C-NS) in Cicero, New York, where she played basketball and was popular among her collogues due to her wingspan.
Lots of awards and titles were won by her during her collegiate career and before as well. This includes "Associated Press Player of the Year(2016), "Naismith Trophy Winner (2016)" and " USBWA Player of the Year (2015). She recently made her debut in Rio Olympics against Spain and scored nine points in the game.