Entertainment
Is James Maslow Married? Moved On From Former Dating Affair Like Ex-Girlfriend Did?
Relationships are not always blissful, and many ends with heartbreak. While some people can't get over their estranged partner after a separation, some can find a new way to live their life happily. Some try to move on by dating a new person, while some live their life in a flow.
However, it's hard to consider a person as a stranger who once meant your entire world. Well, life is long, and you need to detach that specific person and their memories from your life to move on.
Big Time Rush star James David Maslow also shared a similar heartbreak, but has he moved on from his past relationship? Is he married by now? Let us find it out.
James Maslow's Former Relationship:
Twenty-six years old James Maslow participated on the eighteenth season of Dancing with the Stars, where he fell in love with the professional dancer Peta Murgatroyd.
Prior making an appearance in the reality dance show, James was reportedly dating Peta Murgatroyd in February 2016. A source revealed that they started dating after they met each other through friends. The source explained-
"He's (James) super busy rehearsing for his Big Time Rush tour, which kicks off today [Feb. 6], and she's (Peta) gearing up for the next season of DWTS. They're both really busy, but they enjoy each other's company."
When the rumors about James' affair with Peta was swirling, he revealed that he wasn't single in an interview with Glamour back in April 2014. In the interview, when he was asked about his current relationship status, he replied-
"I'm dating, but I'm so busy that it's hard to find a lot of time for it. So I'm single. I think there's a difference between dating and being in a relationship with someone. You can date a lot until you find the person you want to create a relationship with, but it needs to be a clear distinction. So at this point, I'm just dating."
Later in May, James and Peta's romance got quite confirmed during Monday night's live Dancing With The Stars performance, that too with a steamy kiss after a very sexy tango dance.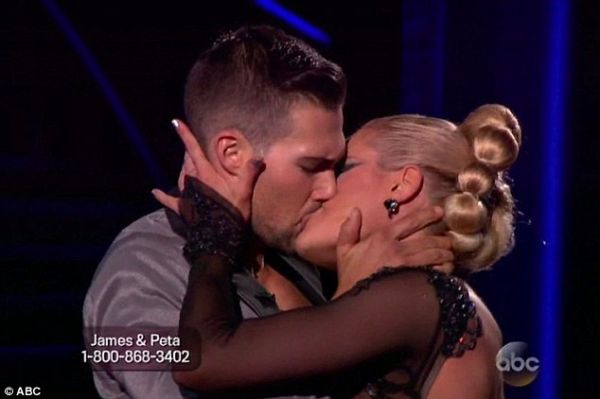 Caption: James Maslow and his rumored girlfriend Peta Murgatroyd's steamy kiss during Monday night's live Dancing With The Stars performance.
Photo Credit: Dailymail
Their kiss, which was fuel to the fire, was later revealed to be a choreographed move. James suggested the kiss during their rehearsals as the finishing touch.
After the completion of the show, James and Peta didn't see or hear from each other again. Peta is now enjoying a blissful life with her partner Choreographer Maksim Chmerkovskiy and their son, who was born earlier this year on January 4.
Unlike Peta Murgatroyd, James hasn't provided any information about his dating and affairs. Though he might have moved on from his former relationship, he hasn't sparked a new romance.
It seems that he is busy with his career as he shows no interest in finding a lady who could be a perfect wife for him in the future. Similarly, many people seem to believe that James belongs to the gay side, that is why he remains adamant when it comes to opening about his current dating affairs. However, until any confirming statement from James, the truth remains confined to the dancer himself.
Stay with us for the emerging updates on James Maslow!