Entertainment
To Whom Ryan Paevey Sharing His Splendid Net Worth?: Who's His Girlfriend? Dating With Jessa?
What's the point of earning when you can't spend it on the things you like, or maybe on the person you like? Now the question is, does actor Ryan Paevey have that special someone to share his splendid salary? Let's find out.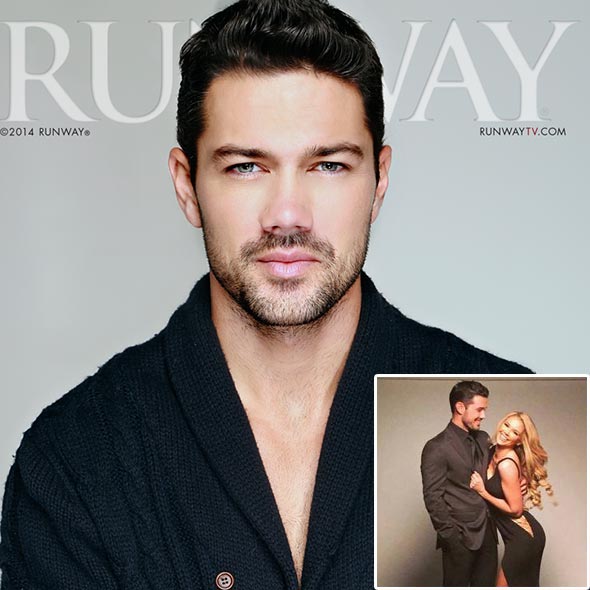 Quick Information
Divorce/Split

Not yet

Rumors

Jessa Hinton (Girlfriend)

Eye Color

Blue

Hair Color

Black

Hair

Short

Weight

56 Kg

Height/ How Tall? 6 ft 1 in (1.85 m)
Career

2011–present

Net Worth

N/A

Gay

No

Date of Birth Sep 24, 1984
Relationship Status

Single (2019)

Children/Kids

Not Yet

Mother

Linda Paevey

Father

Les Vlieger

Ethnicity/Race

Mixed

Zodiac Sign

Libra

Profession

Model

Birth Place

Torrance, California, United States

Nationality

American
What's the point of earning when you can't spend it on the things you like, or maybe on the person you like? Now the question is, does actor Ryan Paevey have that special someone to share his splendid salary? Let's find out.
Ryan Paevey's Net Worth:
Actor Ryan Paevey, also known as Nathan West from ABC's General Hospital, has been in the acting business since 2009. From television series and films to music videos, he has done it all.
Though the exact figure of his net worth is not available, he is expected to earn around $400,000 per episode from the soap opera, General Hospital. And now that he has played the lead character, Donovan Darcy in the television film Unleashing Mr. Darcy, there is no doubt he earned some additional hefty amount from the project.
Now, this makes us wonder, does Ryan Paevey have that special someone that he can splurge on?
Ryan Paevey's Girlfriend and Dating History:
Blessed with a husky body, good looks, and ocean-blue eyes, no wonder Ryan has a huge female following. But is he already taken?  There is no information regarding his married life, wife or his probable gay status, but because of some friendly back and forth tweets, many believe that Ryan might be dating model Jessa Hinton.
@RyanPaevey If that Jessa lady's your girlfriend, wowza! You 2 make a stunning couple! ???? — Loraine Gentle (@LoraineGentle) January 23, 2015
And after seeing these posts, his Twitter fans have been speculating that there may be something brewing between the two.
However, Jessa is dating model/actor Sam Asghari.
Ryan was also linked with his General Hospital co-star Kristen Storms. But the rumors turned out to be a hoax once again, as Kristen is married to Brandon Barash.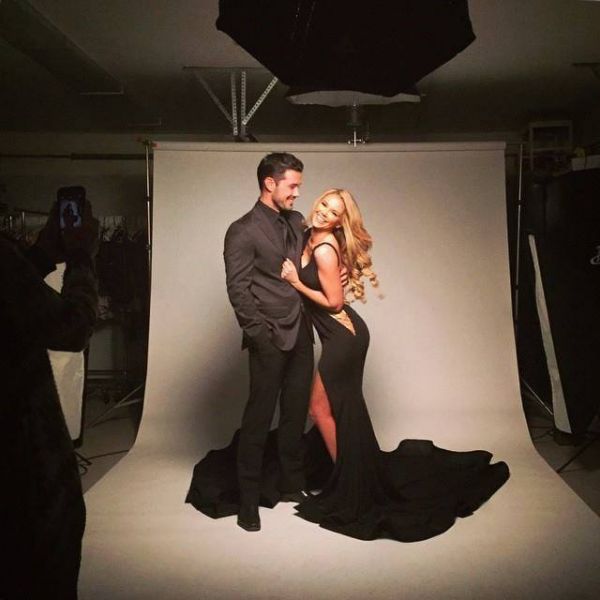 Caption: Ryan with rumored girlfriend Jessa on a photo shoot.
Source: facebook.com
Ryan Paevey's Career Highlights:
Ryan started his Hollywood journey as a model working opposite Katy Perry and Cher. He appeared in a couple of music videos including Christina Aguilera's Your Body and Robin Thicke's Sex Therapy as a body double.
In December 2013, Ryan landed a role of Nathan West in ABC's soap opera General Hospital portraying a contract role. After that, his acting career took off as he started appearing in guest roles in few other series and films. Then in 2016, he landed the main role in the television film Unleashing Mr. Darcy as an attractive dog show judge Donovan Darcy.
Caption: Unleashing Mr. Darcy 2016 Hallmark Movie
Know Ryan more!!
Injury!
Being a huge nature freak, Ryan is an avid traveler. In the course of seeking adventure, Ryan once had a small accident while travelling to Chilao Campground in California. He posted on his Instagram and Twitter about recovering from the accident.
@goodgirlbad healing fast already. Road rash patched, surgery is over, and Lilith is getting pampered again. — Ryan Paevey (@RyanPaevey) July 5, 2015
Nature Lover And Photographer
Animal Lover:
Kid Ryan and His Mom:
His Unleashing Mr. Darcy co-star Cindy Busby
Ryan Paevey talks about Romance fantasies and pet peeves
In an interview with Sheknows.com, Ryan had the opportunity to talk about himself a bit and here's what he speaks about himself.
Apparently, Ryan firmly believes in 'Love at first sight' and has even experienced it before. The general hospital actor speaks about his experience falling in love stating, 
"I believe in love at first sight 100 percent. I don't think it means that you two are instantly going to be together, or that you are ever going to be together necessarily. It didn't in my case. But I can remember that feeling when you see that one person, and everything stops for a second, and you don't notice anything but her, cliché as that sounds. I can still remember the address and what she was wearing. I still hope the universe may yet see fit for her to feel the same, but no matter what, I'll always be grateful I met her for showing me those feelings exist outside of fairy tales."
Shame the love didn't come to fruit, but he probably enjoyed the high of romance.
The actor also confessed that he spoke fluent French, the language of romance and talked how he likes to keep his first dates light and short.
"For the first date, keep it light, and try and see if you enjoy this person's company and conversation,"
Says the actor, talking about his first date expectations, and even gave suggestions on how to make a good first impression and what topic to avoid, which obviously includes politics and religion.  
"I actually try and avoid them on most of the other dates, too, as I feel like those two topics specifically cause the most strife, conversationally or otherwise."
He also talked about being a very nature loving, outgoing person and how he doesn't consider himself that famous. His biggest fear includes having random people, especially fans disturb him enjoying his daily life, especially at restaurants and fast food and being forced to experience an 'interrupted sandwich.' He furthermore talked about how he doesn't care about approval or disapproval of others towards him and was quoted saying,
"People are going to judge you no matter what you do, so turn the volume down on the voices in the crowd, and make the decisions you feel are right for you in the way you want to make them. This doesn't mean that a second opinion isn't valuable, or that it isn't wise to ask for advice, but treat those things like a support net, not a rulebook."
Very wise words, indeed.
Ryan Paevey's Short Bio:
Ryan Paevey, real name Ryan Jacob Paevey-Vlieger, was born on September 24, 1984, in Torrance, California. Growing up in Los Angeles, Ryan used to run track and cross country in high school. He started his career as a model and eventually turned his paths towards acting.
His first television role was The Girl with the Gloves in 2011. His career took off after starring in the General Hospital as Nathan West in 2013, followed by Unleashing Mr. Darcy as Donovan Darcy. Currently, he is in the filming process of the biopic movie Bogie and Bacall.