Entertainment
In His World Of tastes, Chef Alton Brown Confronts A Sour Married Life With Wife But Managed To Stay Busy With Tours
It is not necessary to have a happy ending in every relation. We have lots of example in the Hollywood with bad break ups and divorce. Another name got added to the list of Iron Chef America host Alton Brown's divorce. Let's discover more about the marital life and professional life of the Good Eats' creator.
End of marriage, let's move on with work:
It seems like 2015 was the year of divorce for the Celebrity chefs Alton Brown. Earlier the news of divorce of the "Food Network's star chefs," Bobby Flay with his spouse of 10 years and Todd Thompson's wife Giada De Laurentiis to whom he was married for 11 years got divorced. The news of American celebrity chef Alton Brown divorce new also made a headline in no time with his wife, Deanna Brown.
It seems like Alton has invited divorce for himself through his busy work and hectic schedule. Alton has taken up shows like: 'Good Eats,' 'Cutthroat Kitchen' and 'Iron Chef America' and due to his uneasy and frantic schedule, he invited severe unhappiness in the marriage life. And undoubtedly the busy schedule happens to be the ultimate reason behind the divorce.
The couple shares a 16-years-old daughter, Zoey.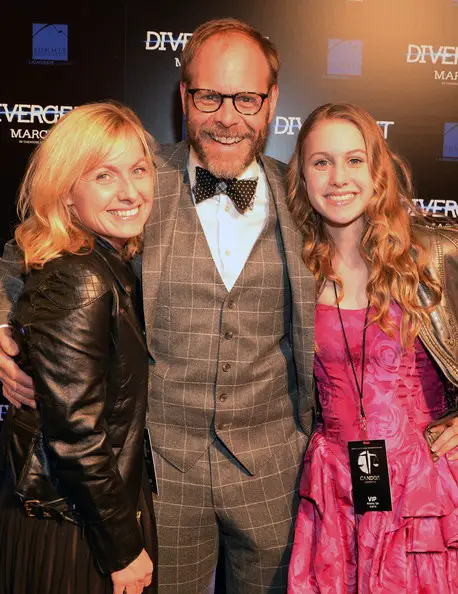 Caption: Then-happy family of Alton Brown was making their appearance in a special screening event, red carpet. (2014)
Photo Credit: zimbio.com
According to the sources, Alton and Deanna separated in June 2014. They were then living separately and later filed for divorce before the end of 2015, while Alton was in his hometown in Georgia.
Sources told that their divorce was not the unexpected or surprising one as the unhappy marriage was not hidden for too long from the people's eye and the split had been coming 'for a while.'
After the divorce with his wife, he said that he will be focusing on the career and will inspire people to make something great.
As he mentioned, on 2016 Alton got a whole lot of busy in his tour "Eat Your Science" which ended touring 40-cities. Alton also stated in 2016 that 'Good Eats' will have a sequel in 2017 and that he is likely determined to take full advantage of his online cooking show.
Nevertheless, after the end of his marriage life, he is now focused more in his career. We do enjoy the Chef in his shows and wants to see more of him shortly too.
The total outcome:
Alton Brown starred in Good Eats from 1998 to 2012 because of which he won Peabody Award in 2006. He also presented as a commentator on Iron Chef American and The Next Iron Chef. Alto launched Alton Brown Live: The Edible Inevitable Tour" in 2013. He has also contributed to 2005 cookbook, 'Food Network: Recipe from Our All-Star Chefs' and has also written numerous books on food and cooking.
Bon Appetit magazine named him "Cooking Teacher of the Year" in 2004, and he won the James Beard Foundation Award for Best TV Food Personality in 2011. All his work as a celebrity chef, author, actor and television personality has accumulated his net worth which tends to $13 million.