Entertainment
Has Zak Bagans Married His Fiance? Also Talks About Thoughts On Demons And Haunted House
Has Zak Bagans Married His Fiance? Also Talks About Thoughts On Demons And Haunted House When a person is engaged, then people feel that they are heading towards marriage. However, engagement does not always mean marriage is approaching, right?Ghost Adventures' Zak Bagan is an engaged man, but does he hear wedding bell ringing?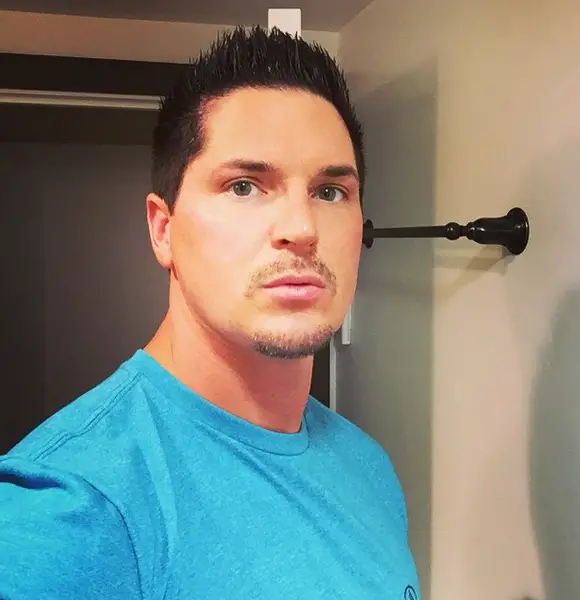 Quick Information
Relationship Status

Single (2019)

Eye Color

Greenish Blue

Hair Color

Dark Brown

Hair

Short

Height/ How Tall? 1.82 m
High School

Glenbard West High School

Net Worth

$5 Million

Gay

No

Divorce/Split

Not Yet

Date of Birth Apr 05, 1977
Sister/s

Meredith Bagans

Ethnicity/Race

White

Zodiac Sign

Aries

Birth Name

Zachary Alexander Bagans

Profession

Actor

Birth Place

Washington, D.C., United States

Nationality

American
When a person is engaged, then people feel that they are heading towards marriage. However, engagement does not always mean the wedding is approaching.
Ghost Adventures' Zak Bagans was an engaged man, but was he lucky enough to hear the wedding bell ring? Let's find out along with the ghost adventures he has encountered in his life!
Is Zak Bagans Married?
Zak Bargans is famous for his ghost haunting, but fewer people know about his romantic life. Similarly, the news about his love life has not circulated in the media and mystery hovers his personal life.
But on one rare occasion, Zak Bagan shared that he was committed to his fiancée Ashley, and he announced the happy news of his engagement through Twitter on 1st April 2014.
When a person is engaged,  they are conjectured to be hearing wedding bells, and it seemed that the engaged man would soon be a married man. Zak also shared his desire to exchange wedding vows via Twitter on 1st  April 2014. The tweet was quickly deleted, but his followers shared the screenshot where he shared the passion for getting married.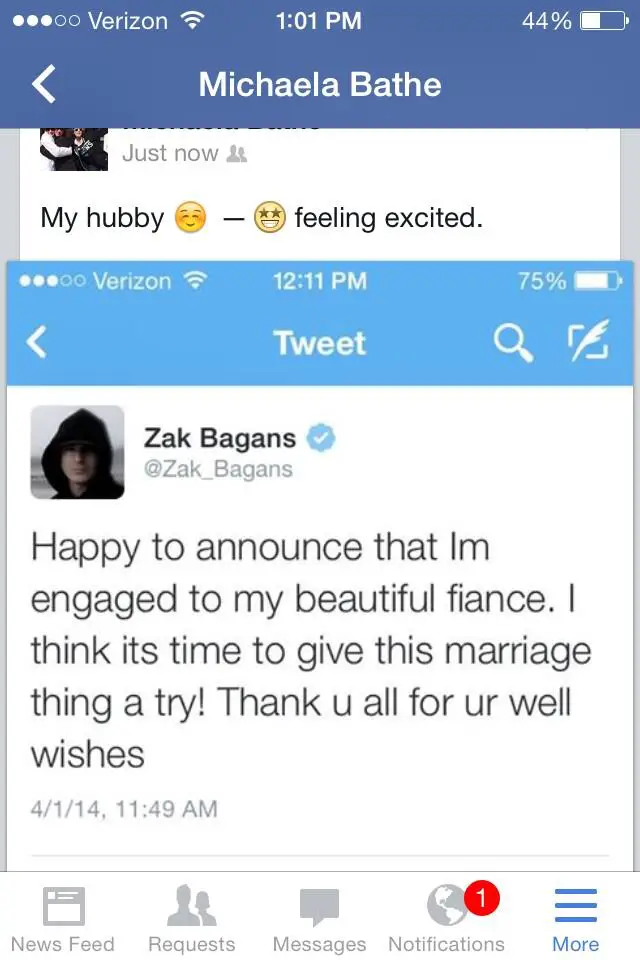 Zak Bagans' followers shared the screenshot where he tweeted his desire for marriage (Photo: Michaela Bathe)
But Zak's engagement turned out to be a sham as it was an April Fool Prank on his fans.
Was this just an April Fools' Day joke, or did he shared his secret wish, hiding behind the liberty that the Fool's Day offers?
The answers to this question lie within Zak, and he has left people in confusion because the news of Zak and Ashley has not circulated in the media yet. 
So, fans can safely say Zak is yet to get married and share a husband-wife relationship with Ashley!
However, the  TV personality was in a relationship with Christine Dolce. But the pair's romance couldn't last long, and they soon parted ways. Post the breakup, he was rumored to be dating  Marcy DeLaTorre, but there was no confirmation on the romance from Zak's side.
 Is Zak Bagans Gay?
When a celebrity does not have a girlfriend to flaunt and romantic union making headlines, then he is often hypothesized to be gay.
Openly Gay Journalist:- Milo Yiannopoulos Gay, Boyfriend, Affair
And the YouTube channel, TheWorldsMostRandom is one step ahead, as the channel has done a video and published on 7th February 2017, where Zak and Aaron Goodwin have admitted that they are gay. But the video was made solely made for the entertainment purpose.
However, people took the sarcastic video seriously and assumed he was gay. On 27th June 2013, he had mentioned to a fan that his sexuality was straight.
Zak Bagans' Imprudent Passion!
"Ghost Adventure" fame Zak bought a demon house for $35, 000 in Indiana which is rumored to be the site possessed by demonic powers.
In 2012, a mother - who lived there - reported that her 12 years old daughter and ten years old son had been possessed and even the child protective services supported her claim. The scariest incident associated with the house was that her daughter levitated above the bed and the son walked on the ceiling.
And as reported in January 2014, Zak shared his wish to live in the house and document the experience.
"If it's true this home is a portal to hell, then I want to go there and see what happens."
In an interview with TMZ, Zak shared his experience of the haunted house. He even claimed that it was the well-documented exorcism and also shared that he witnessed paranormal activity in the house.
After an encounter with the dark energy in the house, the house was demolished with a bulldozer as per reports on TMZ on 21st February 2016. The stories in TMZ quoted,
"Zak says the demons were the real deal, and felt strongly it should never be inhabited again. He believes dark energy permeated the rubble ... so he had it locked away in a storage facility."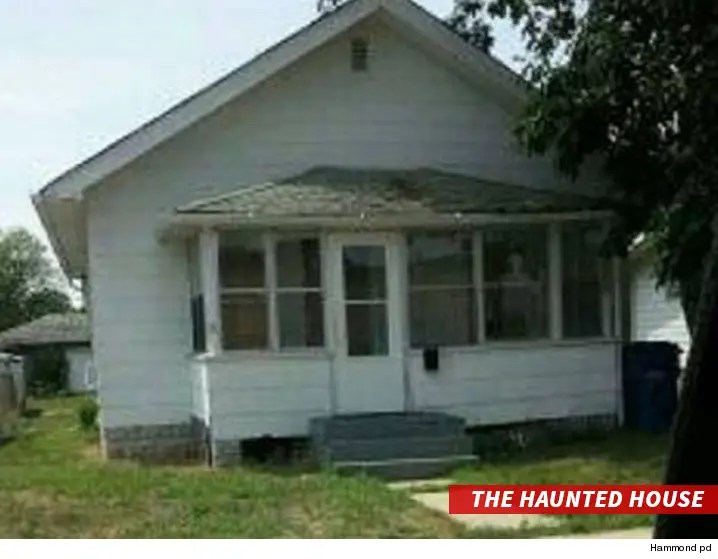 The haunted house in Indiana which was eventually destroyed with a bulldozer in 2016 (Photo: tmz.com)
The ghost and demonic investigation is a thrilling experience, and at times, things are not under your control. And, Zak with his team has done the "Ghost Adventures" for a decade. He poured down his thought through a Facebook post on 31 October 2016, and with pride, he stated the less known fact.
We are unlike anything you have ever seen before, I dont say that with ego, I say that because we are the ones who know what we go through, the medical sicknesses/ ailments, the families that are effected from this, the broken marriages, the oppression, the depression, the possession....this isnt just for your entertainment, this is for real. We know the risks, we accept them, we do this cause we are drawn to these powers and sometimes the actual evidence is what happens to US.
The tattoos are a way of expressing too. During an interview at the Ohio State Reformatory, Zak was asked to show his tattoo on his back. And Zak flaunted his angel tattoo on his back in October 2010.
Zak Bagans runs after his passion, and he has documented his experiences with paranormal activities. As one does not believe in the existence of true love until one experience it, similarly, one does not believe in the presence of spirits until you encounter with one.
Zak's Bio
The TV personality was born on 5th April 1977. His full name is Zachary Alexander Bagans.
Although he initially set out to be a documentary filmmaker, he struggled a lot. He did odd jobs like a wedding disc jockey. One day a chance encounter with a suicidal woman ignited his interest in paranormals. Thus, he passionately produced paranormals related show Ghost Adventures, which became the longest running show of its kind on Travel Channel.
Beautiful TV Host:- WWE Cathy Kelley Boyfriend, Dating, Parents
The unbeaten run of his debut show led to spin-offs; Paranormal Challenge and Paranormal Paparazzi.