Milo Yiannopoulos is the internet's favorite controversy celebrity.
Known for founding alt-right site Breitbart.com, the technology journalist opposes gay people in spite of being openly gay himself. In 2016, his Twitter account was permanently banned for allegedly promoting hate speech.
Openly Gay
The British journalist, birth name Milo Hanrahan, had always been into men.
At a mere 17-year-old, he was in a relationship with a 29-year-old man. Lucky for the older gentlemen, the age of consent in the UK is 16; otherwise, they would end up in jail in the US for engaging in a sexual relationship with a person less than 18-year-old.
Similar:- Openly Gay Lance Bass & Husband | Wedding, Net Worth & More
Poor Milo was from a broken home where his father and mother had a toxic relationship. He was scared of his father, but things didn't improve even when his mom left the man and got married to a new guy.
Milo couldn't get along with his stepdad thus went to live with his paternal grandmother.
Apart from coming from a broken home, Milo had to deal with other adversities in life: he became a victim of child abuse during his teenage years in the hands of two men.
The incident came to light when the University of Manchester alum's book deal got canceled in 2017. The reason behind such ordeal was his past video of seemingly encouraging pedophilia was leaked on the internet.
Turned Boyfriend Into Husband
Milo had been in a long dating relationship with his boyfriend when he married him on 30th September 2017. A self-proclaimed supervillain, he has gone extreme lengths to protect his beau's privacy.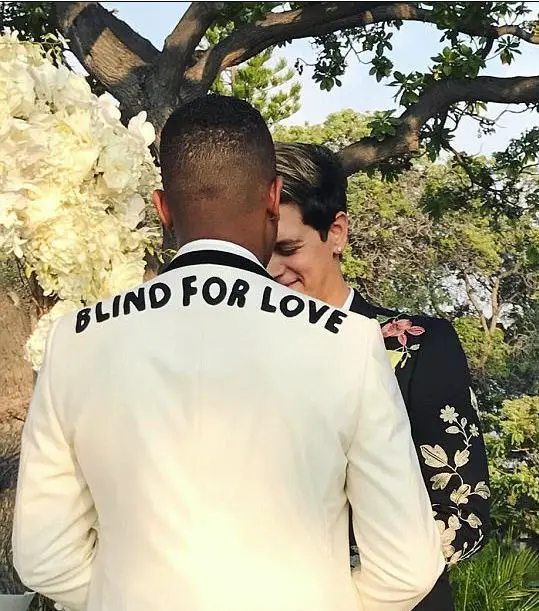 Milo Yiannopoulos smiles while getting married to long-time boyfriend, John on 30th September 2017 (Photo: dailymail.co.uk)
Till date, his husband's real name isn't out in public. Milo uses "John" to address the love of his life. Although he refuses to reveal his full name or face to the world, Milo does mention that his husband possesses black ethnicity.
However, the affair shocked the world as Milo is unabashedly homophobic, racist and Islamophobic despite the fact that he is openly gay and is married to an African-American man, who practices Islam.
Milo's Age And Bio
The British journalist is 34 years old according to his date of birth; 18th October 1984. He was born in Athens, Greece, but raised in the UK. Milo went to Simon Langton Grammar School for Boys before being expelled from the institution.
On Milo's Controversy:- No Trump, No Milo! Milo Yiannopoulos Speech Cancelled Following A Riot Caused By Agitators At UC Berkley
The young lad didn't give up and got into schools; Wolfson College, Cambridge, and the University of Manchester. In spite of going to multiple institutions, he didn't get a degree.
Instead, he got into journalism via joining Telegraph. Since finding his calling, he founded tabloid The Kernel. He did pretty well in the field as he was named Wired UK's top 100 most influential people in Britain's digital economy in 2011 and 2012.