Orlando Magic's forward wearing the jersey no. 00 is Aaron Gordon. No wonder, there are plenty of expectations for one of the NBA's star players.
In the 2018-19 season, he averaged PPG 14, and he is averaging PPG 13.6 in the 2019-20 season. However, he is having some shooting issues, struggling to finish and in convert, continued from the 2019 pre-season games. Still, Magic is hoping that Gordon finds his rhythm as well a the net to give Magic's offense the boost it needs.
Arguably one of the NBA's 'most athletic' players is best remembered for his memorable dunk in the 2016 NBA Slam Dunk Competition.
Who Is Aaron Dating? Girlfriend?
The barometer for the Orlando Magic's offense, Aaron, probably has been single since the last few months of 2018. So, all the ladies' fans of this star athlete have a chance to hook up while he is still available.
The high-flying Magic forward with the towering height of 6 feet 8 inches (2.03 m) and a muscular body with a weight of 106.6 kilograms (235 lbs.) is a catch for many ladies digging in his relations.
Another NBA Star's Split:- Luke Kennard's Girlfriend Savannah Chrisley Opens Up About The Split! Break-Up Couldn't Be More Lucid
Indeed, Aaron was dating former college basketball player Dakota Gonzales in the summer of 2018. Their photo together in romantic positions such as hugging or looking into each other's eyes surfaced quite a bit in social media and hence, in public.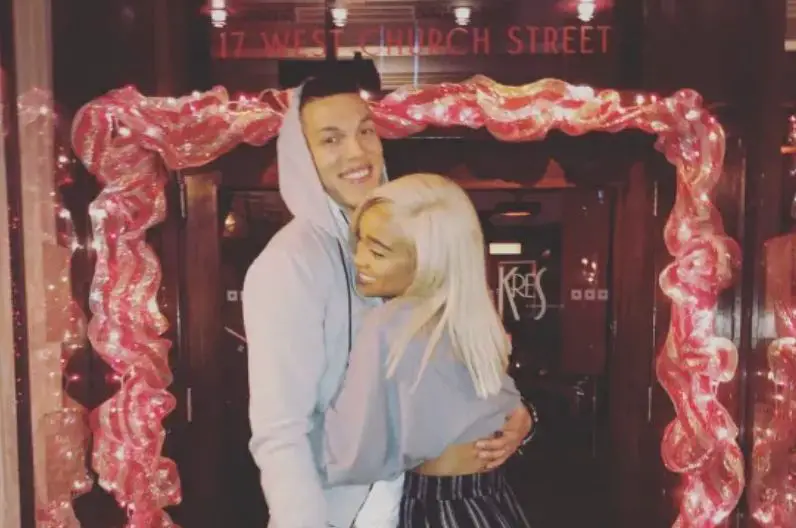 Aaron Gordon with his ex-girlfriend Dakota Gonzales in September 2018 (Photo: sportsgossip.com)
Sadly, the couple split up in September 2018. Aaron was the one to blame as he cheated on her, and that wasn't the first time either, as per the Instagram of Dakota.
Parents And Family
Aaron was born on 16th September 1995 in San Jose, California, to college-basketball-player parents, Ed Gordon and Shelly Davis. The former San Diego State basketball player Ed was even offered a tryout for the New England Patriots based on his athleticism alone.
Interestingly, the hyper-athleticism runs in the genes of this Gordon family. Not only Aaron's parents, his older siblings, older brother, and older sister are also star athletes in their way.
Another NBA Star You Should Know:- John Wall Girlfriend: Who Is He Dating At Age 28? 
Aaron's older brother Drew Gordon is a Long-Island Nets G-League player. He has played college basketball at New Mexico State and UCLA, as well as played ball overseas for five seasons. In 2018-19, he averaged 7.3 points and 6.8 rebounds in the 35 games that he played in G-League.
Likewise, Aaron's older sister Elise Gordon is a former Harvard women's center. She even won Harvard's most improved player in 2010-11 and went on to play for Crimson for the next three years. As the big sister and business manager to pro-Aaron, she has continually helped the NBA star in all aspects of his life.
Aaron's cousin, Tony Harvey, was also a basketball player.
Thus, the future Hall of Famer, Aaron's upbringing in a big and competitive family as well as his athletic genes gives him an edge to improve and reach his potentials.