Entertainment
Actor Dustin Diamond: Married to Longtime Girlfriend in 2009, Is He Still With His Wife? Gay Rumors
American actor Dustin Diamond has been giving us different topics to gossip on. "Saved by the Bell" star Dustin is famous all over the tabloids whether it's because of his self-directed sex tape or by violating the terms of his parole. Due to such issues, the personal life of Dustin has always been in the dark.
Well, this is the right place for the Dustin Diamond fans who are interested to know about his love life. We will be enlightening his married life, affairs and also pull the curtains behind gay rumors.
Married Life In Jeopardy; Split From Longtime Girlfriend Turned Wife
Thirty-nine-year-old Dustin who makes the net worth of $50 thousand was married to his long-time girlfriend, Jennifer Misner in the year 2009.  He first met her during a tour in Pennsylvania and then started dating her.
Interesting:- Slim Jesus Dead Or Alive Dilemma; Rapper's Real Name & Actual Net Worth
They have known each other for over a decade, but now they are said to be separated. When Dustin was alleged for directing and releasing his sex tape called "Screeched – Saved by the Smell" in 2006, his ex-wife Jennifer Misner stood by him.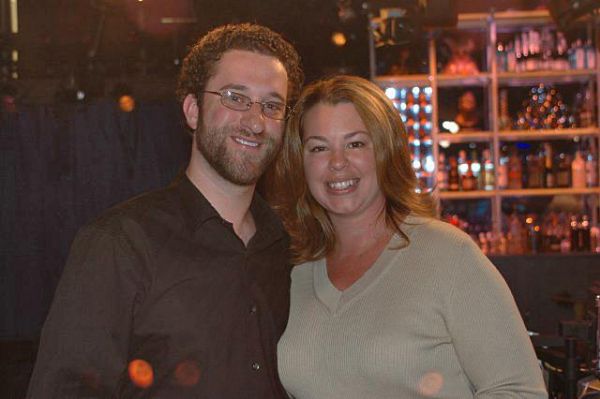 Dustin Diamond and his ex-wife Jennifer Misner. They tied the knot in the year 2009 (Source: taddlr.com)
We can conclude that Dustin was not happily married as their relationship ended with a divorce. Though he knew his wife for more than a decade, their marriage was not successful.
For their family and friends, the news of their split came as their surprise. And why wouldn't?
Talk about a couple going through it all, Dustin and his ex-wife Jennifer had the ill-fated tragedy to face a miscarriage. In December of 2004, the former Saved By The Bell star's then-girlfriend Jennifer suffered a miscarriage as a result of an ectopic pregnancy.
Following the tragedy, Dustin and Jennifer created the Dustin Diamond foundation in their first - what would've been, had it lived - baby's memory.
Discover:- Kevin Chamberlin Obscure Married Life With Wife Hails Gay Rumors, True?
Dating "A Clown" Girlfriend Amidst Gay Rumors
Cupid has already blessed Dustin with love.
Despite some controversies, Dustin seems to be happy with his new girlfriend Amanda Schutz who stands by him in his good and bad times. In a bar stabbing case on December 26, 2014, Schutz was also arrested with her boyfriend, Diamond.
Following the stabbing incident, In May 2015 the California native was acquitted of the felony assault charge but was convicted of misdemeanors with a maximum sentence of up to a year.
Later that year, he was sentenced to four months in prison and to remaining six months of probation.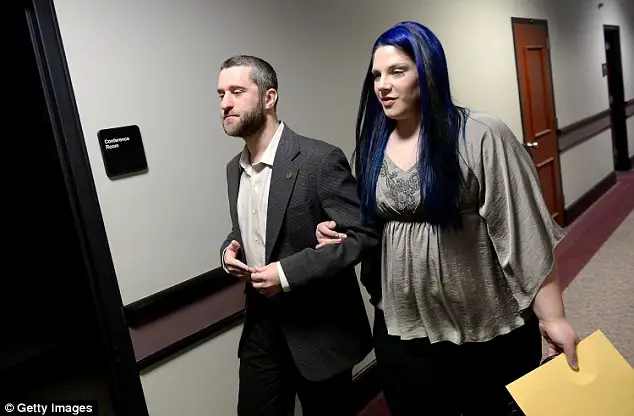 Dustin Diamond and his fiancé Amanda Schutz appearing in the court in January 2015 to enter not guilty pleas in Christmas bar stabbing case (Source: dailymail.co.uk)
Amanda is a professional clown who is famous as the clown name "Loli Pop." Her official website describes her persona as a fun, loveable. And a perfect entertainer for kids of all ages.
Read Also:- John Miller Dating Girlfriend Jennifer Garner, Here's Their Relationship Facts
Many might not know, but the New York native studied theater in college. She is also the owner of Loli Pop Entertainment LLC and provided entertainment for children parties. She has also appeared in an episode of "The Real Housewives of New York City" as a role of clown.
Following her acquaintance with Dustin, she moved to New York for "a separate business endeavor." As expected, she didn't return to Wisconsin until the holiday season kicked in.
No doubt, Dustin is straight by sexuality as he has been in two different relationships. The rumor about him being a gay is something which is not verified.