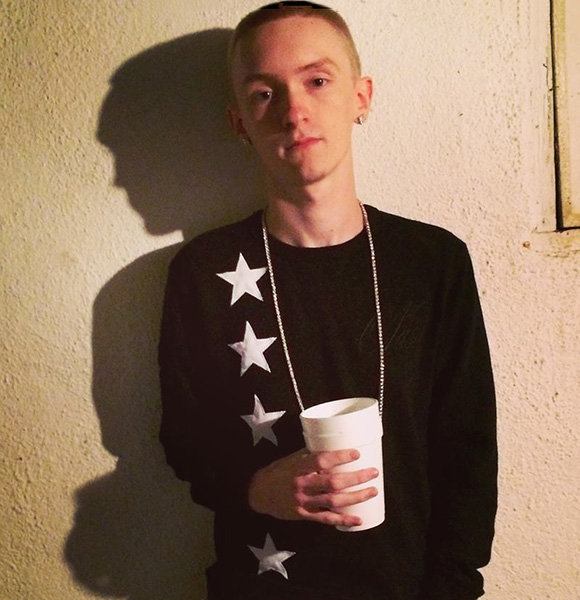 No other name carried the same weight and notoriety as Ohio-born rapper Slim Jesus at the height of the Soundcloud Era. 
But, over the years, Slim's ascendancy to rap supremacy has lost momentum, leading his fans to fear the worst. So, is he dead for real or alive and plotting a comeback?
Is Slim Jesus Alive Or Dead?
Whenever a celebrity is absent for a certain time, there come many speculations. Is s/he leaving the industry? Is s/he dead? 
The same happened to the Drill Time hitmaker, Slim, who just vanished from the spotlight. 
Following his disappearance, there came many rumors. Then, making things worse, the news of him dying in a shooting came along. 
Discover:- Who Is FatBoy SSE? Wiki Reveals Girlfriend, Net Worth & Essential Facts
According to the news, the shooting happened in front of his house, where he was recording a music video. They added that he died after being crucified outside of his home. 
But rest assured, Slim is not alive and is living a perfect life. After disappearing for years, in 2021, he uploaded a video announcing his new song 'Splurgin'.'
Slim Jesus's latest song, 'Splurgin'.' (Photo: Instagram)
Before the shooting news, it was common for him to get involved in dead hoaxes. 
Similar:- Jack Van Impe Dead Or Alive? Television Veteran's Health Status
Slim frequently stepped away from the spotlight; perhaps this was done to find musical inspiration.
But he took advantage of the chance to increase his wealth.
Slim Jesus reappears on Instagram with a bang (Photo:- Slim Jesus' Instagram)
The day after announcing his first label deal, he set the record straight with a PSA-styled Instagram post which is now deleted. Draped in Louis Vuitton from head to toe, with lean on the one hand and a middle finger on the other, the accompanying caption read:
"I'm back and better than ever #AgainstAllOdds"
With his proclamation, Slim seems to have hit two birds with one stone, permanently dousing the death rumors and marking his return simultaneously.
Isn't it ironic that the guy who had once faked his death to promote an upcoming single now finds himself clearing rumors about being dead?
More On Slim Jesus Including Age, Birthday, Real Name, Net Worth & Height
Controversies have become synonymous with Slim - whose real name is Easton Phillips - ever since he shot up the charts with his first single, Drill Time.
The so-called Rap Purists have often questioned the authenticity of his music; the fact that he's a white man who touts firearms, albeit props, in music videos doesn't help his cause.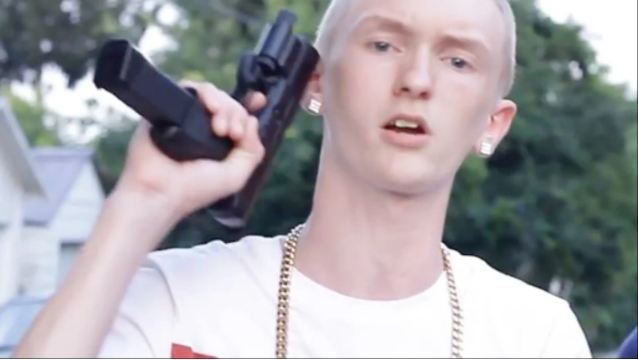 Slim Jesus touting a fake gun (Photo:- noisey.vice.com)
Call it willful ignorance or trolling, Slim, age 25, has always mentioned that his lyrics didn't mirror his lifestyle. In a 2015 interview with DJ Vlad, the Warning Shot rapper - who stands at 5 foot and 8 inches(172 cm) tall - confessed:
"I Like Rapping About Guns, But I Don't Live That"
Nonetheless, Slim's violent rap lyrics have served him well. According to several reports online, the 25-year-old Drill rapper has amassed a huge net worth.
Don't Miss:- NBA YoungBoy Wiki: Real Name, Baby Mama, Kids, Net Worth - All Revealed
A white rapper making it big in Rap Music is rare; a white rapper flourishing under a sub-genre (Drill Music originated in Chicago) that's not native to his hometown is practically unheard of.
As a result, this has compelled fans to draw a parallel between Slim Jesus' musical aesthetics with that of Eminem. Interestingly enough, the duo even shares an uncanny resemblance.
Slim Shady's shoes may prove too big for Slim Jesus - who celebrates his birthday on 10 April every year - to fill, but as long as he's not dead, the sky is the limit.
Stay tuned to get more updates on Slim Jesus' whereabouts.