Entertainment
Kevin Chamberlin Obscure Married Life With Wife Hails Gay Rumors, True?
The Hollywood star Kevin Chamberlin has stolen the spotlight through his tremendous performance in The Addams, he has been recently stealing all the headlights for coming out as a gay man. Leaving all the hints about his potential partner and sexual orientation, Who his partner Is yet to know!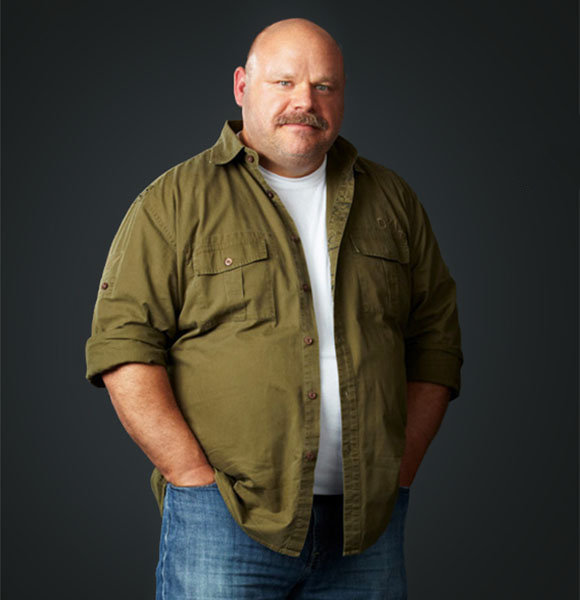 Coming out of one's closet isn't an easy gesture. Some people keep it within themselves and let it sink, while others stand out as proudly gay.
Hollywood star Kevin Chamberlin is one of those people who has broken past his fear and currently has come off as a proud gay man. The Rugar University graduate in acting, who paved his way to stardom playing some of the most beloved movies of all time, is secretive about his love and personal life.
Despite the secrecy, he tends to drop regular hints which helped his fans come to a conclusion about his sexuality along with his marital status.
At Age 55: Is The Actor Married And Alive?
When it comes to talking about Kevin Chamberlin, the actor stole the spotlight with his role as Fester in the movie "The Addams Family".
Showing off his praiseworthy performance and articulate dialect, Kevin has won himself multiple Tony Award nominations till date for the movies "Dirty Blonde", "Seussical" and "The Adams Family".
With an overnight success in Hollywood that contributed to his huge fan following, some rumors about the actor are bound to surface in the media. Kevin, age 55, is also not immune to the prying eyes of the reporters as he has been constantly speculated for his personal life after his appearances on screen declined significantly.
Read Also: Proud Gay Kevin Abstract Dating Bliss - Boyfriend With Sharpest Jawline
Being in his mid-fifties with no sign of any updates about his marriage or wife, Kevin's followers are left with a few tweets to guess the relationship status of the actor. On 14th April 2014, the "Seussical" actor posted a tweet giving his audiences a hint about his married life saying,
"@WarningItsDia awww. Thanks. I'm already married but I'm flattered."
This tweet made people suspicious about whether the star had tied the knot away for everybody and had succeeded in keeping his entire relationship off the focus. 
Likewise, on 16 July 2015, Kevin dropped more clues about his married life on Twitter where he openly claimed himself as a happily married man.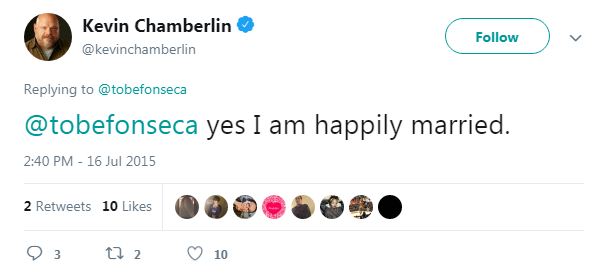 Kevin tweets about his marriage on 16 July 2015 (Photo: Kevin Chamberlin's Twitter)
Despite being active on social media, the Maryland native shared no post about his supposed wife. Further, he has posted pictures of his dog referring to her as "his lady," which has made his fans curious if Kevin was about his marriage and wife the whole time.
Don't Miss: Lauren Southern Talks On Why She Isn't Married & Has Husband, Staying Single!
The only post related to dating a woman was about his prom night in 1981 with Libby Volckenning. Apart from that, the actor hasn't been found to be linked with any other women.
Comes Out As Gay: Still No Sign Of Starting A Family!
After his funny tweets about his so-called marriage and family, the actor finally chose to come out as gay through his multiple gay posts.
Kevin's multiple tweets back in 2012, aroused confusion among his fans about his sexual orientation after he proudly voiced for gay rights and marriage equality in his media.
He later shared a post about his love for James Avery tagging Richard Bronosky in the tweet which he posted in 2014.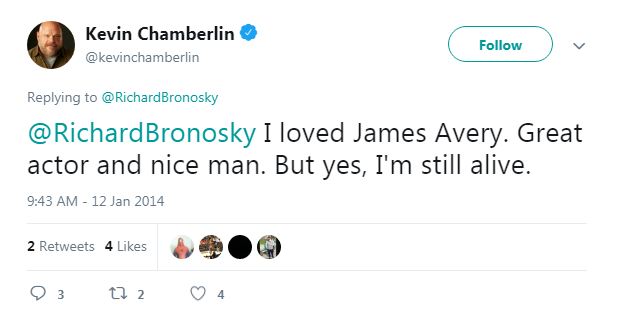 Dropping clues about his love for men (Photo: Kevin Chamberlin's Twitter)
Following in 2017, the "Dirty Blonde" star chose to fight against the ongoing gay violence in the country by sharing another tweet relevant to this topic.
"Over a hundred men suspected of being gay are being abducted, tortured and even killed Chechnya - act now!"
With multiple hints left behind in his social media, Kevin Chamberlin has tried really hard to communicate his true sexual orientation to the public. Currently assumed to be a gay man, the actor is still reportedly single and in search of a life partner.
Related Article: Peter Thiel Silently Married Boyfriend, Gay Couple Too Slick For Public?
The actor, who fascinated everyone through his splendid performances, still remains a beloved persona in Hollywood as his fans don't judge him by his sexual preferences. Earning a total net worth of $500 thousand and enjoying the flaring fame of Hollywood, the actor has everything it takes to get married and start a family.
With time slowly ticking away with age, the only thing missing in his life to creating a story of happily-ever-after is the right person. Being openly gay, his hopes aren't dead as he still embarks on a journey to find the right man to start life over again!