Entertainment
Openly Gay Actor Kevin Chamberlin Reveals Having a Boyfriend?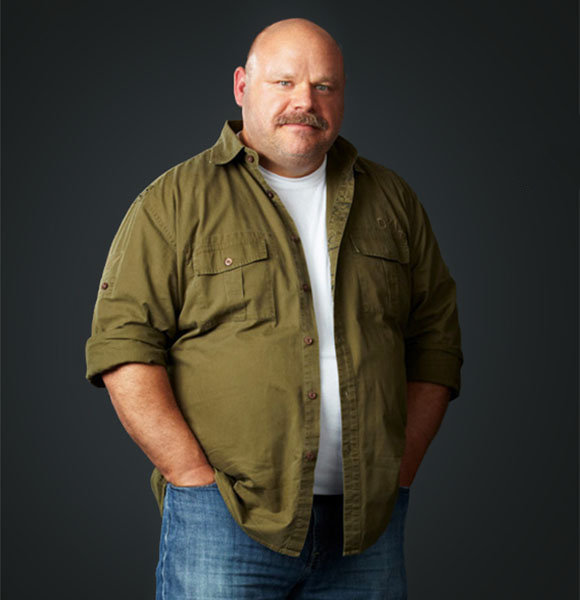 Kevin Chamberlin is one of the well-celebrated actors in the show biz, and he is most famed for his portrayal in 'Seussical,' and 'The Addams Family.'
Kevin's astounding career accomplishments have always put him in the spotlight. However, besides his profession, his personal life also grabbed substantial attention when he was surrounded by gay rumors. 
Loud and proud about his sexuality, Kevin has been open about it for a very long time. The openly gay actor even mentioned having a boyfriend in an interview several years back. 
But the question is, are they still together?
Who Is Kevin Chamberlin's Boyfriend?
The actor and singer, Kevin, is usually pretty quiet about his personal matter, but he did once open up about having a boyfriend in an interview back in 2010.
Talking about his acclaimed works, the actor casually mentioned his boyfriend in conversation with Windy City Times.
As per the conversation, Kevin previously resided in New York and left the city after the 9/11 attack. He moved to L.A. with his partner.
Adding to the context, he talked about his boyfriend, saying, "Los Angeles is not a big theater town per se. My partner is a television writer so he is doing really well out there. We have switched gears; I was the breadwinner in New York and now he is the breadwinner out there."
However, he did not reveal the identity of his boyfriend, but at least we know the two share a similar line of work. Also, analyzing his conversation, we can assume that the two shared a very close bond. 
But, as the interview was from a decade back, it's quite unsure if the pair are still together. And Kevin's private lifestyle also does not hint if he is still with his boyfriend.
Read Also: Proud Gay Kevin Abstract Dating Bliss - Boyfriend With Sharpest Jawline
Although he did once mention on his Twitter writing, "Yes, I am happily married," in response to a Twitter user.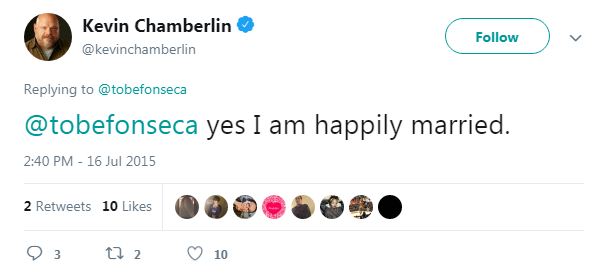 Kevin Chamberlin's tweet about his married life (Source: Twitter)
Don't Miss: Lauren Southern Talks On Why She Isn't Married & Has Husband, Staying Single!
Besides his confusing tweet, there are no other details that hint at his married life. So, to be precise, Kevin's relationship status remains a mystery as of now. 
Regardless of his secretive love life, his professional life is an open book.
More on Kevin's Career
Kevin made his television debut in the early 90s, appearing in 'Reading Rainbow,' while he made his first appearance in cinema with his role in 'Die Hard with a Vengeance.'
Not only in television and films, but his brilliance can also be seen in theatres through his astounding roles on stage. For his theatre work, he has received been nominated for Tony Award and Drama Desk.
Kevin, who went to Manson Gross School of the Arts, has portrayed in over a dozen of films and TV series, out of which he is most known for 'Dirty Blonde,' 'Seussical,' and 'The Addams Family.'  
As for his recent works, the actor portrayed Karl Cleaver in 'Outer Range.' Likewise, he portrayed Auguste Gusteatu in 'Ratatouille: The TikTok Musical.'
Being in the show biz for decades, the star has been able to make his place in the hearts of thousands of his admirers and undoubtedly will continue to do so. So, stay with us for his latest whereabouts.