Alan Bersten is a professional dancer and...best known for giving a blazing performance in Fox Network's...most notable relationship...by including gay couples....dating history was with social media influencer...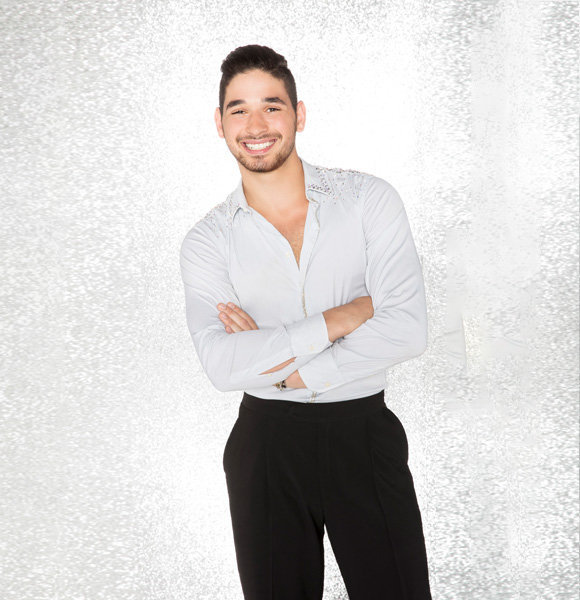 Alan Bersten is a professional dancer and TV personality.
He is best known for giving a blazing performance in Fox Network's dance show, So You Think You Can Dance. In the show, he performed a blindfolded contemporary dance piece that became a highlight of the show and also his career.
He also participated in about five seasons of ABC's show Dancing With The Stars as a dancer and choreographer. Interestingly, in 2015, he was cast for a recurring role in the sixth season of the hit musical series, Glee (2009).
Bio: Parents, Siblings
Alan was born on 26th May 1994 in Minnetonka, Minnesota.
His parents are immigrants from Russia. They wanted to see their children grow up to be a dancer. So, they opened a dance studio solely for their children's practice. Alan used to work in the studio alongside his elder sister and brother, Gene.
Interestingly, it was his brother, who taught Alan to dance. He still teaches dancing at the same studio that got shifted to a mall in Minnesota.
Girlfriend
Throughout his career on Dancing With The Stars (2005), the dance icon managed to steal the heart of a few of his partners from the show. But, most of his romance fleeted with the end of every season of the show.
He first publicly dated his DWTS dance partner Hayley Elbert, a professional dancer. The pair split shortly without disclosing the reason behind their breakup.
And in 2016, he was rumored to be dating Paige VanZant, an American Martial artist and model. The two started as dance pair in season 22 of DWTS and even gave a sizzling rumba performance.
Paige VanZant's Current Partner :- How Paige VanZant Escalated Dating Affair! Boyfriend Asks To Be Husband, On One Knee
But, the most talked-about relationship in the dancer's dating history was with social media influencer Alex Ran. Undoubtedly, their love for one another started in DWTS too, in season 27, where the two were dance partners.
Considering the past, many fans of the show wondered if their romance was just a scripted publicity stunt for the show.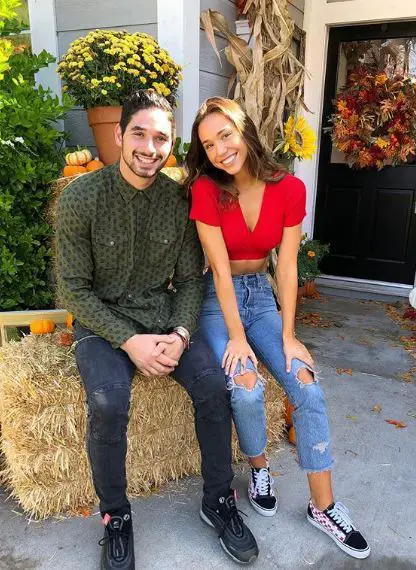 Alan Bersten celebrates his girlfriend Alex Ran's birthday on 24 November 2018 (Photo: Alan Bersten's Instagram) 
And, the probability of their love being merely a showmance increased when the two stopped seeing one another after the end of the show. Moreover, the dancer s former muse confirmed the split in December 2018 after one of his fans put forward the question on his dating status. Alex replied quoting,
"Feelings aren't black and white and neither is life, We're focused on our careers and growing as individuals. He's an amazing person and I'm grateful he came into my life. He's on his own journey and I respect that."
So, the Minnesota born dancer with an attractive height of 6 feet (1.8 meters) was single again and revealed about excluding future showmances in upcoming shows once and for all.
Dating Rumors, New Dancing Partner
In 2019, for the 28th season of Dancing With The Stars, Alan was paired with Hannah Brown. She is a well-known reality star of The Bachelor and titleholder of  Miss Alabama USA 2018.
Interestingly, given the fact that Alan and dance partner Hannah's single status, the dating rumors were as expected. Moreover, he rooted for her in various challenging positions and criticisms she found herself in after their performance in the show.
After one of their performances in the show, Hanna received some comments from judge Inaba about her insecurity that was showing up on her performance.
Although Alan agreed with the comments, he tried to keep her spirits up by sharing his appreciation through his Insta handle writing,
"@hannahbrown you have been the epitome of a dream partner. You work hard, you care more than any other person I have met, and you put up with me.No you don't have experience performing, singing, or acting. I know this doesn't come easy to you, but you impress me every single day, when you go out there and you give it 100% I am so proud of you."
Fans were hoping that their professional relationship would soon take the shape of love. But, his partner had already made the fact that they were only good friends by revealing on The Ellen DeGeneres Show. She quoted,
"We're great friends. He kind of has to be my best friend. So I make him be. He cries about it. But it has been an amazing experience. So we're not going to do that right now. We're going to dance."
However, the season of DWTS hasn't come to an end, and hopefully, some mysterious shape comes into shape and brings these two together.
Career Plus Net Worth
Interestingly, the dancer auditioned for So You Think You Can Dance (2005) solely because his brother was auditioning too at that time for the show. Although his brother wasn't selected, Alan qualified and successfully made it to the top 6.
He eventually became a professional dancer of Dancing With The Stars. In the shows spin-off DWTS: Athletes (2018), he partnered with renowned figure skater Mirai Nagasu but was eliminated shortly.
More About Mirai Nagasu:- Her Boyfriend, Net Worth, Parents
Also, that year, choreographer Gleb Savchenko suggested bringing gender diversity in the show by including gay couples. Like many participants of the show, the dancer also expressed his full support by citing that the inclusion would be fantastic for the progress of LGBTQ rights.
In terms of the star's economic status, he receives up to $100,000 each full season on DWTS. No wonder, he bags a handsome net worth.