Entertainment
How Paige VanZant Escalated Dating Affair! Boyfriend Asks To Be Husband, On One Knee
Mixed martial artist Paige VanZant has been sharing the beautiful chapters of her life with the MMA Welterweight fighter, Austin Vanderford since 2016. The dating relationship of the fighter-couple was confirmed after Paige announced her relationship status on the social media.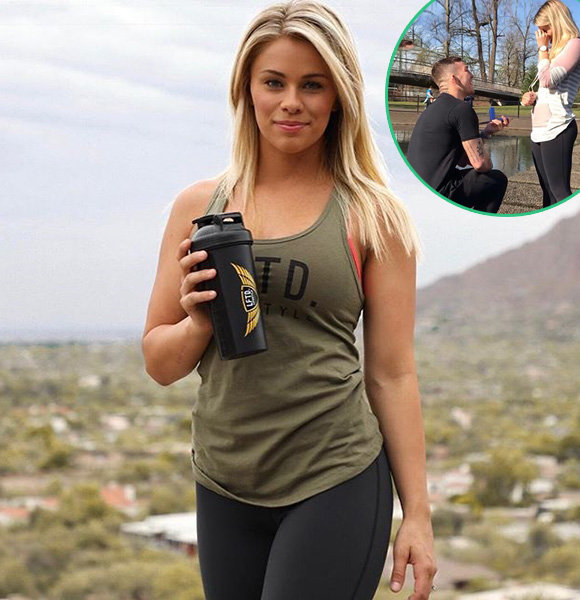 UFC star, Paige VanZant has a whirlwind of success in her sporting career by making her UFC Strawweight debut at the age of 20. And here she has added a new reward into her accomplished life. 
UFC's Fight of the Night star announced over social media that the fellow MMA fighter proposed her to get married and she has accepted. She, not only got the astonishing high-profile life in this career but also encountered with the husband-like figure.
Paige, whose parents owned a dance studio grew up dancing, chose the different career alongside her brother and started sparred with him. She also won her first amateur fight when she was 18.
Boyfriend Wants To Be Husband
Mixed martial artist, Paige VanZant has been sharing the beautiful chapters of her life with the MMA Welterweight fighter, Austin Vanderford since 2016. The dating relationship of the fighter-couple was confirmed after Paige announced her relationship status on the social media.
She took to Instagram on 22 August 2017 with her new beau writing
"Mine….. @austinv170 "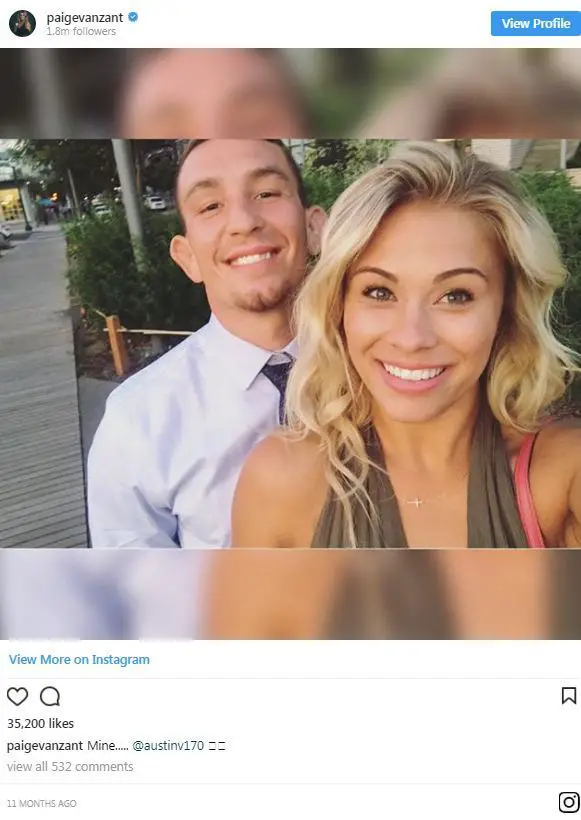 Paige Vanzant with boyfriend Austin Vanderford (Photo: Paige Vanzant's Instagram)
Paige, who is the youngest player with the award Fight of the Night, shares the same passion and dream similar to her 2 x NAIA All-American and National Champion boyfriend. 
See Also:- Arianny Celeste Dating Status Now; UFC Diva Well Over Abusive Boyfriend?
Also, she found a training partner in her boyfriend, she was spotted training alongside her boyfriend and some other friends as she was about to make a debut in the 125-pound UFC flyweight division.
After two years of dating life, the couple took their relationship a step further after his fighter boyfriend went on his one knee and popped the question. The UFC fighter shared the glimpse of the emotional moment on Instagram where he went down on his knee to propose her to be his wife.
She seemed emotional in the picture writing:
"I said yes!!!"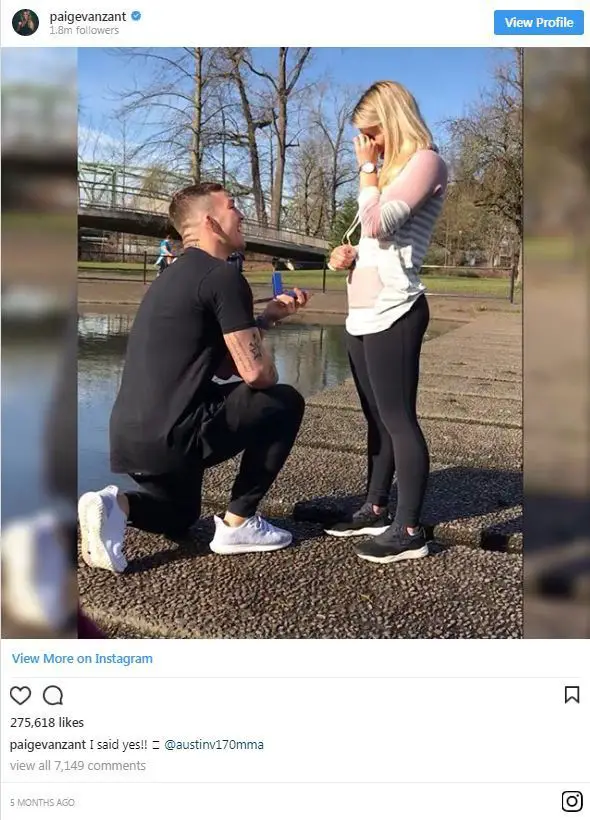 Austin Vanderford got on his one knee to propose girlfriend, Paige VanZant (Photo: Paige VanZant's Instagram) 
Their engagement news has surely aroused the goosebumps among their fans, and their wedding date which is supposed to be on late September might have taken the breath away to her fans.
As the fans are eager to know about their wedding plans, here, Paige's fiance was busy fighting his opponent Angelos Trevino in the Contender Series on 17 July 2018. The wedding is on the corner, hope he won't get smashed on his face.
Well, he too has concern for his career that he is more determined to make it to the UFC and is also ready to jump on the ring when the wedding rounds on the late September.
"Paige and I were just having a conversation, if God willing the UFC called and wanted me on a short-notice fight the weekend before our wedding, I'd take it."
He is more determined to be on the UFC than ever as he is going to be the husband of the popular star of UFC. Also, he is willing to enter into the ring and make an international stop when he is supposed to be preparing for the big day.
You May Also Like:- Gina Carano Left "Man Of Steel" Boyfriend, For Whom? Husband Not Or Casually Dating?
But it's his lifelong dream to be in UFC, and he has a full-support of Paige who also wants her husband to be in UFC. He added:
"I'm doing it. I'm taking the opportunity, 100 percent. No second thought. And the great thing is Paige is a fighter and is in the UFC and she understands and we both understand that and she supports me on that. No doubt."
Well, the fighter couple is busy with the defeating their opponent, they also spent their time punching each other on the face. Like the ordinary couple, they don't spend their time on romancing in fact; they have a different a romantic life which varies from other couples.
During their time together, the couple spend their time enhancing their capacity. As their wedding days are nearing up, they seemed to be more conscious about their games.
Before getting engaged to the relationship with him, he was dating UFC fighter Cody Garbrandt in 2015. But the relationship only short lived for a couple of months after the couple decided to keep their relationship aside, and only focusing on their career to be the UFC champion.
Alongside her dating life, she was also rumored to be dating her fellow professional dancer of the Dancing With the Stars, Alan Bersten in 2016.
Though some of the chemistry formed between them, they never confirmed their relationship status. She responded to the rumor about their affair; 
"Me and Alan are friends, but right now I'm a little preoccupied with the competition. I want to make it all the way, and we're so close."
Well, there is no doubt that there was a love connection between Alan and Paige but they never dated.
Don't Miss:- UFC's Josh Barnett Is Dating! Has A Girlfriend From MMA You Don't Want To Mess With
Sexually Assaulted
Well, as Paige's wedding is roaring on the corner, she came up with the shocking revelation, that says, she was "Sexually Assaulted," at the age of 14.
She revealed to Good Morning America that she was sexually assaulted at a party when she was 14 years old and a freshman in high school. She could not overcome the emotions of being harassed. As a result, she tried to commit suicide but claims that the mixed martial arts saved her life.
Also the fan favorite on the 22nd season of Dancing With the Stars, Paige revealed she was bullied so much in her high school that she also had eaten her lunch in the bathroom. 
She never did tell anything to her parents until before she came in public to reveal about the sexual assault. She did not want to disappoint her parents by confessing the bullying matter.
"I didn't want to disappoint them, and I didn't want them to be mad at me. And I feel like once I told my parents, then it would have been real."
Since she has overcome her hectic experience of sexual assault, she hopes to change at least one life with her story. She would not have come with her sexual assault experience if the Olympic gymnast Aly Raisman would not have publicly spoken about her own alleged sexual abuse confronting former USA Gymnastics doctor Larry Nassar.