Entertainment
Gay Rumors That Float About The Family Man With Wife Alan Ritchson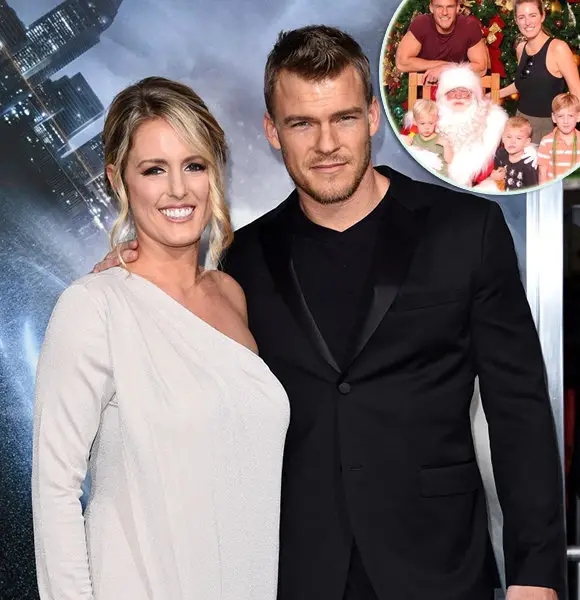 Alan Ritchson, star of 'The Hunger Games,' has been referred to growing gay whispers here and there because of several of his Instagram postings. That being said, the truth is exactly the reverse, as he and his wife have a lovely family.
Drop on to learn further about Alan's lovely family life, and also about the gay rumors about him.
Alan Ritchson Gay with a Wife?
Surrounded by fame, the actor Alan Ritchson has been questioned about his sexuality and tagged as a gay man several times. But, the reality is quite different as the actor is married and also has a wife.
Finding real love is a blessing, and Alan Ritchson is a lucky man to be married to his wife and the light of his life Catherine Ritchson. The pair married in 2006. However, there isn't much information available regarding their wedding as the star loves to keep his romantic life away from the media. 
Read More: La'princia Brown and Her Husband Share an Unconditional Love
Alan's spouse Catherine posted a vintage wedding picture to her Instagram account on May 12, 2016, wishing Alan a happy 10th wedding anniversary.
The pair led a happy marriage for almost a decade, and then, adding to the happiness, they were graced with three lovely boys along the way. Calem Ritchson, Edan Ritchson, and Amory Triston Ritchson are the three brothers.
Read more on: Leon Robinson's "Soulmate" Could Not Be His Wife!
Alan announced the birth of his third child to his followers, Captioning: Catherine, "the strongest person I know."
The couple released a lovely family photograph with their three boys in June 2016; it is too lovely to handle!
Yet after more than 15 years of marriage, the family of five is still doing well and going strong.
As we cannot assume the star's sexuality, it is safe to say he is not a gay man and, in reality, is a married man with a wife and kids.
If we talk about where these accusations and assumptions grew from, there might be a small post behind it. 
For example, in December 2016, he posted on Instagram a photo of a man kissing him on the cheek.
But, this does not result in reliable evidence to tag him gay, as they can just be friendly.
Besides, the LGBTQIA+  community appreciates the actor because he is very confident in his own skin. 
For instance, the actor has been a part of a male lingerie line, and he isn't embarrassed by it.
He rather claimed that he was quite appreciative of his past in a 2013 chat with out.com.
The work that I did, I mean, I am not ashamed of. I'm very proud of the work that I did. The work for N2N, this is a male lingerie line. A lot of people don't understand that. I mean thats what I did.
Given his amazing personality and stunning appearance, we can see why he is well-known within the LBGTQIA+ communities plus the cis and hetero communities. Fair enough, we would say. Fair enough.
Talking about the recent projects he has worked on, there are more than 40 acting credits to his name. Namely Bad Seeds of Loving Spring, which is in its pre-production phase as Isaiah, Ordinary Angels in its filming stage as Ed Schmitt, and Spring Break '83 recently completed as Brad.
Witnessing the star's happily married life of five, we cannot wait to update you guys more on him!