Entertainment
Actress Alex Martin Age, Husband, Parents & Net Worth Details
Alex Martin is famous for being the daughter of Whoopi Goldberg...is herself an actress known for movies such as...her age is...has married her husband twice...three children from her marriage, and also has a grandchild...parents split up after 6 years of marriage...amassed a net worth of around...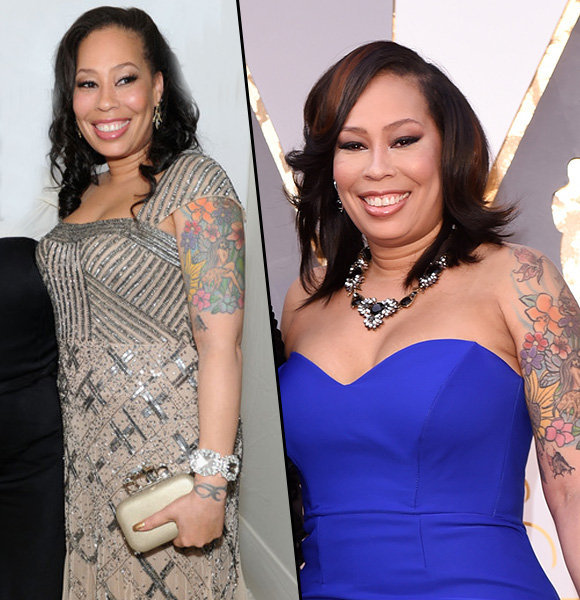 Alex Martin is an American actress - most famous for being the daughter of Academy Award-winning actress Whoopi Goldberg. She has had a decent acting career of her own, not to mention a job in the production front of a few movies as well.
She has gathered six acting credits during her time in Hollywood, working in small roles in movies such as Strange as Angels (2003), American Intellectuals (1999), and Sister Act 2: Back in the Habit (1993).
Moving on to her career as a producer, she worked as a producer in the 2008 short movie Descendants, and as an associate producer in the 2018 short movie, Sensitive Man.
In addition to her cinematic works, Alex has also appeared as a host and a guest in various TV shows such as The View (2015-2016), Good Morning America (2015), and The Wendy Williams Show (2015).
Who Is Alex Martin's Husband?
Alex has a particularly interesting marriage story. She has married twice in her life, and both the times to the same person.
The person in question is Alex's husband, Bernard Dean. Bernard is a military veteran as he served in the US Army for four years.
Recommended:- Timothy Dalton Now, Movies, Net Worth, Wife
It is not known when their first marriage took place. All that is known is that she was married to Bernard in the past.
But for some unknown reason, the couple separated for some time. However, Alex and Bernard decided to get married again, and this time, they decided to make it a big deal. The duo shared their vows for the second time on 15th October 2011 in Las Vegas.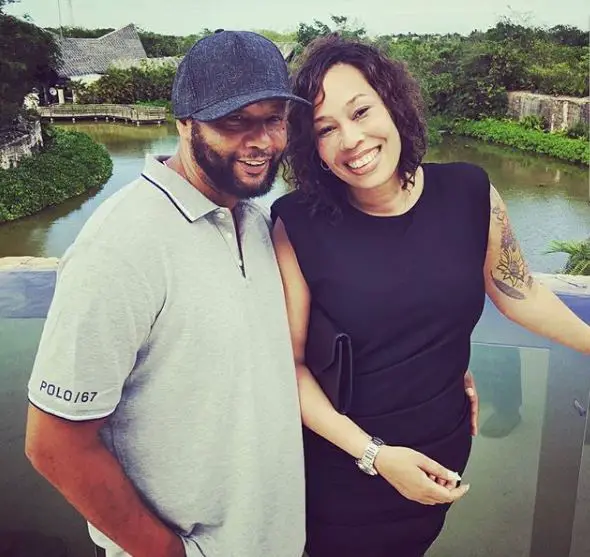 Alex Martin poses with her husband, Bernard Dean (Photo: Alex Martin's Instagram Fan Page)  
The ceremony was a small one and was attended only by their close relatives and their three children.
Apart from her successful marriage, Alex might have followed her mother's footsteps, or maybe it was just a mere coincidence. But Alex, just like her mother, became a mother at a young age. Whoopi had Alex when she was only 17 years of age. In turn, Alex too had her first baby, daughter Amarah Skye, when she was merely 16 years old.
Amarah was born in 1989, followed by her siblings - sister Jerzey in 1995 and brother Mason in 1999. Amarah is a mother herself; she gave birth to her daughter and Alex's granddaughter Charlie Rose on 15th March 2014.
Alex's Parents And Family
Alex is now known as the daughter of a famous actress. But, when she was born, her mother wasn't as renowned as she is today. Her father, Alvin Martin, was her mother, Whoopi's drug counselor.
Whoopi struggled with heroin addiction throughout her teenage years, and she reached out to Alvin for help in around early 1970. Sometime during their counseling sessions, Whoopi and Alvin got attracted to each other - which ended up in Whoopi getting pregnant with Alex.
Also Read:- Lauren Ridloff Bio: Husband, Ethnicity, Family Info Of The Eternals' Cast
Following Whoopi's pregnancy, the couple decided to get married in 1973. However, the relationship didn't last long, and the pair ended up splitting in 1979.
Alex and her mom moved to California during the mid-70s - where Whoopi pursued acting. After a few bad jobs and years, she finally became an established actress, leading Alex to follow the same career as her mother did.
Over the years, Alex has had two stepfathers. Her mother married David Claessen on 1st September 1986 after her split with Alvin. But, they separated in 1988, and Whoopi tied the knot for the second time on 1st October 1994 with Lyle Trachtenberg, only to divorce him one year later in 1995.
Net Worth
Alex has managed to gather a decent net worth for herself despite working in only small roles and the production part of movies.
The actress, TV show host, and producer has an estimated net worth of around $4 million as of December 2019.
Interesting Facts: Age, Height
Alex Martin was born as a New Yorker on 9th May 1973.
Her full name is Alexandrea Martin.
She appeared with her mother in the 2001 TV movie, Call Me Claus.
Alex was named Miss Golden Globe at the Golden Globe Awards in 1994.