Struggling in life due to an eating disorder, it was not enough to pin down the formidable Alexa Bliss in her path to greatness.
Having suffered from the disorder at the age of 15, things got pretty worse pretty quickly for the Alexa. At one point, the problem even became life-threatening.
However, that was just the start of a massive change in her life. The disorder triggered her passion for bodybuilding and eventually led her to the path for greatness in the World Wrestling Entertainment, aka WWE.
Married To Husband Or Dating Boyfriend?
With the amount of talent and beauty that Alexa Bliss has with herself, she can make any man go crazy for her. Unfortunately, that wasn't the case with Alexa and her WWE fiance Buddy Murphy.
Exceptional Player:- Kyle Anderson Girlfriend, Married, Family, Height
On 8 May 2019, the news of the duo officially ending their relationship surface on the internet and shocked everyone. Though rumors of them living separately since September 2018, was being heard quite a lot, the news turned out to be true.
The loving couple had been dating for a long time before taking the big step in their relationship. The couple who engaged to be married in 2015 has not disclosed the reason for the split as of yet.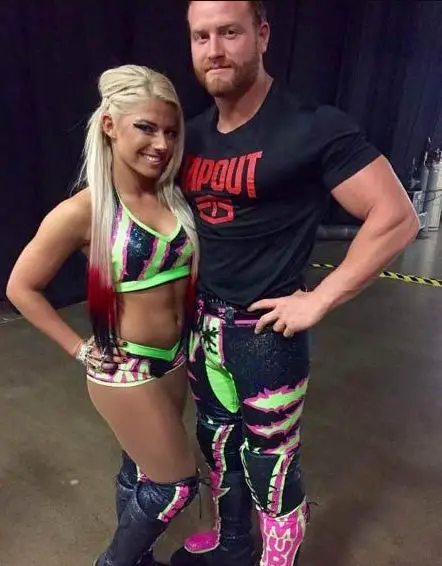 Alexa Bliss with Buddy Murphy in pre-2018 (Photo: statics.sportskeeda.com)
However, the superstar is diverting her mind from all the commotion and healing through her new white inked tattoos. Talking about it, Alexa revealed the real meaning behind the tattoos being her transitions and life-changing decisions in life.
Age, Height, Weight
Alexa Bliss - real name Lexi Kaufman - was born on 9 August 1991 to parents Bob Kaufman and Angela Kaufman. During the time of her birth, her parents were very young and beginning their journey of life.
Because of that, they struggled financially, but the WWE star's parents mustered enough to fulfill her needs and take her to an occasional trip to Walt Disney World. Alexa also was an enthusiastic child and interested in sports.
Showbiz Journey:- Karla Crome Boyfriend, Ethnicity, Parents
She participated in gymnastics, swimming and became a Division one cheerleader. But at the age of 15, the former champ suffered from an eating disorder, which affected her drastically. Soon, she was able to overcome that problem from her passion for bodybuilding.
Further, the 28 years old participated in competitive bodybuilding and later signed for WWE in 2013. Now she is one of the most renowned athletes of the sport. Talking about her measurement, she stands at 5 feet 1 inch (1.55m) and weighs in at 46 kgs.
Net Worth Detail
There is no denying Alexa Bliss is one of the most accomplished WWE Divas in the entire Women's Wrestling Division. She was after all the first women to hold the Women's Championship in both SmackDown and Raw.
Not only that, she was third on the list of highest-paid female superstars in the WWE in 2019. It was topped by only the great Ronda Rousey and Charlotte Flair. From the same, she earns a base salary of $350K, which boosts her net worth drastically.
However, things are looking weary for the show stopper has she has been in and out most of the time with injury. On 6 November 2019, there was an announcement of the star returning, but WWE is concerned about what is next for Alexa.