Entertainment
Buddy Murphy & Alexa Bliss Relationship: Are They Married?
Buddy Murphy is an Australian pro wrestler who made his NXT debut in 2013. He made highlights as one of the best players when he won the NXT Tag Team Championship in 2013.
In his career, Buddy has won several titles such as BPW Championship, MCW Championship, WWE Cruiserweight Championship, and NXT Tag Team Championship.
Buddy's Relationship Status
Buddy was in a relationship with Alexa Bliss at one point. The two even got engaged in 2015 and were also planning to get married the following year. But, their plans to pronounce each other husband and wife did not go well due to their busy schedules.
Explore Different WWE Star:- Matt Hardy Net Worth, Wife, Kids & Latest Facts Of WWE Wrestler
Eventually, the two could not cope with their busy schedules and ended the things between them in the fall of 2018. Things mainly went southwards because Alexa Bliss was wrestling in RAW while they moved Buddy Murphy to WWE SmackDown.
Despite them calling things off between them, Buddy and Alexa reportedly went separate ways as friends.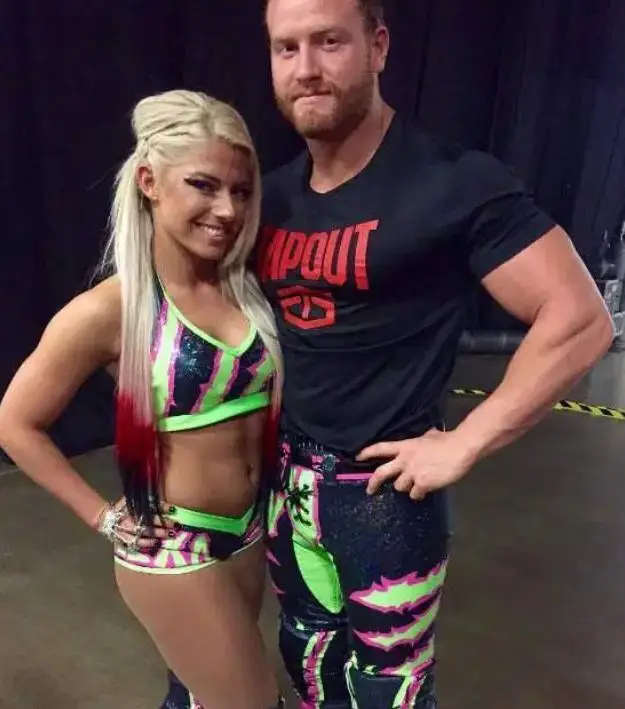 Buddy Murphy with ex-girlfriend Alexa Bliss (Photo: heavy.com)
Buddy Murphy usually likes to live a personal life that is relatively secret due to which it is tough to speculate what is going on in his life now. Whatever it is, at the moment, he cannot be linked to any new woman and appears to be single.
Buddy's Career Highlights
The wrestler started his journey in Australia through Pro Championship Wrestling in 2007 with the name Matt Silva. He was also seen at the Pro Wrestling Alliance in 2008 till 2010.
And in 2010, he wrestled in different contests such as Slam Factory Wrestling, Riot City Wrestling, Wrestling Rampage, and Melbourne City Wrestling. Before entering the WWE, he was seen at the Explosive Pro Wrestling in 2012 in a six-man tag team match.
Interesting Facts About Buddy Murphy
Buddy Murphy, whose real name is Matthew Adams, was born on 26 September 1988.

The Australian Hunk likes bungee jumping, rock climbing, and swimming alongside great whales.

Buddy stands at a height of five feet and eleven inches (1.80m) and weighs 203 lbs.

In the WWE world, he was first fighting in the NXT ring from 2013 to 2018 and moved to 205 Live in 2018. 
You Might Be Interested In Another NXT Wrestler:- Adam Cole Age, Dating Status, Net Worth Info of WWE NXT's Superstar
He finally became a part of WWE SmackDown Live since 2019.

His finishing moves include Murphy's Law, Lights Out, and Silva Breaker. The last two being his finishing moves as Matt Silva.