Entertainment
Alexander Calvert Age 28, Parents | Calls Girlfriend "Wife" - Married?
Moving like a whirlwind into the Entertainment Industry, the Canadian actor, Alexander Calvert hit the headline with his role of Jack on the widely-celebrated series Supernatural in 2017.
With his famous role on the popular series, the 28 aged actors engaged in another controversial matter after he claimed his girlfriend to be his 'wife.' The news scooped like a shuriken that pierced the headline.
Calls Girlfriend As Wife; Daughter-In-Law For Parents
Someone need not be married to cherish the husband-wife relationship.
The Bates Motel star shocked the followers when he pulled one of such acts after calling his girlfriend as 'wife'. Speculations were aroused about his married life, however, the young lovebird was just enjoying their intimacy.
See Also:- Justina Valentine Too Busy To Have A Dating Affair? Or Just Keeping It All Behind Her Music?
He started the bond with his actress girlfriend, Jenna Berman in 2014. And with their long relationship of four years, he had started calling his girlfriend as his wife since 2016.
Alexander, who stands at the height of 5' 9½", usually flaunted the adorable cozied picture with his girlfriend. Also, he introduced his girlfriend to his millions of followers by sharing her pictures on the Instagram captioning, "my girl here xx."
But he surprised his fans when he captioned the Instagram video with a girlfriend as "wifey is cute." The speculation about his wedding started to air.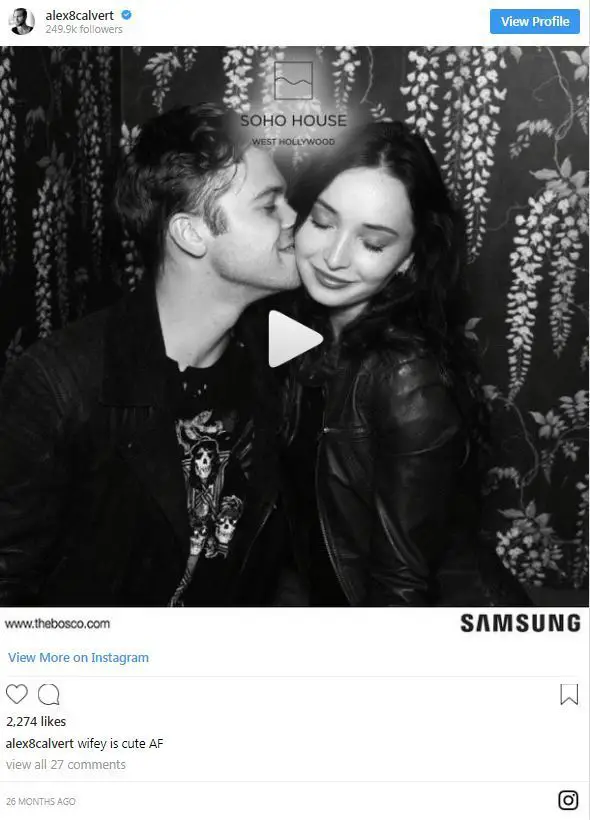 Alexander Calvert refers girlfriend as his wife (Photo: Alexander Calvert's Instagram)
Not only he flaunts the picture of his girlfriend, but sometimes he also becomes the photographer. Jenna shared the innocent picture taken by her boyfriend on Instagram on 19 May 2018, where she captioned the picture: photo by boyfriend
You May Also Like:- Openly Gay Thom Bierdz On Boyfriend & Getting Married - Happening Soon?
Girlfriend Wishes Birthday; "SuperHero During the Darkest Time"
Similarly, Alexander's girlfriend of four years did not miss the chance to wish him on his birthday. She took to Instagram on 16 July 2018 with the picture of Alexander carrying the camera on his hand, with the long birthday message.
She expressed her gratitude for being the superhero for her during the darkest time of her life. Also, she credited Alex for supporting her and wished that his another year would be much better. The caption read,
"happy birthday babe ♡ thank you for being a superhero for me during the darkest time of my life. i wouldn't still be standing without you. i am so proud of everything you've done so far and hope your next trip around the sun is even better than the last. lop chu x (repost because half the photos didn't upload)"
With their glorious years, still, the couple is blooming more and more. And they are to blossom into a beautiful family in their future, Jenna hinted on the Instagram post from 7 August 2018, mentioning their relationship is something that spring does to the cherry trees.
Though their relationship is envied by many people, the couple has not disclosed the information to take their relationship into the marital bond. But his parents would be more than happy to witness their son exchanging the wedding vows with his spouse.