Imagine getting married to your teenage crush. Sounds unreal, right? Well, not for David O'Mahony, who married the woman of his dreams, Ali Bastian, via a magical ceremony in London. 
David is not the only one in love with the Hollyoaks actress; she has been ruling hearts since she appeared on the soap opera as Becca Dean in 2011. 
Inside Ali's Married Life
Ali's lifelong dream of becoming a bride started taking shape the moment she met The Bodyguard star. Something, powerfully connected between the two and the actress of age 37 went from kissing him in the corner to having breakfast with the London native.
Upcoming Wedding? Jude Law Engaged, Fiancee, Children
When the first meeting elongated till morning, it sure hinted that she was about to get involved in a relationship. And, proving everyone right, the duo started dating while their romance fortified from strength to strength.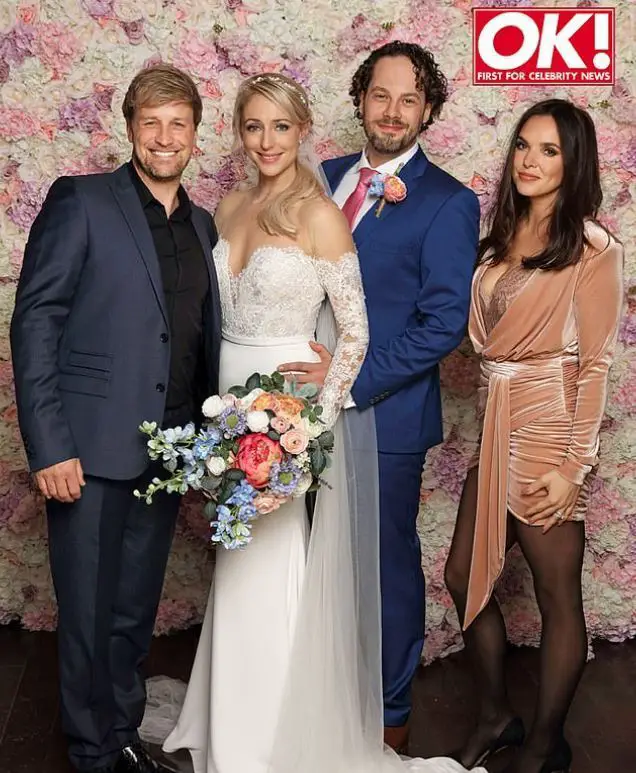 Ali Bastain poses with her newlywed husband, David O'Mahony along with friends on 3rd March 2019 (Photo: dailymail.co.uk)
Ali was dating her boyfriend for eighteen months when he finally popped the question in April 2018. David previously planned to propose Ali on vacation in Bali, but after attending a musical on the soap opera actor's birthday, he couldn't wait any longer. 
It was the perfect decision on his part as Ali too reciprocated her feeling and agreed to take him as her husband. 
On 3rd March 2019, The Bill actress and her fiance' of one year married in a loved ceremony surrounded by their friends and family. Well, the ceremony included famous faces from Ali's breakout show Hollyoaks like Carley Stenson and Danny Mac. 
Though Ali and her beau couldn't get engaged in the beautiful city of Indonesia, Bali, they plan on going there for a blessing ceremony. 
Preparing For Parenthood
After a successfully conducted wedding ceremony, David and Ali were looking to take their relationship to the next step by putting up a family of their own.
As the two enjoyed a fabulous honeymoon in the depths of the Maldives, the loving couple was happy to bring back the good news a baby coming soon. But little did they know their happiness was soon to turn sour. As the happy mother was ready to announce the pregnancy with the pregnancy test wrapped up in the Christmas tree, she suffered a miscarriage.
Similar Dancer In Our Archieve:- Bonner Bolton Bio, Girlfriend, Gay, Family
As she was looking to surprise her hubby with the pregnancy, the Hollyoaks legend went through a miscarriage on the day of New Year's eve. The news broke the heart of the couple, but they did not lose their dream for children.
After a few months of their marriage, the couple was excited to announce Ali's pregnancy with their first child on 7 October 2019. Now, they are taking special care of the pregnant mother so that the mishappening won't be repeated.
Ali's Past Romantic Partners
To find her happily ever after, Ali had to be in a couple of failed relationships. She dated her on-screen husband of Hollyoaks, Kevin Sacre, but ended the two-year relationship in 2006. History repeated itself when Ali found love again on the set of a new show. She fell in love with her dance partner, Brian Fortuna, in the show Strictly Come Dancing. 
Although she managed to come third on the dance reality show, the actress of height 5 feet 8 inches (1.73 m) couldn't emerge victorious in her relationship with Brian as the romance fizzled out. 
Even more heartbreaking was her romance with musician, Tom Clay. In 2013, the pair did get engaged, but they ended the affair before they could get married. 
Finally, Ali got her happily ever after with David, and the couple probably will enjoy a blissful life as both of them with decent net worth live a comfortable life.