Alicia Sacramone is a retired American gymnast with 12 U.S National Championship Medals and a silver Olympics medal in the team category.
A member of the 2008 Beijing Olympics silver medal-winning team, she was crowned the world vault title in 2010. Best known to have performed the most difficult vault in the world: a front handspring Rudi (1.5 twists), Alicia served her nation well in the sport and brought steller scores every time she stepped up in a pressure situation.
Net worth, Modeling Jobs
Alicia Sacramone is one of the most successful gymnasts in the history of American gymnastics. She bagged a record ten world-medals to her name with a gold medal for the U.S team, which is the most for any gymnast.
Another American Gymnast:- Jordyn Wieber Net Worth, Boyfriend, Family, Now
In 2008, Alicia became the first female athlete, along with Nastia Liukin, to become a spokesmodel for CoverGirl. That's not all; the star also appeared in commercials for Gatorade and Team 24 Fitness.
From her achievements as a professional gymnast and a constant face in the commercials, Alicia has accumulated a net worth of $8 million. Also, her hubby Brady Quinn added to the total with his massive $10 million net worth, which enables the couple to live a luxurious life.
Engaged To Boyfriend, Married
Alicia Sacramone faced lots of ups and downs in her career with injuries and inconsistent performances. But standing by her side, holding her hands in difficult times was her husband, Brady Quinn.
The American gymnast married her long-time boyfriend, Brady Quinn, after dating for seven years. The pair managed to keep their relationship in the bay and engaged 7-months before getting married on 8 March 2014.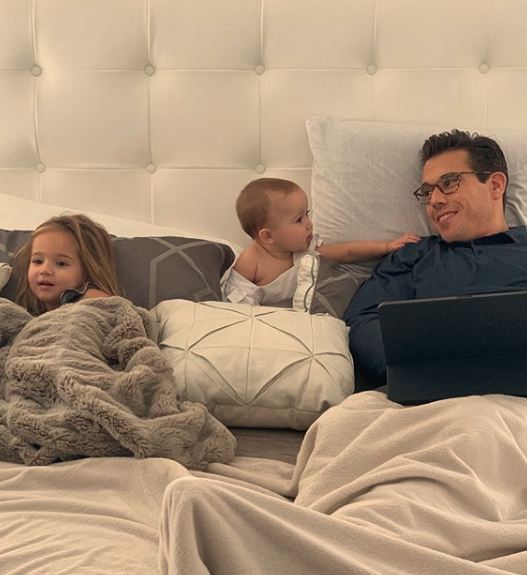 Alicia Sacramone's husband Brady Quinn and children on Father's Day in June 2019 (Photo: Alicia Sacramone's Instagram)
The ceremony was conducted amongst close family and friends at the Biltmore Hotel in Coral Gables. Now, the couple are parents to two daughters: Sloan Scott Quinn (b.2016) and Teagan Marie Quinn (b.2018).
Alicia Sacramone's Short Bio
Born as Alicia Marie Sacramone on 3 December 1987 in Boston, Massachusetts, Alicia was raised alongside her elder brother Jonathan. Her parents were hard-workers as her mother Gail owned a salon and her father Fred was an Orthodontist.
Growing up, she started practicing gymnastics when she was eight years old. Then, she competed in the elite ranks in 2002. As a teenager, Alicia attended Brown University and trained with Romanian coaches Mihai and Silvia Brestyan in college.
Discover About:- Mary Lou Retton Now, Daughters, Husband, Net Worth
Her height extending 5 feet 1 inch (1.55m) and weight of 45kgs helped her to perform flexible moves on bars, vaults, and floors. Between 2003-2012, she won ten world medals, including four silver, three gold, and two bronze.
After a successful ten years in the sport, the Olympics gold medalist retired from the game in 2012 following a tear in the Achilles tendon. As of 2019, she fights for the rights of hundreds of women - who made allegations of sexual abuse against Larry Nassar, the former gymnastics' national team doctor.